Do Dollar Stores Need a Crummy Economy?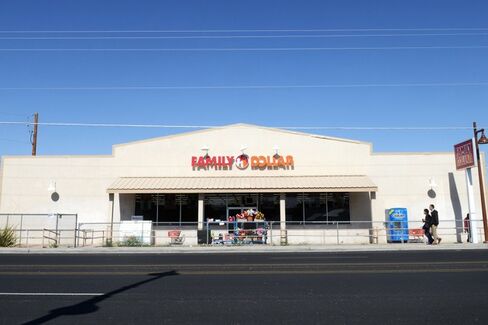 Have no fear, dollar store devotees: Despite a wave of closures swamping the Family Dollar chain, buck-or-less business is doing just fine.
The world of ultradiscount retail certainly got a shock last week with Family Dollar's latest dismal earnings report and its plans to shutter 370 stores, roughly 5 percent of its locations. The company gave a range of excuses for the disappointing results, including the harsh winter weather and a "more promotional" environment. Some analysts, meanwhile, suggested the current economy is too healthy, drawing on a common refrain that dollar stores generally do best in leaner times when customers need to stretch their savings.
The flip side of that theory is that 99¢ shops suffer in strong economies, losing sales when consumers feel flush enough to frequent sleeker stores or pay for home delivery. To be sure, that thesis holds a bit of water depending on what data one looks at. But dollar stores aren't immune to downturns. The recent recession was a relatively dark time for them, as higher-end competitors cut prices to keep revenue from disappearing altogether. Margins in ultradiscount retail picked up only when the economy got back on track in 2010 and 2011.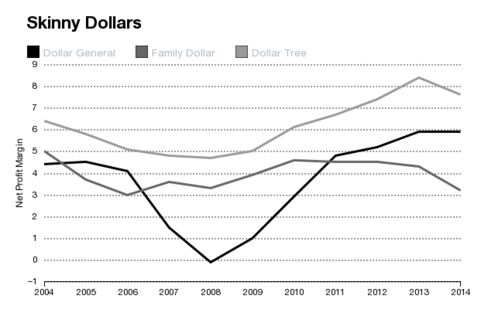 Today's relatively decent economy isn't much of an excuse for Family Dollar. At best, it's a plus. At worst, it's a wash.
Family Dollar griped about competition, and there it has a legitimate point. For the past decade, the retailer has been expanding its empire by 4 percent a year, while Dollar General and Dollar Tree have been building stores more quickly. Over the past five years, the big three dollar chains added 5,700 stores to their networks.
There have never been so many places to buy an 80¢ stick of deodorant or a $1.05 jar of salsa. The U.S. now has 30 percent more of these budget shops than it did in 2009, and two-thirds more than a decade ago.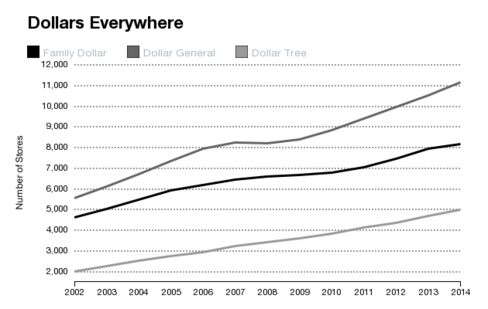 Plenty of demand remains, but the saturated low-end marketplace makes it even more important for each retail chain to run a tight ship. If there's one of each dollar franchise in an area, the outlet with the lowest prices will win. Marketing doesn't matter: They all have similar services and inventories. The company with the best management—the best cost controls, the most buying power, and the slickest supply chain—is the one that can afford to offer the lowest price.
None of that is lost on Family Dollar, of course. It's pledged to cut prices on about 1,000 items and stock up on superlow-margin food products. That will certainly help. Whether it can afford to do so is another question.
Before it's here, it's on the Bloomberg Terminal.
LEARN MORE