Abe Ministries Risk Failure in 'Womenomics' Goals, Mori Says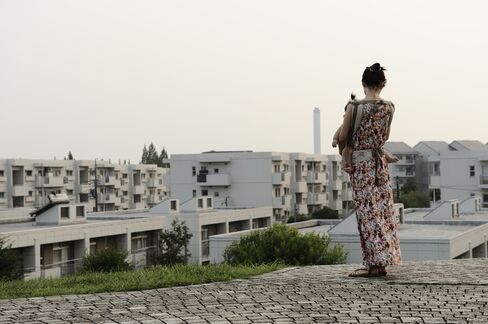 Prime Minister Shinzo Abe will fail to meet his goal of having women in 30 percent of management positions in the civil service by 2020 unless candidates are lured from private industry, the gender equality minister said in an interview.
More than a year since Abe won election promising to boost female employment, the government has only managed to fill 3 percent of supervisory positions in the civil service with women.
"Unless they appoint people from outside, they won't make the target," Masako Mori said in an interview in Tokyo on April 9.
The difficulty in promoting women in the bureaucracy illustrates Abe's challenge in reaching the 30 percent target for the entire economy as part of his bid to replenish a workforce forecast to shrink as much as 42 percent by 2060. Long working hours, difficulty in finding childcare and lack of opportunities to return to work after a career break have hampered women's progress, Mori said.
"I've cursed the world around me as I've worked. It's just so hard for women to work in this country," she said.
Mori, 49, warned Abe's deputy chief cabinet secretaries the goal was at risk in a meeting last week. That warning came days before parliament gave final passage on April 11 to a law increasing Abe's control over the bureaucracy by placing 600 senior appointments under the control of the cabinet.
Age-Based Promotions
Under the civil service's age-based promotion system it typically takes more than 20 years to reach the rank of section chief, the first rung of the management ladder at the ministries. Women made up just 12 percent of new recruits for the top echelons of Japan's bureaucracy in 1994, according to government data, meaning there are currently few internal candidates to choose from.
"Extreme working hours are taken as a matter of course among senior bureaucrats, which has been a barrier to women with families," said Motohiro Morishima, a professor at Hitotsubashi University in Tokyo who specializes in personnel management. Twenty percent of Japanese men in their thirties work more than 60 hours a week, according to a government white paper published last year, while men with children under the age of six spend an average of 40 minutes a day looking after them, about half the level in Western countries.
Waiting Lists
Economic growth under Abe and local government efforts to cut waiting lists for childcare have already resulted in more women joining the workforce. The number of working women rose by 470,000 last year to 27 million. The increase was less than 2 percent and still marked the largest gain since 1991, according to the internal affairs ministry.
After Abe urged private companies to appoint at least one woman to their boards, Mori ordered her office to compile a database of women qualified to serve as directors in a bid to head off complaints by corporations that they can't find enough candidates.
"Industry and the bureaucracy come up with all sorts of excuses for not appointing women," she said. "If they say they can't find people, we can make as many lists as they like."
A former lawyer who went alone with her first baby to study in New York, she spent two years as a full-time housewife after the birth of her second daughter.
Ending Careers
"I somehow managed with one. But when I had the second, their daycare centers were far apart and there were all sorts of problems," she said. Many highly qualified women such as lawyers, accountants and doctors become housewives after having children, she said, often ending their careers.
Mori continues to experience the obstacles that beset working women in Japan, barriers that seem invisible to other members of society, she said. Even as a minister, she continues to make boxed lunches for her family in the morning before heading to the office.
Rather than a glass ceiling, she refers to these hidden hurdles as glass stones. "I'm going to paint them so that everyone can see them. Then I want to get rid of them for the sake of young working mothers."
Japan has one of the world's lowest birth rates. As a result the working population may shrink to about 38 million in 2060 from the current 66 million if more women and elderly people do not join the labor force, according to Cabinet Office calculations published in March. If Japan improves its fertility rate, and gets more women and elderly people to work, the labor force may only fall to 54 million, the office said.
In a policy proposal handed to Abe last week, the Organization for Economic Cooperation and Development urged Japan to make more effective use of women to help avoid labor shortages while taking steps to increase the birth rate. Japan should raise spending on daycare for very young children, change seniority-based remuneration systems and curtail the culture of long working hours, the OECD proposal said.
Before it's here, it's on the Bloomberg Terminal.
LEARN MORE