Tanzania Leader Wary of Backlash as Gas Super Tax Considered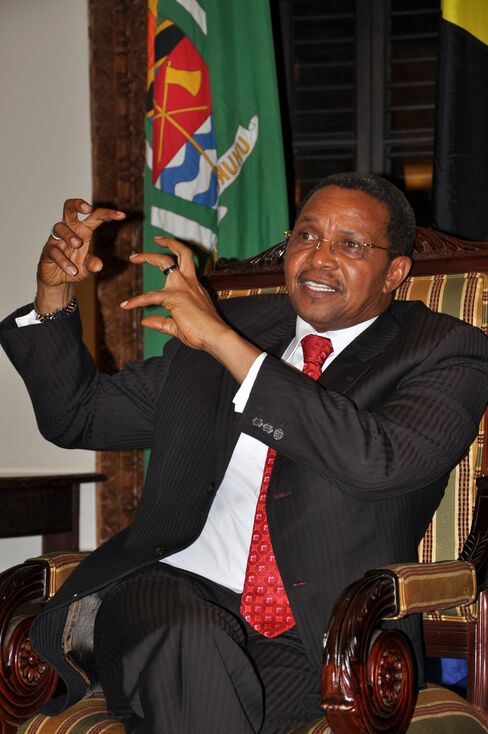 April 14 (Bloomberg) -- Tanzania may reconsider the proposed introduction of a super-profit tax on natural gas production after gold miners criticized a similar measure recommended three years ago, President Jakaya Kikwete said.
"We have not taken a final decision yet," Kikwete, 63, said in an interview on April 11 at his office in Dar es Salaam, the country's commercial capital. "It's something we are aware of that may create a lot of concerns and jitters and may probably have negative effects. We'll look into that carefully."
Tanzania's government may levy windfall taxes and royalties in addition to corporate and other income taxes, according to a draft natural gas policy published in November. The state also plans to take an unspecified share in gas production projects, according to the policy.
Tanzanian lawmakers in June 2011 approved a 42.9 trillion-shilling ($26.3 billion) economic development plan funded with a super-profit tax on minerals, saying the country needed to derive more benefit from its natural resources. The government estimates the value of gold exports from the East African country increased to $1.5 billion in 2010, or 7 percent of gross domestic product, from $500 million five years earlier. Annual government revenue from sales of the metal remained at about $100 million.
The country's proposal of a super-profit tax on mines sent shares in African Barrick Gold Plc, the nation's biggest producer of the metal, to a record low in June 2011. The government has not introduced the levy.
Ostrich Head
"It has got its own effects we have got to be cognizant of," Kikwete said. "We cannot just play ostrich and bury the head in the sand."
Tanzania has an estimated 46 trillion cubic feet of gas reserves, discovered by companies including Statoil ASA and its partner Exxon Mobil Corp., and BG Group Plc working with Ophir Energy Plc. The government expects gas reserves to increase after it offered eight new blocks for exploration in its fourth bidding round, for which the petroleum agency is receiving applications until May 15.
Statoil and BG will build the country's first liquefied natural gas plant at a location they will announce by the end of May, according to Kikwete. "They are now working on the land rights over the property," he said.
Kikwete said he expects the gas industry to "definitely" become the leading contributor to the country's gross domestic product, overtaking gold production. Tanzania, Africa's fourth-largest gold producer, has no proven crude reserves and all of the gas the country produces now is consumed locally.
Infrastructure Projects
Tanzania needs money to pay for the $1.23 billion Mtwara gas-pipeline project, expansion of the port at Dar es Salaam, building of a $10 billion port at Bagamoyo, and new roads and railways as it targets becoming a middle-income country by 2025.
The government plans to use some of the proceeds from the gas industry to create a sovereign wealth fund, which will partly finance the national budget.
The Tanzanian cabinet will by October send to Parliament a proposed law that will establish the fund and define its structure and uses, Kikwete said. The central bank will probably manage the fund, he said.
Windfall Money
"With our gas discoveries and the prospects of getting windfall money, the challenge is how to use that money judiciously," Kikwete said.
East Africa's biggest economy after Kenya is projected to expand 7.4 percent this year from 7.1 percent in 2013, Finance Ministry Permanent Secretary Servacius Likwelile said in a Feb. 11 interview.
The nation's vision to become a middle-income country could be achieved earlier than 2025, if it rebases economic-growth data, Kikwete said. Tanzania currently uses 2001 as the base year for measuring its GDP and 2007 for the household budget survey, according to Kikwete.
The country's national income per capita was $570 in 2012 compared to $860 in neighboring Kenya and a minimum of $1,036 to be considered a middle-income nation by the World Bank.
"It's a discrepancy," Kikwete said. "Tanzania will re-base to clear the discrepancy, and reflect the change in the structure of the economy over the past 14 years," he said.
To contact the reporters on this story: David Malingha Doya in Nairobi at dmalingha@bloomberg.net; Paul Richardson in Nairobi at pmrichardson@bloomberg.net
To contact the editors responsible for this story: Antony Sguazzin at asguazzin@bloomberg.net Sarah McGregor, Karl Maier, Michael Gunn