Lamborghini Bikes Show Indonesia Inequality Risk: Southeast Asia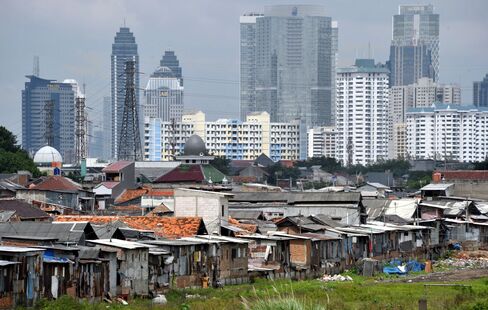 Tedi Kumaedi earns about $87 a month selling instant coffee from his rusty bicycle near Jakarta's stock exchange. At nearby TechnoBike, they've sold out of $25,000 Lamborghini-branded bicycles.
Narrowing the gulf between workers like Kumaedi, who toils for 14 hours a day outside a luxury hotel operated by Ritz-Carlton Hotel Co., and TechnoBike's increasingly affluent customers will be among the biggest challenges facing the winner of Indonesia's presidential election in July.
The wealth gap in the world's fourth most populous country is widening, threatening President Susilo Bambang Yudhoyono's goal for reducing poverty before he steps down after a decade in power. It's also restraining growth in Southeast Asia's largest economy, as consumption by the poorest half of the country stagnated last year, according to the World Bank.
Growing inequality has boosted the popularity of Jakarta Governor Joko Widodo, whose Indonesian Democratic Party of Struggle won the most votes in an April 9 parliamentary election and who leads opinion polls to succeed Yudhoyono as leader of the world's third-biggest democracy.
"There is a sense of the big end of town enriching itself," Hal Hill, a professor of Southeast Asian economies at Australian National University in Canberra, said on April 10. "Jokowi seems a man of the people, and that's a powerful message," he said, referring to Widodo by his nickname.
The country's gini coefficient, a measure of income inequality, widened to 0.41 in 2012, from 0.35 in 2005, a year after Yudhoyono became president, according to the World Bank. That's above the 0.4 level that the United Nations has said is a predictor of social unrest, and compares with China's level of 0.47 the past two years.
Income Trap
The poorest half of Indonesians saw no growth or a slight decline in consumption expenditure between 2012 and 2013, compared with 4 percent growth across the entire population and an average of 7 percent for the richest 20 percent, the Washington-based World Bank said in a 2013 report.
"This will ensure the middle-income trap is going to come sooner rather than later for Indonesia," Enrico Tanuwidjaja, a Singapore-based economist at Nomura Holdings Inc., said on April 10, referring to an economic situation where a country attains a certain income and then gets stuck at that level.
The number of Indonesians living below the government's poverty line rose by half a million people in the six months to September to 28.55 million, or 11.5 percent of the population, data from the country's statistics agency show. The increase was caused by the government's decision to lift the price of subsidized fuel last year and rising unemployment.
Poverty Fight
Inflation ended 2013 at 8.08 percent, the highest annual level for five years, and unemployment rose to 6.25 percent in August, from 5.92 percent in February, according to the statistics agency.
Yudhoyono, who is barred by law from standing for a third term, said after being re-elected in 2009 that he would cut the country's poverty rate from 14 percent to a range of 8 percent to 10 percent by this year.
"The rate of poverty reduction has been slowing," Matthew Wai-Poi, a Jakarta-based senior economist for the World Bank, said in an interview on April 10. "The distribution of economic growth has been much more to the richest 20 percent."
At the Pacific Place mall near Kumaedi's coffee stand, a McLaren showroom features a $750,000 MP-12C supercar and shoppers can win an orange Lamborghini that's parked between rows of designer-clothes stores. Drivers of the sports cars or the Lamborghini carbon-fiber bicycles made by BMC Switzerland AG and sold at TechnoBike would have to contend with barefoot beggars and the Indonesian capital's crippling traffic jams.
Conflict Risk
The decline in the poverty rate over recent years may be masking increases in inequality because about three times more people are now classed as "vulnerable" rather than poor, Wai-Poi said. About 16 percent of Indonesians lived on less than $1.25 a day in 2011, while 43 percent lived on under $2 a day, according to the World Bank.
"There's a bunch missing out in terms of growth," Wai-Poi said. "There is a risk because higher inequality can lead to higher conflict."
Rural areas where communities often have unrealistic expectations of the impact of resource-development projects are most at risk, said Keith Loveard, head of risk analysis at Jakarta-based security company Concord Consulting.
"There is certainly the potential for local issues creating tensions and violence," Loveard said. "The growth in inequality that has occurred over the years of 'boom' times have logically created a stronger sense of resentment."
'People Economy'
Yudhoyono's successor will inherit an economy growing at the slowest pace since 2009, and a volatile rupiah that was Asia's worst performing currency last year. That has raised the cost of imported staples such as fuel, soybeans and wheat.
"Improving income equality remains an important issue as the disparity can make Indonesia's economy more susceptible to external shocks," Aldian Taloputra, an economist at PT Mandiri Sekuritas in Jakarta, said by e-mail last week.
Prabowo Subianto, an ex-special forces general vying to be president, would build a "people economy" and boost funding tenfold for the agriculture industry that 70 percent of Indonesians depend on for a living, he said in an interview on March 19. Widodo, the governor who introduced a free health care plan for low-income people in Jakarta, also plans to focus on agriculture, the Jakarta Post reported on March 23.
Presidential Race
The Indonesian Democratic Party of Struggle, which picked 52-year-old Widodo as its presidential candidate, won just under 20 percent of the vote in the April 9 parliamentary poll, according to a preliminary tally by Lingkaran Survei Indonesia. Under election rules, presidential candidates must be backed by parties or coalitions that secured 20 percent of seats or 25 percent of the popular vote, meaning Widodo may need to form a coalition before the presidential vote.
Widodo's party obtained support from the National Democratic Party, known as NasDem, to form a coalition, Surya Paloh, NasDem's chairman, said on April 12.
Indonesia has historically spent less on social assistance programs and infrastructure than its neighbors, and the new president will need to expand both to reduce poverty and take advantage of a growing working-age population, according to the World Bank.
"What you need to do is to have structural reform as early as possible as the window is closing" on the opportunity to exploit Indonesia's demographic dividend, Nomura's Tanuwidjaja said.