FBI Transcripts Link Steinmetz to Alleged Guinea Payments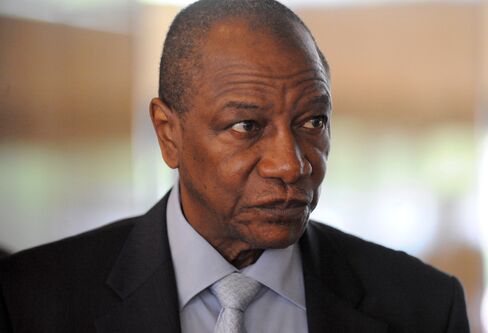 Billionaire Beny Steinmetz approved millions of dollars in payments to a wife of the former president of Guinea as he fought to keep part of the world's largest iron-ore deposit, a suspect in a U.S. graft investigation said in conversations secretly taped by the FBI.
The 109 pages of transcripts were among a cache of evidence posted on a Guinean government website April 9. The transcripts were introduced in the course of an investigation by the West African nation into whether bribery was used to obtain rights to the Simandou deposit. The Federal Bureau of Investigation shared evidence with the Guinean government from its own probe into the circumstances surrounding the award of the licenses, according to the Guinean release.
Both Steinmetz and his company BSG Resources Ltd. have denied any wrongdoing by the Guernsey-based company or its employees. BSGR said April 10 it would prove all allegations of bribery and corruption are false.
At stake is an ore-laden mountain in southern Guinea that's coveted by mining companies from Beijing to London and Rio de Janeiro. The Guinean government's committee handling the probe last week recommended BSGR be stripped of the asset. Guinean President Alpha Conde will make a final ruling on the dispute, potentially putting one of the world's most-prized mineral assets back onto the market.
"BSGR will prove the allegations raised in Guinea's rigged and illegitimate process are false," the company said in an e-mailed statement. "President Alpha Conde's determination to steal our mining rights and transfer them to political allies is nothing new."
Secret Recording
Steinmetz, Israel's richest man, is worth $6.3 billion, according to the Bloomberg Billionaires Index. He amassed his fortune initially in the diamond trade.
The director of Conde's press office, Moussa Cisse, and Alkhaly Bangoura, his adviser on mining matters, declined to comment when contacted on their mobile phones.
A federal grand jury in the Southern District of New York has been carrying out an investigation since January 2013 into potential violations of the Foreign Corrupt Practices Act involving transfers of money into the U.S. as part of a plan to obtain the Simandou concession.
The transcripts from the U.S. investigation cover telephone and face-to-face conversations last year between late President Lansana Conte's fourth wife, Mamadie Toure, and Frederic Cilins, whom BSGR has acknowledged was once its agent in Guinea. Toure, then a resident of Jacksonville, Florida, wore a wire during the meetings after agreeing to cooperate with a grand jury investigation, U.S. federal prosecutors said in court filings.
Paul Bresson, an FBI spokesman, didn't respond to messages left on his phone.
Chicken Sandwiches
Cilins was indicted last April, accused of offering to pay a grand jury witness to hand over documents for him to destroy. Last month he pleaded guilty to a single count of interfering with a grand jury. His plea agreement doesn't require him to cooperate with the government's investigation.
According to the transcripts, Cilins said Steinmetz ordered him to destroy documents held by Toure.
"Everything that I tell you is directly from Beny," Cilins whispered to Toure in French in a meeting at the airport in Jacksonville a year ago, according to the transcript, translated by Bloomberg News. The document recounts how, over a meal of chicken sandwiches and fries, the 51-year-old Frenchman went on to promise Toure as much as $11 million in payments that he said were authorized by Steinmetz.
Cilins told Toure that Steinmetz told him: "I want you to destroy those documents. Do what you want, but I want you to tell me, 'I've seen Mamadie and the documents. It's over. There are no more documents.'"
Cilins was arrested four days later.
Extortion Claim
BSGR has said it sought to work with Cilins in 2006 because the company lacked a "permanent presence in Guinea." It says it cut ties with him two years later. Cilins has said in court filings he worked for BSGR in 2005 to 2006.
Steinmetz's Geneva-based lawyer Marc Bonnant didn't respond to phone calls and an e-mail seeking comment. Cilins's lawyer William J. Schwartz declined to comment.
Guinea ranked 150th out of 177 countries in Transparency International's 2013 Corruption Perceptions Index.
The U.S has widened its investigation into Guinea's extractive industries. The Justice Department and the Securities and Exchange Commission opened a investigation into Houston-based Hyperdynamics Corp. in September over whether it violated the Foreign Corrupt Practices Act and money-laundering laws in obtaining oil-exploration rights in Guinea.
Checks, Contracts
"We are fully cooperating with the government and we're responding to all their requests for information," Jack Lascar, an outside spokesman for Hyperdynamics, said April 11 by phone. "We are unable to predict when the investigation will be completed."
As well as the FBI transcripts, Guinea posted facsimiles of checks and contracts it says show payments to Toure along with her signed affidavit from the U.S. proceedings.
Cilins said in Manhattan federal court during his prosecution that the contracts were fakes and that he was trying to get hold of them to stop Toure from extorting money from him and BSGR.
Toure's lawyer Mary Mulligan declined to comment in an e-mailed response to questions.
BSGR denies allegations made by Toure in her affidavit that she received gifts from the company including two SUVs and a white gold chain studded with diamonds. She also said BSGR President Asher Avidan once invited her to the company's Conakry office and gave her $1 million in cash that had been laid out on a bed.
'Entirely Concocted'
"Our client does not accept there is any truth whatsoever in the evidence put forward in the Toure attestation," London-based lawyers for BSGR from Skadden, Arps, Slate, Meagher & Flom U.K. LLP wrote in a Dec. 8 letter to Nava Toure (no relation of Mamadie), who is heading Guinea's review into the country's mining licenses, and which was seen by Bloomberg News.
"Our client considers this to be an entirely concocted self-serving statement by a witness who has previously (unsuccessfully) sought to extort money from BSGR," the lawyers said.
The law firm wasn't immediately able to answer questions when contacted by phone and e-mail on April 11.
Rio Stripped
BSGR had planned to spend $10 billion building an iron-ore rail, port and mine complex supported by the Simandou deposit. It sold a 51 percent stake to Vale SA, the world's biggest iron ore exporter, for as much as $2.5 billion in 2010.
Vale declined to comment, referring to its March 27 filing to the U.S. Securities and Exchange Commission, where it said that the company may lose its investment in Simandou if Guinea accepts the committee's recommendation.
The committee said the evidence indicated Vale wasn't involved in corruption.
BSGR got rights to the iron-ore concessions in December 2008 after the government stripped Rio Tinto Group of its title.
President Conte gave the order for the rights to be taken from Rio and given to BSGR during two meetings with BSGR's Avidan and Toure, according to her affidavit. She says she arranged the meetings, according to the document.
Conte's instruction came after BSGR had signed three contracts with Toure, giving her a 5 percent stake in the company's local unit and promising her a $2 million commission if it was awarded ground at Simandou, she said in the affidavit.
"None of the supposed evidence has been produced and the person making the allegations has never been questioned about her claims," BSGR said in a statement yesterday. "BSGR looks forward to international arbitration, where the allegations will be exposed for the first time to a fair and transparent legal process and the witness will face cross-examination that establishes the truth."