Deadly Bowel Infection Draws Drugmakers Seeking Cures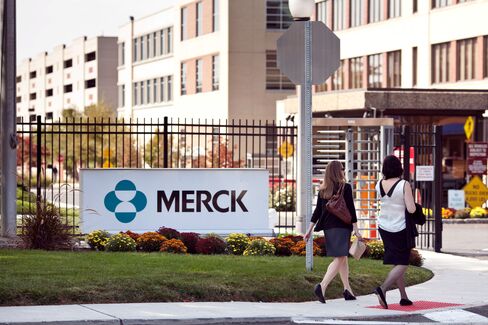 Drugmakers led by Merck & Co. and Sanofi are searching for new weapons against a deadly bacteria behind hospital and nursing-home infections.
Merck, Sanofi, Actelion Ltd. and Shire Plc are among the companies vying to develop products to control or prevent Clostridium difficile, the bacteria most often implicated in infections found in medical facilities. The bug, linked to pain, fever, nausea and diarrhea, can add from $10,000 to $13,000 to a patient's costs, according to a 2007 study.
Companies mostly stopped developing anti-infection drugs years ago to focus on more profitable chronic illnesses, such as diabetes and heart disease. Now, they're betting insurers will be willing to pay more for the antibacterials to offset high in-patient costs. Additionally, a 2012 U.S. law seeking to slow C. difficile's growth offers companies faster regulatory reviews and five years of added protection from generic rivals. The law passed after U.S. cases almost doubled between 2000 and 2010.
It's an illness that's "a major, major problem in hospitals," said Brendan Wren, a professor at the London School of Hygiene and Tropical Medicine.
Chronic diseases require patients to take medicines for years, producing steady sales. As those drugs have lost patent protection and their sales have fallen, companies are widening their search for new products.
While there are few projections on the revenue potential for C. dificile treatments, Cubist Pharmaceuticals Inc.'s drug Dificid is expected to generate $328 million in sales by 2020, according analyst estimates surveyed by Bloomberg. The drug was approved in the U.S. in 2011 as the first new product for the infection in 30 years.
'A Resurgence'
Developing solutions for increases in hospital-based infections is an area "we'll see a resurgence in," predicted Jeffrey Riley, chief executive officer of Synthetic Biologics Inc., a Rockville, Maryland-based company that has a pill for C. difficile entering mid-stage tests.
The infection occurs when antibiotics disrupt the intestinal bacteria, leading to an overgrowth of C. difficile, which produce toxins that cause diarrhea and intestinal bleeding. The death rate in patients treated with existing antibiotics ranges from 9 percent to 38 percent in studies.
The incidence of U.S. cases almost doubled in the first decade of this century, according to the Atlanta-based Centers for Disease Control and Prevention. In Europe, the cost of treating C. difficile is expected to almost double by mid-century, according to the European Centre for Disease Prevention and Control in Stockholm.
For Cassandra Argent, the symptoms appeared about 10 days after she gave birth in 2011. The English barber felt unwell, had non-stop diarrhea and was bleeding after a caesarean section.
Nearly Died
"For nearly three months, I had recurring C. difficile," said Argent, 35. "They kept saying they'd got rid of it. As soon as I'd be home, I'd go back in with it. I nearly died."
Her illness was treated with decades-old antibiotics, though they aren't always effective.
In the race to develop a new C. difficile medicine, Merck is among the most advanced. The Whitehouse Station, New Jersey-based drugmaker is testing human monoclonal antibodies that act on the two toxins produced by C. difficile. The company has started two final-stage tests that will enroll a total of 2,800 patients.
The antibodies are administered intravenously and would protect against the bacteria for three months, said Nick Kartsonis, an infectious disease doctor at Merck who is overseeing the studies. He said results of a mid-stage study found C. difficile recurred in 7 percent of patients treated with antibiotics plus the antibodies, compared with 25 percent for those who just took antibiotics.
Sanofi's Vaccine
"It held up even if you looked at patients who had the risk factors" for recurrences, Kartsonis said in a telephone interview. "We're very confident this should work."
Sanofi, separately from the 2012 law, has garnered a speedy review of its experimental C. difficile vaccine, which entered final-stage tests in August. The French drugmaker plans to present the mid-stage results next month. Meanwhile, it's testing the shot in 15,000 people globally. The trial will probably take until 2018 to complete. Even 50 percent efficacy could make it feasible because there's no other vaccine against C. difficile, program leader Pat Pietrobon said.
"We believe a vaccine that could prevent disease could be a significant public-health tool and have a significant impact," Pietrobon said in a telephone interview.
Actelion Trial
Actelion Ltd. of Switzerland began enrolling 1,280 patients worldwide in a late-stage study of its antibiotic cadazolid for C. difficile in the fourth quarter. Results are expected in 2016. Dublin-based Shire has VP20621, acquired in its $4.2 billion takeover of ViroPharma Inc. last year, in mid-stage trials to prevent recurrences, which affect about a third of people who contract C. difficile.
Argent, who cares for children now because she can't stand up all day to cut hair, said more treatment options would have helped her. Cubist acquired its Dificid drug when it bought Optimer Pharmaceuticals Inc. for at least $535 million last year. Argent now takes that when prescribed antibiotics to reduce the risk of another infection, she said.
Cubist, based in Lexington, Massachusetts, won fast-track status for its antibiotic surotomycin from the U.S. Food and Drug Administration last year under the 2012 law. In a mid-stage study, the medicine was as effective as the older antibiotic vancomycin and led to a 50 percent reduction in recurrence. Final-stage tests are under way and data are expected next year.
Before it's here, it's on the Bloomberg Terminal.
LEARN MORE