CoCos Best Hybrid Option for Nykredit as AT1 Becoming Too Costly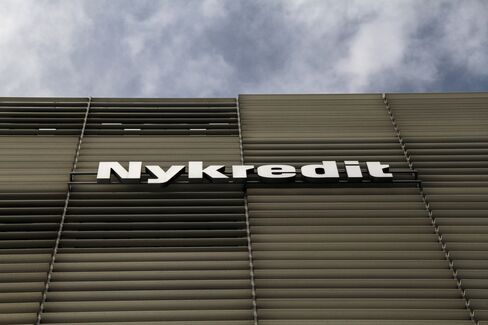 Nykredit Realkredit A/S said it won't follow its biggest Danish competitor in using additional Tier 1 instruments to refinance hybrid debt as contingent convertible bonds offer a cheaper path to supporting ratings.
"The rating impact outranks the need for regulatory capital for now," Soeren Holm, chief financial officer at Copenhagen-based Nykredit, said in a phone interview on Friday. "We plan to use CoCo instruments for the refinancing. Standard & Poor's includes all of them in full when setting our capital ratio."
Danske Bank A/S, Denmark's biggest lender, said last month it's revising its capital issuance strategy after selling additional Tier 1 notes. The 750 million-euro ($1.04 billion) sale was oversubscribed 17 times as 700 investors lined up to buy the security.
Nykredit, which has 11 billion kroner ($2.04 billion) of hybrids maturing through next year, plans to issue more of the debt this quarter, Holm said. Denmark's biggest mortgage lender isn't publicly traded.
Though CoCos and additional Tier 1 bonds are very similar - - both can convert if regulatory capital declines below 7 percent of risk-weighted assets -- CoCos are cheaper and carry less risk of conversion, Holm said.
Yield Hunt
Danske was among a handful of banks in Europe to test the market for additional Tier 1 debt last month. Investors snapped up the notes, eager to receive the extra yield. That advantage has now disappeared, Morten Heiner Pedersen, chief credit analyst at Nordea Markets, said in a note dated April 7.
"Tier 2 CoCos are a different story. They have performed much stronger than AT1s over the past four months and show few signs of losing momentum," Pedersen said in the note. "With a shortage of new supply, Tier 2 CoCos will increasingly enjoy a scarcity premium."
Holm said earlier this year that Nykredit had asked the government to let it sell preference shares to help the closely held lender gain access to a new investor group. Nykredit's main shareholder is a cooperative owned by borrowers. The bank has received signals from lawmakers that its request will be approved, helping it sell hybrid capital and Cocos.
Nykredit has said it plans to hold equity capital of at least 15 percent of risk-weighted assets, equivalent to 63 billion kroner, by 2019. In addition to that, the lender will set aside as much as 10 billion kroner to gird for new demands from regulators that may force banks to assume higher loss probabilities.