Citigroup Said to Cut Up to 300 Jobs in Global Markets Division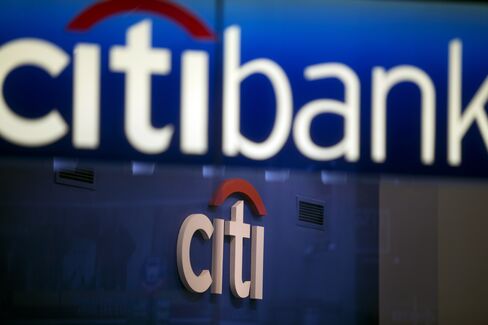 Citigroup Inc., the third-largest U.S. bank, cut 200 to 300 jobs in its division handling stock and bond trades to shrink costs amid a slump, according to a person familiar with the matter.
The reductions amount to about 2 percent of the workforce in the bank's global markets business, the person said, asking not to be named because firings are confidential. The firm, which employed 251,000 people at the end of last year, is due to report first-quarter earnings before U.S. markets open today.
"We continue to tightly manage expenses, making targeted headcount reductions in light of current market conditions," said Danielle Romero-Apsilos, a spokeswoman for the New York-based bank. "At the same time, we are adding some talent strategically."
A slump in bond trading, a business that once fueled Wall Street's rebound after the credit crisis, is now eroding banks' earnings. Citigroup Chief Financial Officer John Gerspach, 60, told investors last month he expected trading revenue to drop by a "high mid-teens" percentage. Equities revenue was holding up better than fixed income, which accounts for an average 80 percent of markets revenue, he said March 3 at a conference in Orlando, Florida.
Steve Prince, the brother of former Chief Executive Officer Charles O. "Chuck" Prince, is among people who left the firm amid the cuts, according to the person. Steve Prince, who is listed as a senior vice president on his LinkedIn profile, didn't respond to a message seeking comment through the website. He declined to comment to the Wall Street Journal, which reported on his departure and the cuts yesterday.
Lower Profit
JPMorgan Chase & Co., the biggest U.S. bank, fell 3.7 percent on April 11 after the New York-based firm reported first-quarter earnings that missed analysts' estimates on lower revenue from fixed-income trading and mortgages. Charlotte, North Carolina-based Bank of America Corp., and New York-based Goldman Sachs Group Inc. and Morgan Stanley are due to release results this week.
Citigroup will probably say today first-quarter net income dropped 4.6 percent to $3.63 billion, according to the average estimate of 17 analysts surveyed by Bloomberg.