Carney's Powers Seen Primed to Take Heat Out of Housing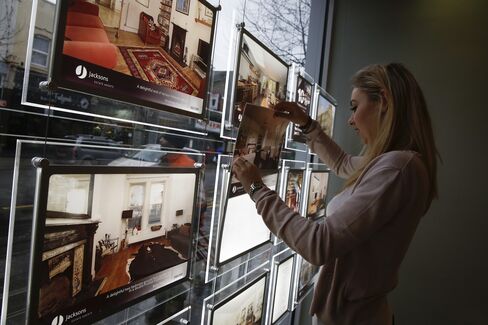 Mark Carney has the powers he needs to take the heat out of Britain's housing market, if officials decide to deploy them when they next meet, economists said.
Financial-stability chiefs led by the Bank of England governor can succeed in stopping values from spiraling out of control, according to 68 percent of respondents in the Bloomberg monthly survey of economists. The bank's Financial Policy Committee said last month a tool to make affordability testing of borrowers more stringent will be available as soon as June.
Britain's property boom intensified this month as increases in London and the south of England pushed house prices to an all-time high, Rightmove Plc said today. With record-low borrowing costs and government incentives bolstering demand for homes, economists from Goldman Sachs Group Inc. to Societe Generale SA anticipate officials will seek to offset those effects by using so-called macroprudential tools this year.
"The housing market is bubble-like in London," said Brian Hilliard, an economist at Societe Generale in London and a former Bank of England official. "The obvious first move that they will make will be to use this new tool. It seems to me that they are priming us to bring the affordability tool into effect in June."
London Boom
The FPC, which next meets on June 17, said last month it sees increasing momentum in house values and remains vigilant to "vulnerabilities." In November, officials ended incentives for mortgage loans under the Funding for Lending Scheme.
In London, average asking prices rose 3.6 percent in April to a record 572,348 pounds ($960,000), while values in the U.K. as a whole increased 2.6 percent to 262,594 pounds, Rightmove said.
"The Bank of England is unlikely to stand passively on the sidelines if prices continue to accelerate," Goldman Sachs economists Kevin Daly and Sebastian Graves wrote in a note to clients published on April 4. "It will want to employ macroprudential policies to address housing-market risks in a relatively targeted way."
The FPC will probably be in a position in June to recommend "appropriate interest-rate tests to use in assessments of affordability" for mortgage lending, it said on April 1. Officials will exercise this new power this year and may act at the next meeting, Daly and Graves wrote.
New Tool
Affordability tests come into force in the U.K. this month, with the introduction of the Mortgage Market Review, which requires borrowers to prove they can afford repayments even when interest rates rise in line with market expectations. The new BOE tool allows officials to stipulate higher interest rates that lenders must apply in the affordability tests.
"It's something that leans into the wind of housing momentum," Carney told reporters when the measure was announced in November. "You could see a spike in interest rates higher than is currently embedded in the market in the U.K., and we'd want to make sure that, as banks and building societies lend -- and very importantly, as households borrow -- they can withstand those shocks."
Economists in the Bloomberg survey were divided over whether the housing market was at risk of overheating. Fifty-eight percent said it was, down from 73 percent in last month's survey.
Credit Growth
Ernst & Young LLP's Item Club said in a report today that it was "skeptical about the likelihood of an unsustainable house-price boom," even as "market indicators point to further acceleration in activity and prices this year."
"Caution on the part of lenders," the introduction of tighter mortgage lending criteria later this month, and the BOE's macroprudential tools "should deter rapid credit growth, the precursor to past episodes of excessive rises in property values," it said. "We doubt that government incentives to encourage home purchases will do much to inflate a bubble."
Asked when the Monetary Policy Committee will begin raising interest rates, 48 percent of the economists surveyed by Bloomberg predicted it will be before the end of March next year, up from 42 percent in last month's survey. In the poll, 62 percent of respondents said Carney's forward guidance on rates has been effective, up from 58 percent last month.
Growing Momentum
Data released last week suggested the economy continued to grow in the first quarter. Factory production rose more than economists expected in February and the International Monetary Fund raised its U.K. forecasts, predicting growth of 2.9 percent this year.
The U.K. will grow 2.8 percent this year and 2.4 percent next year, according to a Bloomberg survey of 54 economists. That compares with forecasts of 2.7 percent and 2.5 percent made last month.
"Momentum continues to be building in the U.K.," said Peter Dixon, an economist at Commerzbank AG in London, who this month brought forward his call for the first rate increase to the third quarter of next year from the fourth. "If I were on the MPC right now, I'd certainly be thinking about changing the debate a little bit to consider raising rates from emergency levels."
Before it's here, it's on the Bloomberg Terminal.
LEARN MORE