Beijing Breaks Into Top Ten in Rankings by A.T. Kearney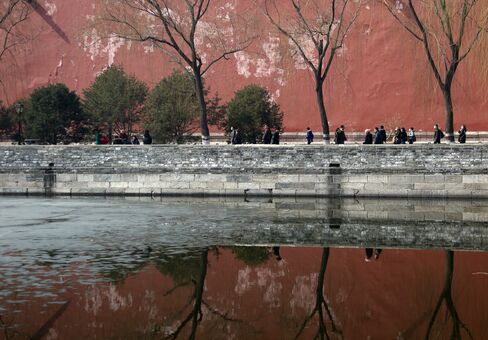 Beijing's ability to draw business investment helped vault it into the top 10 of cities with the greatest global appeal.
The Chinese capital landed at eighth of 84 municipalities ranked by Chicago-based consulting firm A.T. Kearney Inc., a jump from 14th two years ago and 12th in 2008. New York and London topped the list for the fourth straight time.
Beijing's standing rose even as record pollution emerged as a risk that may deter talent and investment. Exploiting its role as capital of the world's second-biggest economy, the city passed Seoul and Singapore. The consultants cited growth in the number of international schools, broadband subscribers and museums in addition to increased international commerce.
"What we've seen over time is strong business activity and heavyweight political influence are a combination of attributes which really propel cities and Beijing is a perfect example of this," said Andreas Mendoza Pena, a principal at A.T. Kearney in Chicago. "We see Beijing continuing its upward trend."
The firm's index, which will be released tomorrow, was based on 26 metrics of how well municipalities spawn, attract and retain talent. The top 10 was rounded out by Paris, Tokyo, Hong Kong, Los Angeles, Chicago, Singapore and Washington. Brussels and Seoul dropped into the second 10. Advances by Shanghai and Guangzhou underscored China's rise.
Beijing's move into the tier is unusual, says A.T. Kearney. Since the debut of the index in 2008, just 23 cities have occupied the top 20 positions. The next 20 have been followed by 28 different locations and 33 cities have cycled through 41 to 60.
'Serious Competition'
"Below the top 10 you can see serious competition," said Mendoza Pena. "As a whole cities are improving so they all need to run to keep up."
Even at the pinnacle, New York only offers about 60 percent of a perfect city, the creation of which would require the cherry picking of best bits from 16 metropolitan areas, he said.
Europe and the Asia-Pacific each had seven cities in the top 20, ahead of six in the Americas. In 20th place, Buenos Aires became the first Latin American city to feature so high. Despite Egypt's economic woes and political upheaval, Cairo remained the leading city in Africa.
Jumping the most was Istanbul, rising to 28th from 37th, while Boston and Zurich fell the most, dropping six positions to 21st and 31st, respectively. Boston was faulted for its food offerings and level of political engagement, or how much it influences global political dialogue.
The other metrics included business activity, human capital, information exchange and culture.
Future Cities
In the six years since A.T. Kearney began the venture, Buenos Aires and Mumbai have risen the most among the original 60 cities, each climbing 13 positions. The Argentine capital was praised for its cultural exchange and human capital, while Mumbai won points for information exchange. By contrast, Bangkok has tumbled 15 positions.
For the first time, A.T. Kearney identified cities most likely to improve their global standing in the next 10 to 20 years. Jakarta, Manila and Addis Ababa led the list of these cities of the future.
A risk for the Chinese capital is a failure to beat its pollution problem. The concentration of PM2.5 -- the particles that pose the greatest risk to human health -- rose last month to almost 10 times the level considered safe by the World Health Organization.
Premier Li Keqiang said in March that the government would "declare war" on smog by closing some coal-fired furnaces and removing high-emission vehicles from the road.
"The challenge for Beijing is if this trend with pollution continues, it might impact its ability to attract and also retain the best talent," said Mendoza Pena.