Early Afghan Results Show Abdullah-Ghani Presidential Runoff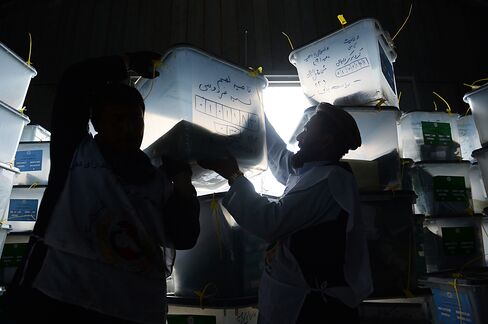 Early results of Afghanistan's presidential election indicate there'll be a runoff between Abdullah Abdullah and Ashraf Ghani Ahmadzai, which would further delay the signing of a pact to keep U.S. troops in the country.
With 10 percent of votes counted in the April 5 election, Abdullah leads with 42 percent, compared with 38 percent for Ghani, according to the Independent Election Commission of Afghanistan in Kabul. A runoff will take place between the two top candidates if no single candidate obtains more than 50 percent of the vote.
"The results will change," Ahmad Yusuf Nuristani, the election commission chairman, told reporters in Kabul yesterday. "It is possible that one candidate is the front-runner in today's press conference, and there will be another front-runner in the next press conference."
The Afghan government said voter turnout doubled from the previous presidential election in a show of defiance against Taliban insurgents who have sought to disrupt the poll. The vote paves the way for the first democratic transfer of power since the U.S. ousted the group in 2001.
Karzai has delayed signing a pact that's needed to keep U.S. troops in Afghanistan beyond this year and secure billions of dollars in pledged aid funds. All of the eight candidates vying to succeed him, including Abdullah and Ghani, have promised to sign it immediately after taking office.
"We welcome the results, which are showing a first step of the final results," Ghani told reporters in Kabul. "The results are like a football game and will change."
Results Rejected
The six other candidates rejected the results in a statement last night and said they'd soon present evidence of electoral fraud. They included former Foreign Minister Zalmai Rassoul, who got 9.8 percent, and ex-warlord Abdul Rab Rassoul Sayyaf, who received 5.1 percent.
The United Nations Assistance Mission in Afghanistan welcomes the results and urges candidates to be patient while the votes are being counted, the organization said in a statement yesterday.
The votes came from 26 of 34 Afghan provinces, Nuristani said. Abdullah obtained 212,312 votes of a total 506,843 counted, while former finance minister Ghani received 190,561 votes, he said.
Abdullah, 53, is half Pashtun and half Tajik. The former foreign minister under Karzai was a close aide of Northern Alliance commander Ahmad Shah Masood, a Tajik who is seen by many Afghans as a national hero. They fought together against Soviet occupiers in the 1980s and the Taliban in the 1990s. Suicide bombers killed Masood two days before the Sept. 11 attacks that led to the U.S. invasion.
Columbia Doctorate
Ghani, 64, a Pashtun who was finance minister from 2002 to 2004, finished fourth in the 2009 election. The former World Bank economist holds a doctorate in cultural anthropology from Columbia University in New York, and led a commission in charge of transferring security operations from the U.S-led coalition to Afghan forces.
Pashtuns account for 42 percent of Afghanistan's 32 million people, while Tajiks make up 27 percent, according to the CIA World Factbook. Uzbeks and Hazaras each account for 9 percent and other groups comprise the rest.
The Electoral Complaints Commission said it received 1,892 complaints, of which "870 might affect the final results," Mohammad Nadir Muhseni, a spokesman, told reporters in Kabul. Complaints included fake voting cards, lack of access to voting sites and pressure from politicians to vote for certain candidates, he said.
September Risk
The preliminary results of the poll will be announced April 24, and the winner will be declared after final results are made public on May 14, according to the IEC. More than seven million Afghans voted.
The U.S. and NATO are considering proposals to keep 8,000 to 12,000 troops to continue training Afghan forces if an agreement is reached.
A runoff would mean a new Afghan president who could sign an agreement with the U.S. isn't likely to take office until August, Marine Corps General Joseph Dunford, the head of U.S.- led forces in Afghanistan, told the Senate Armed Services committee on March 12. If no agreement is reached and all forces are withdrawn, the capacity of Afghan military and police units will start to unravel next year, he said.
"The risk that we would totally withdraw begins to be high in September," Dunford said. "That's simply a function of the tasks that need to be accomplished and how many days we have to accomplish those tasks."
The U.S. and its allies have about 52,000 troops in Afghanistan and plan to withdraw all their combat forces by the end of this year. The war has cost 2,313 American lives as of April 3, with 19,694 personnel wounded in action, according to Pentagon data compiled by Bloomberg.