CBS's Moonves Reaps $200 Million in Pay Over Three Years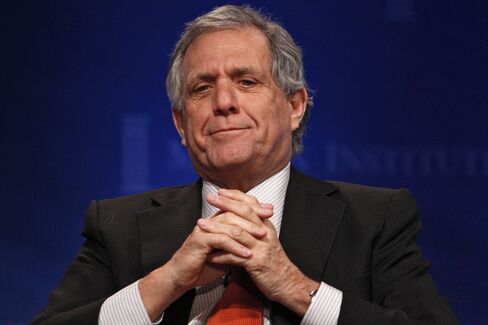 Leslie Moonves, chief executive officer of CBS Corp., received $66.9 million in compensation last year, bringing his three-year total to almost $200 million and highlighting the rich payouts in media.
His boss Sumner Redstone, who also draws a paycheck as chairman of Viacom Inc., got $109 million from CBS over those same years, according to a regulatory filing yesterday.
The sums are among the highest reported so far for 2013 by companies in the Standard & Poor's 500, and show the media industry continues to lavish generous pay on its CEOs. Both men last year received more than the $52.5 million paid to Nolan Archibald, retired chairman of Stanley Black & Decker Inc. His pay had been the highest at 338 S&P 500 companies that had filed 2013 statements, according to data compiled by Bloomberg.
"This is the fifth consecutive year that the company's performance significantly exceeded the S&P 500, including a period during which CBS stock appreciated by more than 20 times," Dana McClintock, a spokesman, said in an e-mail.
As of April 9, Viacom CEO Philippe Dauman was second in total pay at $37.2 million. Robert Iger, chairman and CEO of Walt Disney Co., checked in with $34.3 million for third place, and David Zaslav, who runs Discovery Communications Inc., received $33.3 million, good for fourth, Bloomberg data show.
Brian Roberts, chairman and CEO of Comcast Corp., the largest U.S. cable company, received total compensation of $31.4 million, while Steve Burke, CEO of the company's NBCUniversal division, collected $31.1 million, according to a filing yesterday.
'Performance Metrics'
"I don't have a problem with the amounts being granted as long as they are predicated on the right performance metrics, which they typically aren't," Paul G. Hodgson, co-founder of BHJ Partners, a governance consultant, said by phone. "With this level of pay it has to depend for eventual vesting on continued outperformance of peers."
Moonves, 64, who runs the most-watched TV network, saw his total pay rise 7.7 percent in 2013. That includes a bonus of $28.5 million, $26.5 million in stock awards and $5.85 million in option awards, according to the filing. Moonves's salary held steady at $3.51 million.
Redstone, CBS's 90-year-old chairman and controlling shareholder, almost doubled his annual compensation to $57.2 million, the filing shows. That included a $10 million bonus and a $45.4 million change in the value of his pension. At New York-based Viacom, owner of Comedy Central and MTV, Redstone received total pay of $36.2 million in 2013, up 77 percent from the year earlier.
Subscriber Fees
Among the 15 companies that make up the S&P 500 media index, CBS was the top-performing stock last year with a gain of 68 percent. It also led over the past three years by more than tripling. Viacom, also controlled by Redstone, was No. 2 in 2013 with a 66 percent increase.
CBS is benefiting from two rising sources of revenue: advertising sales and subscriber fees from cable and satellite TV customers. The company's sales increased 8.5 percent to $15.3 billion last year.
The shares fell 2.2 percent to $58.68 at the close in New York yesterday to give it a decline this year of 7.9 percent, while Viacom retreated 1.1 percent to $81.94, increasing its drop this year to 6.2 percent.
Before it's here, it's on the Bloomberg Terminal.
LEARN MORE