What Changed This Week for Women in the Workforce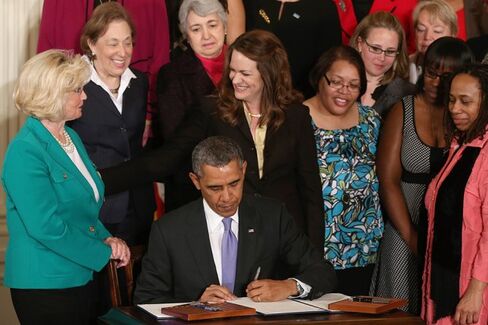 As college graduation dates approach and students prepare to be kicked into the workplace for the first time, many young strivers turn their focus to securing a good salary. Women, who make an average of 77¢ for every dollar men do, according to the U.S. Census Bureau, have it especially hard when it comes to getting paid.
For women, learning to aptly negotiate—a crucial aspect of long-term professional success—is replete with obstacles. They're often cited for being too meek to advocate for themselves, but then marked as difficult when they do make strong demands. Negotiating is bound to be uncomfortable, but this week a refreshed focus on the gender pay gap yielded a few new tools for young professional women trying to navigate the politics of payday.
Obama's executive order
The White House announced on Tuesday that President Obama will sign an executive order prohibiting federal contractors from retaliating against employees who choose to discuss compensation.
If women don't know they are underpaid, they're less likely to ask for more money. The executive order aims to help them discover and expose pay discrimination.
While the order will apply only to federal contractors, Obama hopes the Paycheck Fairness Act, which the Senate considers this week, will extend the executive order's standards to all employers covered by the Fair Labor Standards Act.
Sheryl Sandberg "leans in" to new graduates
Also on Tuesday, Facebook Chief Operating Officer Sheryl Sandberg released a new edition of Lean In, her 2013 best-selling manifesto for working women, refocusing it for college graduates entering the workforce. A central theme of the book is negotiation—in particular, negotiating salaries.
"It never even occurred to me to negotiate my first salary," Sandberg writes in her book. "I waited for someone to tell me how much money I'd be earning so I could figure out where to live. I ended up supplementing my income by teaching aerobics classes on the weekend."
When she was interviewing for her current job at Facebook, Sandberg refused to make the same mistake and negotiated in a way that brought her the compensation she wanted while maintaining her likability.
"I negotiated hard, followed by a nervous night wondering if I had blown it," she writes. "But Mark [Zuckerberg] called me the next day. He resolved the gap by improving my offer, extending the terms of my contract from four to five years and allowing me to buy into the company as well. His creative solution not only closed the deal, but also set us up for a longer-term alignment of interests."
The book also includes several detailed firsthand accounts of how to negotiate salaries, including one by Jessica Bennett, a writer and editor in New York City, and one by Kim Keating, the founder and manager of Keating Advisors, a human resources consulting firm.
B-school research
NPR's Morning Edition has been highlighting the complex relationship between women and money this week, and much of the program's reporting converges on insights that emerged from business schools. On Wednesday the series looked at a 2010 paper by Emily Amanatullah of the McCombs School of Business and Michael Morris of Columbia Business School, which suggests that women are more comfortable negotiating on behalf of others than negotiating for themselves.
In an experiment, Amanatullah and Morris had men and women negotiate a starting salary both for themselves and on behalf of someone else. When the women negotiated for themselves, they asked for an average of $7,000 less than the men did. When they negotiated for someone else, they asked for about the same amount as the men because their behavior did not seem self-serving.
In the Morning Edition broadcast, Maggie Neale of Stanford Business School suggests that once women are aware of this tendency, it's easy to overcome. When negotiating a raise, women can think of the people their salaries will support, so it doesn't seem self-serving. Or they can view the negotiation as solving a problem, rather than going into battle.
On Thursday the series tackled negotiating skills in general, as well as the seemingly intractable problem of fewer females than males enrolling in business schools. Laura Kray, a researcher at the University of California at Berkeley's Haas School of Business, found that men were more likely than women to relax their ethical standards while negotiating if it would benefit them. Writ large, that could mean women, more than men, might sacrifice their own interests to do the right thing in a business relationship—and turn down an ethically dubious, but potentially lucrative, job opportunity.
It's hard to argue that women should veer from this path, but the research could be valuable to them nonetheless, NPR social science correspondent Shankar Vedantam says. "If women actually understand the way they're thinking about business," he says, "they will find a way to stay in the game and also stay ethical."
Before it's here, it's on the Bloomberg Terminal.
LEARN MORE