VW Won't Raise $9.3 Billion Offer to Buy Rest of Scania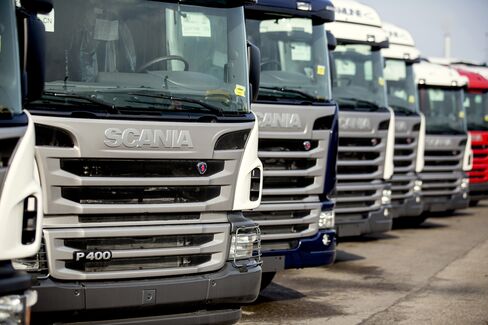 April 11 (Bloomberg) -- Volkswagen AG, Europe's largest carmaker, ruled out raising its 6.7 billion-euro ($9.3 billion) bid for the rest of Scania AB after some minority stakeholders rejected the deal as being too low.
"Volkswagen is confident that the offer is compelling to Scania shareholders," the Wolfsburg, Germany-based automaker said in a statement today. "Volkswagen therefore declares that it will not increase the consideration in the offer."
Volkswagen, which already controls 62.6 percent of Scania's capital via direct and indirect holdings, is bidding 200 kronor a share for the rest to push forward cooperation between the Swedish company and MAN SE, the German truckmaker that VW also controls. The offer is 36 percent more than Scania's closing price on Feb. 21, when VW announced its plan.
The German carmaker has said it will only pursue the bid if it can secure 90 percent of Scania, the threshold needed under Swedish law to force remaining owners to sell their holdings and delist the company. So far, minority investors representing 2.32 percent of Scania's capital have publicly rejected the offer.
"VW is being very committed," said Frank Schwope, an analyst with NordLB in Hanover, Germany. "There's no reason for them to raise the price. The chances are good that VW succeeds with the deal."
Scania dropped as much as 10 kronor, or 5.3 percent, to 179.60 kronor and was down 2.5 percent as of 2:08 p.m. in Stockholm trading. VW was 1. percent lower in Frankfurt.
Remaining Independent
AP4, Sweden's fourth pension fund and the owner of 0.61 percent of Scania stock, joined closely held Swedish insurer Skandia, which owns 0.88 percent, and AMF, which holds 0.83 percent, on April 9 in saying it won't accept the bid.
AP4 said its clients will benefit in the long-term if Scania remains an independent and publicly traded company. AMF said on March 30 that its task "is to secure a good long-term return for our clients and it's therefore especially important for us in our view of the bid for Scania to take the company's long-term potential into account."
Alecta, which owns 2.04 percent of Scania's share capital, and Swedbank Robur, which holds 1.87 percent, haven't yet said whether they'll accept VW's offer. A rejection by those investors would mean shareholders controlling 6.23 percent of the truckmaker's equity were refusing to take part. A Scania board committee last month recommended owners reject the bid.
Nordea Fonder, which is no longer included in Scania's list of its 10 biggest shareholders, said on Feb. 24 that it intends to accept the offer. AP1 and Lannebo Fonder sold their respective stakes of 0.3 percent and 0.4 percent after VW made its offer, Dagens Industri reported April 8.
Global Competitor
Scania's full integration into VW is vital for the German carmaker's effort to forge a global heavy-truck business that can compete with industry leaders Daimler AG and Volvo AB. VW has reaped limited financial rewards for the billions of euros invested in the last decade to purchase control of Scania and MAN as minority investors resisted efforts to share technology that would boost profit.
VW has achieved only 200 million euros in savings from joint work among its light commercial-van unit, Scania and MAN. VW's goal is to deepen cooperation between the three businesses in areas such as drivetrains, chassis, cabins and electronics to reach annual operating profit synergies of 650 million euros.
The automaker already has a domination agreement with MAN, which means the two can legally work more closely. That leaves Scania as the last unit preventing VW from creating an integrated heavy truck division.
Beating Estimates
The Swedish truckmaker today reported that first-quarter operating profit rose 17 percent to 2.26 billion kronor ($350 million) as an economic recovery in Europe encouraged businesses to replace aging vehicles. That exceeded the 1.96 billion-krona estimate of eight analyst estimates compiled by Bloomberg. Revenue jumped 9.2 percent to 21.1 billion kronor.
"The trend in demand in early 2014 indicates a continued high level of vehicle and service volume," Chief Executive Officer Martin Lundstedt said. "There are also good growth opportunities in the longer term."
To contact the reporters on this story: Christoph Rauwald in Frankfurt at crauwald@bloomberg.net; Niklas Magnusson in Stockholm at nmagnusson1@bloomberg.net
To contact the editors responsible for this story: Chad Thomas at cthomas16@bloomberg.net Chris Reiter