Mickey Rooney, Jim Flaherty, Peaches Geldof: Obits This Week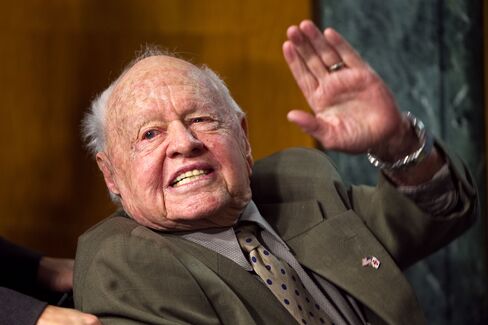 This week's notable deaths included an Oscar-winning child star who kept working into his 90s; one of Canada's longest-serving finance ministers who stepped down last month to work in the private sector; and a model and U.K. television personality whose punk rocker father staged concerts to raise money for famine relief. Below are summaries of these and other obituaries from the past week.
Mickey Rooney, 93, was a pint-sized Oscar-winning actor who was the top box-office draw in the late 1930s and early 1940s in the "Andy Hardy" series, often starring opposite Judy Garland. He made his stage debut at age 1 in his parents' vaudeville act and was performing in films until he died. Died April 6 of natural causes at his home in North Hollywood, California.
Jim Flaherty, 64, who was Canada's finance minister for eight years, resigned last month to work in the private sector. In inflation-adjusted terms, Canada's economy outperformed the G-7 average in all but one year under Flaherty. Died April 10 of a heart attack at his home in Ottawa.
Peaches Geldof, 25, was a model and media personality in the U.K. She was a daughter of Bob Geldof, the lead singer of Irish punk band Boomtown Rats and the organizer of concerts in the 1980s that raised money for famine relief in Ethiopia. Her death on April 7 in her London home was "unexplained and sudden," according to police.
Jan Peter Schmittmann, 57, former chief executive officer of ABN Amro Holding NV's Netherlands unit, committed suicide after killing his wife and a daughter. He "struggled with severe depression," according to his family. Died April 5 at his home near Amsterdam.
Juergen Frick, 48, a Liechtenstein banker, was shot dead in an underground garage by a fund manager with whom he was embroiled in a legal dispute. His attacker was later found dead from apparent suicide. Died April 7.
Robert Slater, 70, wrote more than two dozen books, including biographies of former General Electric Co. CEO Jack Welch and billionaire investor George Soros, the founder of New York-based Soros Fund Management LLC. Died March 25 in Jerusalem from complications of the flu.
Peter Matthiessen, 86, was a co-founder of the Paris Review and won National Book Awards for "The Snow Leopard," a nonfiction account of travel in the Himalayas, and "Shadow Country," a novel. Died April 5 of leukemia on Long Island, New York.
Hassan Durrani, 83 or 84, claimed to be the heir to the throne of Afghanistan as the son of the nation's former king. His claim was disputed by Afghan officials, and he spent part of his life selling neckties in New York. Died April 2 in his apartment in the Bronx borough of the city.