Check iWatch for Nasdaq Bottom Time as Old Tech Gets New Respect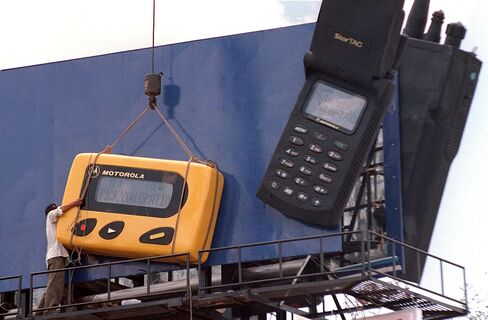 Tina Fey's character on the sitcom "30 Rock" dated a lovable loser of a guy known as the "Beeper King," who refused to accept that there was no longer a market for the pagers he was once so good at selling.
"Technology is cyclical," he argued, and beepers would one day make a comeback. The joke, of course, was that technology is not at all cyclical, there would never be a market for pagers again, and this guy was a delusional fool.
Well, the Beeper King might be having the last laugh this week as the latest buzz words on Wall Street are "old tech" versus "new tech" in a market meltdown that has dragged the Nasdaq 100 Index down more than 6.4 percent since March 5.
The names on the leader board of technology stocks in the Standard & Poor's 500 Index over the past month are remarkably similar to the list ranking them by age, according to their initial public offering dates. (Excluding First Solar Inc., of course. But then again the sun is certainly "old tech.")
Here are some examples. Hewlett-Packard Co., which went public in 1957 and is the second-oldest technology company in the S&P 500, is up 9.7 percent over the past month. International Business Machines Corp., the oldest with an IPO date 98 years ago, is up almost 5 percent.
Intel Corp. has risen 6.8 percent. It went public in 1971. (While that would make it rakishly young for a stock-market columnist, it puts it as the sixth-oldest tech company in the S&P 500, according to data compiled by Bloomberg).
Youth Fades
Meanwhile, the whippersnappers are getting crushed. Facebook Inc., with less than two years as a public company, is down 16 percent.
Which brings us to Apple Inc. While it may make you feel old to think of the iPhone maker as "old tech," its 1980 IPO date makes it the ninth-oldest technology company in the S&P 500. It hasn't been showing its age during the Nasdaq freakout, however, and is down 2.4 percent over the past month.
There are 66 technology companies in the S&P 500, yet Apple is so big it acounts for 15 percent of the group by market value. If anyone can ride to the rescue of this damsel tied to the railroad tracks that is the tech sector right now, it's Apple.
Apple trades at 12.2 times projected earnings, less than the 15.6 multiple on the S&P 500, as revenue growth is forecast to slow to 5.8 percent in 2014 from a heady 66 percent in 2011. In fact, Apple's been selling for a discount since 2011.
Apple was the original failed momentum stock, peaking in 2012 at $702.10 a share and now trading almost 200 bucks lower. Yet there are signs of optimism on the stock in options markets and elsewhere, amid speculation it will regain its shine from new products this year, including larger iPhones, a television set-top box and even a new twist on one of the oldest pieces of technology -- the wristwatch.
"We will see a massive product cycle coming from them," Rosenblatt Securities Inc. analyst Brian Blair said yesterday on Bloomberg Television's "Market Makers" program with Trish Regan. "It will change investor sentiment."
Who knows, maybe they even have an iBeeper in the works.