A Wall Street Rebel Runs for New York State Office
The ex-Evercore managing director wants the rich to pay more taxes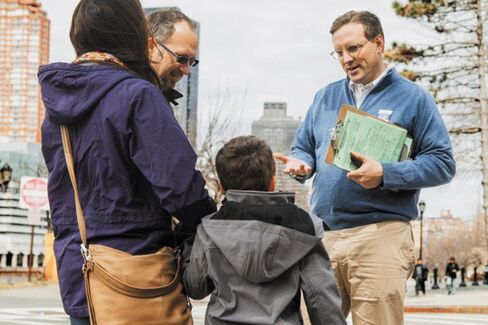 If Gus Christensen looks like an investment banker, it's because he was one until four months ago. A handshake reveals a monogram on a shirt sleeve, an Omega watch, and lapis cuff links he got during a business trip to Chile. One clue to his new line of work is the donkey-patterned tie he wore to address a crowd from Manhattan's Upper East Side, who had gathered at New York's Yale Club on Feb. 27 for the Lenox Hill Democratic Club's annual dinner. "Reactionary forces are strong," said Christensen, who is gearing up to run for a seat in the New York State Assembly, a job that pays $79,500 a year. "But the progressive side is stronger. And both time and right are on our side."
Christensen, 42, is using money he made during two decades working in finance to challenge some principles many of his former colleagues hold dear. During his dinner speech, the onetime JPMorgan Chase derivatives trader and former Goldman Sachs banker mocked the Ayn Rand novels that financiers adore, put his minimum-wage goal at $15 an hour, and praised Massachusetts Democratic Senator Elizabeth Warren's efforts to curb the banks that once employed him. Christensen advocates stronger rights for workers and women, tougher regulation, and affordable housing. He also supports increasing taxes on the rich. He came out of Wall Street "with a slightly different, or maybe radically different, point of view than a lot of other members of the financial community," he says. "I may be an idealist whose hopes and dreams are crashed on the rocks of reality in short order."
The fledgling politician grew up in the Park Slope neighborhood of Brooklyn, the son of tax lawyers. His mother worked for Citibank, and his father represented philanthropist and socialite Brooke Astor. After graduating from Yale in 1994, Christensen joined JPMorgan's training program and stayed at the bank until 2000. Armed with an MBA from the Wharton School, he took a job in 2003 at Goldman, where he advised Colony Capital on the purchase of casinos in Mississippi and New Jersey. One thing he learned, he says, is that casinos are often not the "great engines of local economic redevelopment that they were sold as." He left two years later for Evercore Partners, the boutique investment bank, where he was a managing director. His clients included General Motors and the O'Charley's chain of restaurants.
Christensen caught the political bug while volunteering on the campaign of Julian Schreibman, a Yale classmate who ran for Congress from upstate New York in 2012. "For the first time in my life, since I stopped wanting to be an astronaut at the age of 15 or 16, I saw something else I wanted to do more than being a banker," Christensen says. Schreibman lost to an incumbent, a fate Christensen will avoid. Micah Kellner, the Democrat who represents the district that stretches from 61st to 92nd streets east of Third Avenue in Manhattan, isn't running for reelection. In mid-January, Christensen disclosed campaign contributions of $145,000 on top of a $250,000 loan he made to his nascent campaign.
Earlier this year the New York Daily News reported that Christensen spent more than $2,600 on Lenox Hill dues for about 150 people to help him win the club's presidency. "I didn't come in off the street and, quote, buy this club," he says. Yet Christensen admits that he picked up the tab for friends and former colleagues to counter "moves that the other side had made to control the nominating procedures" for the club presidency. As it happens, the club's former leader, David Menegon, is contesting the same assembly seat Christensen has his eye on.
Heading a club that endorses candidates and works to gather signatures could help Christensen's campaign, while adding a political role to his résumé. Cementing his Democratic credentials is vital to his ambitions, given that until 2007 he was registered to vote Republican. The former banker acknowledges he once saw himself as a fiscal conservative: "I believed much more than I do now in the power, in the neutral goodness, of unfettered free markets."
His father, Henry Christensen III, the head of McDermott Will & Emery's private-client practice in New York, says a number of his clients have told Gus they're delighted he's running. Many follow up, however, by asking, " 'Why are you running as a Democrat?' "
Before it's here, it's on the Bloomberg Terminal.
LEARN MORE