South Korea Won Gains for Third Day as Fed Minutes Weaken Dollar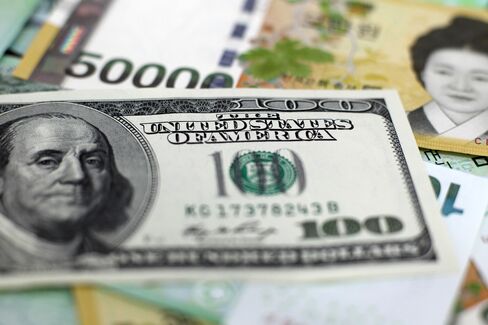 April 10 (Bloomberg) -- South Korea's won advanced for a third day, touching the highest level since August 2008, as minutes from the Federal Reserve eased concern about the timing of interest-rate increases, weakening the dollar.
The won pared earlier gains as importers bought the greenback and after local authorities warned against herd behavior in the currency market. The Bloomberg Dollar Spot Index, which tracks the greenback against 10 major counterparts, fell for a fifth day. Several Fed policy makers said a rise in their median projection for the main interest rate exaggerated the likely speed of tightening, according to minutes released yesterday of the U.S. central bank's March meeting.
The won appreciated 0.1 percent to 1,040.16 per dollar at the close in Seoul, according to data compiled by Bloomberg. It touched 1,031.55, the strongest since Aug. 12, 2008. One-month implied volatility, a gauge of expected moves in the exchange rate used to price options, rose 32 basis points, or 0.32 percentage point, to 7.01 percent.
"It seems there were many local importers willing to buy dollars near the 1,030 level to settle bills, and investors probably thought it's time to take a breather after recent gains," said Park Daebong, a Seoul-based currency trader for Nonghyup Bank. "There was caution against government intervention after the verbal warnings."
'Big Volatilities'
The won's movements are "fast, with big volatilities," Bank of Korea Governor Lee Ju Yeol said at a press briefing today, adding the monetary authority will act to stabilize markets in the event of herd behavior. The central bank held its benchmark rate at 2.5 percent today, as predicted by all 18 economists surveyed by Bloomberg.
Increased currency volatility arising from herd behavior isn't desirable, Choi Hee Nam, the Finance Ministry's director general, said in a text message to reporters today.
The Bank of Korea today raised its growth forecast for this year to 4 percent from 3.8 percent. The central bank may consider raising its interest rates when demand starts to drive consumer-price pressures, according to Governor Lee.
Government bonds declined, with the yield on the 3.125 percent notes due March 2019 increasing one basis point to 3.15 percent, Korea Exchange data show.
To contact the reporter on this story: Jiyeun Lee in Seoul at jlee1029@bloomberg.net
To contact the editors responsible for this story: James Regan at jregan19@bloomberg.net Amit Prakash, Andrew Janes