Sarah Jessica Parker Gets Back to Serious Business—Shoes
After years of unsuccessful deals with fashion brands, Sarah Jessica Parker creates a footwear line of her own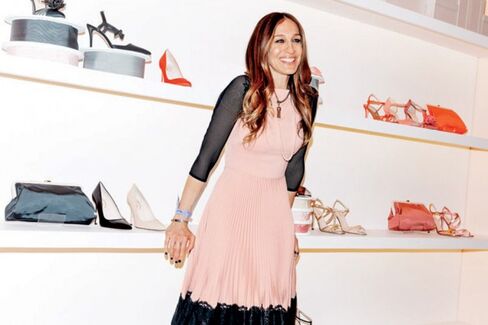 Sarah Jessica Parker, the woman who introduced Manolo Blahnik and Christian Louboutin to the mall-shopping masses, would rather not buy new shoes. "They've gotten a little more involved in the past 10 years," she says from her home office in New York. "They have a lot more stuff stuck on them now." The irony of this statement isn't lost on the 49-year-old actress, who, as Sex and the City's Carrie Bradshaw, popularized the idea that every wardrobe needs expensive pumps. As Carrie once famously said: "Men I may not know, but shoes? Shoes I know."
Even so, as premium shoe prices crept up—styles at upscale department stores average $750—and simple designs got harder to find, Parker saw an opportunity to use her brand for good—and profit. "Shoes seemed like the most natural connection because of the role I played on a show for so long," Parker says. "And I thought, 'How could I ask someone else to spend their hard-earned dollars on something that I myself might not wear every day?' I wanted a beautiful, well-made shoe that was still affordable, that would last forever in your closet."
In February she introduced SJP, a line of women's shoes, plus three handbag styles and a trench coat. The collection is full of pretty pastel suede pumps, summery T-strap sandals, and other options with ladylike names that reference the classic style of Maud Frizon, a 1940s fashion designer, and Etta James. No heel in the 25-piece collection is higher than 4½ inches, and many are half that. But the most sensible thing is their cost: Pairs range from $195 to $485, placing them above Aldo or Nine West but below all the designers who became household names thanks to Sex and the City.
"There's definitely space for a line of shoes at this level," says Marshal Cohen, a retail analyst at NDP Group, which tracks consumer spending. His company found that retail sales of fashion footwear in the U.S. grew 4 percent in 2013, to $41.5 billion, with women's shoes making up 57 percent of that. Part of this can be attributed to the increasing cost of high-end goods in general; a survey by market-research firm Euromonitor International found that the average price of luxury goods rose 13 percent in 2013. Some analysts wonder whether four-figure price tags are masking lower unit sales. SJP's price point effectively avoids that problem. Plus, Cohen says, "there's a certain kind of woman who can't afford designer but doesn't want cheap heels, either."
Parker has tried making money off this customer several times since she became television's most famous fashion icon. In 2004, after working as a Gap spokesmodel, she created her most successful retail products to date, two fragrances: Lovely and its follow-up, Covet, which are still being sold. Her record has been downhill from there. In 2007 she joined a roster that included C-list actress Amanda Bynes and basketball player Stephon Marbury to help design a collection for discount sportswear chain Steve & Barry's. Parker consulted on a line of dowdy capri pants and cotton sundresses, sold under the name Bitten, that was so democratically priced that a New York Times headline once asked, "Is This the World's Cheapest Dress?" It was $8.95. Bitten went bust a year and a half later when Steve & Barry's declared bankruptcy. Parker shrugs off the failure, saying it was "a casualty of the bad economy."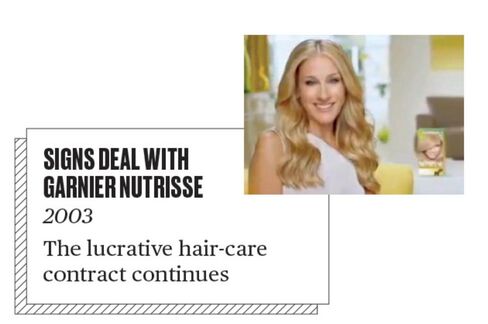 In 2010 the actress was named president and chief creative officer of Halston Heritage, an offshoot of the Studio 54-era fashion house aimed at younger customers. The appointment was hyped as a comeback for her and the troubled Halston label. It didn't work: Parker exited suddenly two years later amid reports that she didn't get along with the company's board. "Halston was like a boyfriend who everyone tells you to stay away from because he'll treat you badly," Parker says. (She's clearly picked up some conversational tics from years of doing Carrie's voice-overs.) "But you don't listen because you think you can change him." It was a relatively clean breakup—the New York Post reported that she received a $3 million settlement in exchange for her stake in the company and the early termination of her contract.
While Parker struggled to find her fashion footing, a number of other celebrities had success with co-branded style enterprises. In 2007, Kate Moss's collection for English retailer Topshop lifted the chain's sales 10 percent, to £1.86 billion ($3.08 billion). Jessica Simpson's line of $60 shoes, sold primarily at Macy's, was credited in 2011 with turning the lapsed star into a momentary billionaire. Simpson's is a licensing deal, an arrangement Parker says she's also been offered but turned down because she wants to be more creatively involved. "I would lie in bed at night," she says, "and wonder, 'What was the hesitation?' "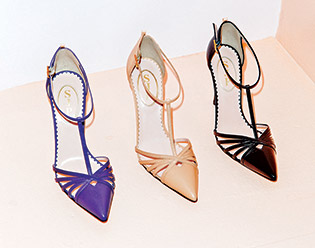 About a year ago, she decided to focus on footwear and called George Malkemus, chief executive officer of Manolo Blahnik, to float the idea of working together. "I was afraid he'd hang up on me," Parker says. (The two are longtime friends; she has a habit of self-deprecation.) He didn't, telling her instead to come to his office at 8 a.m. the next day. "Who wouldn't jump at an opportunity like that?" Malkemus says. "When you say 'Sarah Jessica Parker,' the next thing on the tip of your tongue is 'shoes.' " Parker felt comfortable with the deal in a way she hadn't with others. "This was different in that it was a partnership," she says. "I wasn't a hired hand; I wasn't licensing my name to someone."
Malkemus, who's working on this project separately from his Manolo day job, told Parker he saw a quality and price gap between fast-fashion footwear (Zara's will run you $99) and the designer shoes they knock off. "[SJP] shoes are not for the woman who can necessarily afford the Louboutins or the Jimmy Choos," he says, omitting his own employer. "This is a woman who works hard for her money and wants an investment piece." That customer didn't have many options before SJP—J.Crew and U.K. import L.K. Bennett, worn by Kate Middleton, are two of the only brands in this middle range. To maintain quality, Parker and Malkemus skipped factories in Asia because, according to the latter, they don't give you that "new shoe smell." When they found a factory in Italy that had a low enough cost, he says, it was "a real accomplishment." Parker says she designed the line herself (presumably with some help). "I had worn every shoe under the sun," she says. "I know how they fit. I know how they feel. I know the pitch of the shoe."
The duo also decided on an exclusive partnership with one retail account, Nordstrom, which is displaying the pairs near Marc by Marc Jacobs heels. That strategy cuts down on infrastructure costs, and the department store is helping subsidize marketing by promoting the brand in tandem with a 10-store tour Parker's doing. Women in their twenties and thirties have waited up to three hours to meet the actress. Meanwhile, shoppers have been paying as much as double the retail price on EBay to get sold-out sizes and colors. Within one week of the launch, Nordstrom had to reorder nine styles. Scott Meden, executive vice president of the store's shoe division, says he's surprised by the "overwhelming response."
Parker, who named the label SJP because, she says, she "had to name it something," is thrilled, if a little conflicted. When she appeared on the Tonight Show Starring Jimmy Fallon on Feb. 18 to promote the shoes, she was quick to point out that she hadn't worn them that night because she didn't want to "exploit" the opportunity. Does she feel guilty about putting her initials on a pair of $485 black booties? Prices elsewhere may have marched much higher, but one particular Sex and the City quote comes to mind: "Four hundred and eighty five dollars—for a pair of shoes?" a friend asks Carrie. "That's insane!"
Before it's here, it's on the Bloomberg Terminal.
LEARN MORE