Eni Chief to Be Named as Italian System Lets Premier Pick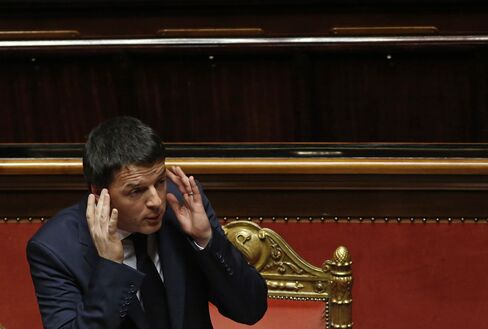 Italian Prime Minister Matteo Renzi is preparing to make top-level management nominations at companies including Eni SpA, the oil and gas producer that pays about 1.2 billion euros ($1.7 billion) in annual dividends to state entities and helps shape public policy.
The privilege falls to Renzi, 39, for the first time since the previous three lists of nominations were proposed during ex-Premier Silvio Berlusconi's time in power. The nominees must be confirmed at shareholder meetings.
The chief executive officers and directors at energy company Enel SpA and weapons maker Finmeccanica SpA are also up for contract renewal or replacement. Still, it is Renzi's decision on Rome-based Eni and its current CEO, Paolo Scaroni, that will get the most scrutiny.
"Eni isn't just the most important Italian company," Renzi said in an April 3 televised interview on La7. "Eni is a fundamental part of our energy policy, our foreign policy and our intelligence policy."
That Renzi has the power to nominate the CEO of Europe's fourth-largest oil company shows both the clout the Italian state retains over swaths of the economy and the range of tools the prime minister has as he seeks to end Italy's slump. Putting a new person in charge at Eni after Scaroni's nine-year tenure would send a signal that Renzi, who came to power promising generational turnover in Italian politics, will make changes in the boardroom, too.
'Expect Discontinuity'
"I expect discontinuity," Filippo Taddei, economic-policy chief at Renzi's Democratic Party, said in a Feb. 27 interview. "I'm pretty sure Renzi will speak to this promise."
Scaroni, 67, has said he is "available" for a fourth term to oversee Eni's oil reserves in Kazakhstan and safeguard Italy's gas interests amid instability in areas such as Ukraine and Libya.
The government will make its choices in the coming days ahead of the annual general meetings of companies in which it holds stakes. Shareholders of Eni, which is about 30 percent controlled by the Italian government, meet on May 8. The Enel meeting is on May 22. The government will also appoint directors and CEOs at unlisted companies controlled by the state such as Poste Italiane SpA and Enav SpA, Italy's air-traffic control agency.
The appointments represent both responsibility and opportunity for Renzi, who relies on a fractious four-party coalition for support in parliament. The former mayor of Florence, who came to power on Feb. 22, is working to pull together solid majorities for his 100-day legislative program that ranges from tax cuts to a new labor-market law to an overhaul of the civil justice system.
'Very Shrewd'
"You will trade a majority in parliament for an appointment," said Francesco Galietti, CEO of Rome-based research firm Policy Sonar. Renzi "is very shrewd. I think he is making the most out of everything he is given."
Scaroni's interest in a renewed term ran into complications last month when he was convicted of environmental charges stemming from his 2002-2005 tenure as CEO of Rome-based Enel. Scaroni said in a March 31 statement that he will appeal the conviction and that the Porto Tolle power plant, which was at the center of the case, always respected the law.
Scaroni was placed in charge of Enel by Berlusconi in 2002, then moved to Eni three years later. At Eni, Scaroni replaced Vittorio Mincato, who served as CEO from 1998 to 2005. Under Scaroni, Eni's stock has slipped about 14 percent. That compares with a 34 percent decline in Italy's FTSE MIB Index of the country's 40 top companies in the same time period.
First Leader
Eni's first leader, Enrico Mattei, put together an oil and gas powerhouse as Italy rebuilt from World War II, taking a small domestic operation and undercutting global competitors to strike production deals from Iran to Morocco. After his death in a 1962 plane crash, Mattei's name was given to piazzas and streets across Italy. The manager was portrayed on the screen by Gian Maria Volonte, the actor who starred as villain opposite Clint Eastwood in Sergio Leone westerns.
Italy's investment in Eni is split between the Treasury, which owns 3.9 percent of the stock, and state lender Cassa Depositi e Prestiti SpA, which holds 26.4 percent, according to data compiled by Bloomberg. The firm has a market value of 66 billion euros.
Enel CEO Fulvio Conti is seeking his fourth mandate, while Finmeccanica's Alessandro Pansa, promoted to CEO last year, is also looking to keep his job.