London's Wealthy Expanding Realms by Buying Out Neighbors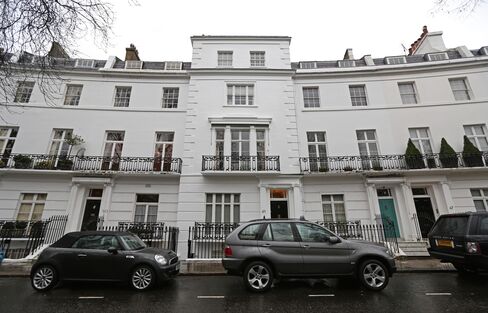 Mergers and acquisitions are making London's rich richer. This time it involves their homes.
Some of the city's wealthiest residents are buying out their neighbors to create super-sized apartments that can double the value per square foot compared with the separate properties.
"If you can create a big lateral apartment, as opposed to one with stairs, you can create the beautiful drawing rooms and entrance halls that the wealthy are looking for," Mark Harris, chief executive officer of Savills Plc's private-finance unit, said in an interview.
Many homes in London's best neighborhoods are more than a century old and lack the space and amenities that the rich expect. That's prompted owners to expand upward, outward and downward with backyard extensions and multiple subterranean floors. In the borough of Kensington & Chelsea, home to Harrods department store and the Royal Albert Hall, applications to combine apartments more than tripled last year to 65 and the council received 27 requests in the first two months of 2014.
A typical apartment in one of central London's most desirable areas is worth 1,500 pounds ($2,500) a square foot, Oliver Hooper, director of broker Huntly Hooper Ltd., said by e-mail. That compares with an average of $1,363 for condominiums and co-ops in Manhattan, according to a report this month by appraiser Miller Samuel Inc. and broker Douglas Elliman Real Estate.
Cash-In Combination
When London apartments are combined, the price can grow to as much as 4,000 pounds a square foot, according to Hooper. After construction costs, the gain is typically about 30 percent, he said.
Owners are "approaching their next-door neighbors or those in the apartment above them and just asking, 'are you interested in selling?'" Hooper said.
An apartment in a converted townhouse at 9 Vicarage Gate in Kensington recently sold for 1,276 pounds a square foot, according to Hooper. Number 11 had been expanded and was placed on the market for 2,912 pounds a foot, though it was later rented out, he said.
Billionaire John Caudwell, founder of mobile-phone retailer Phones4U, won approval in January to connect two homes near Curzon Street, known as hedge-fund alley, in Mayfair. The new home would measure more than 50,000 square feet -- that's about 10 percent less than the White House.
London luxury-home prices have surged in the past five years as political and economic turmoil overseas attracted cash-rich buyers and foreign investors seeking a haven.
Coming Crackdown?
The rise in home expansions comes amid signs that London's boroughs may start taking a tougher stance on them. The city's housing shortage, which Mayor Boris Johnson described as its biggest problem, is increasing pressure to consider restrictions on a privileged few making larger spaces for themselves. An assessment of Kensington & Chelsea's housing policies will be published next year, according to the council.
The review "will recognize the need to strike a suitable balance between catering for the market in large homes and endeavoring to optimize housing delivery and providing a diversity of housing," Emma Strugnell, a spokeswoman for Kensington & Chelsea, said by e-mail.
Westminster Council, which oversees the wealthy Mayfair, St. James's and Belgravia neighborhoods, in January said it may adopt a policy of recommending that planners reject all multilevel basement additions and extensions that are more than 50 percent of a property's yard size.
Kensington & Chelsea's decision to review its planning policies prompted a flurry of homeowners to seek approvals for extensions before any new rules take effect, Savills's Harris said.
"There have been a lot of high-profile projects for amalgamating apartments and large basement digs," he said. "There's a view that in London there might be a clampdown."