Keurig Green Mountain Burns Its Short Sellers
A deal with Coca-Cola has helped reverse the company's fortunes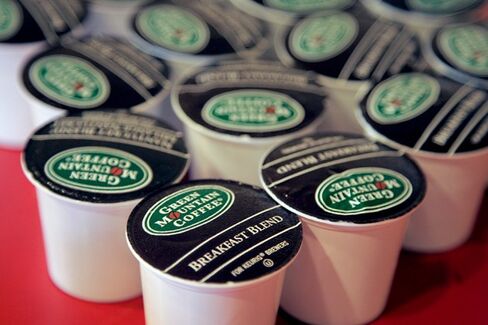 For investors in Green Mountain Coffee Roasters, the events of Oct. 17, 2011, left a bitter taste. That's the day David Einhorn—a hedge fund billionaire famous for sniffing out the rot in a company's balance sheet—publicly ripped into the maker of single-serve coffee machines and the pods that go in them. Speaking to a group of money managers, Einhorn said there were questionable business practices, lax financial controls, and troubling stock sales by insiders. The company denied all of the allegations. Within a month, wagers that the stock would decline surged 85 percent, giving the company an enduring status as one of the most shorted stocks on the Nasdaq exchange. (Shorting is when an investor sells borrowed shares, intending to buy them back later at a lower price.)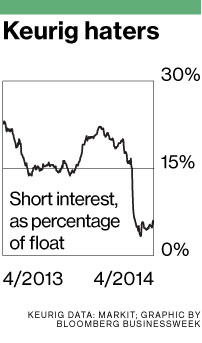 Now, more than two years later, the company—which changed its name to Keurig Green Mountain on March 10—seems to have beaten the shorts. On Feb. 5, Coca-Cola announced it was buying a 10 percent stake, for $1.25 billion, and collaborating with Keurig on machines for the home that will dispense single servings of name-brand sodas and other cold beverages. Keurig stock shot up 26 percent the next day. The number of shares being shorted fell 73 percent from December through March, according to Markit, a financial data firm.
Analysts scrambled to recalibrate their assessment of the company. "We believe the deal transforms GMCR from a controversial single-serve coffee company to a global beverage growth company and should put to rest many of the allegations of fraud and accounting misconduct," Akshay Jagdale, an analyst with KeyBanc Capital Markets, wrote in a report after the deal was announced.
Short sellers who continued betting against the stock felt more pain on March 14, when Keurig renegotiated its contract with Starbucks. The Seattle-based company's blends are no longer the only premium coffee brands available for Keurig's K-Cup brewing machines. The same day, Standard & Poor's added the company to its flagship 500-stock index; it's been the third-best-performing listing since the start of the year, with a return of 34.1 percent, while the broader index has been flat.
Analysts are still split on the company's long-term fortunes. Of the 17 tracked by Bloomberg, only 8 rate the stock a buy. Since its K-Cup patents expired in 2012, the company has seen cheaper, off-label pods take a 14 percent market share. Keurig will roll out a version 2.0 of its brewing machine this fall that uses bar code scanners to verify that pods are properly licensed. Mark Astrachan, a Stifel Financial analyst, called the new machines an attempt to "reclose the system," though he noted it could take as long as four years for the upgraded models to outnumber the old ones.
Keurig's move into the cold drinks market, expected to kick off in 2015, runs the risk of distracting the company from its core business, says Dan Cox. An early Green Mountain employee, he's president of Coffee Enterprises, an industry consultant. "Their entire focus right now is on cold, and yet they're making all their money on hot," Cox says. "Remember, you're taking a $4 pound of coffee and turning it into a $20 product. That's pretty nice. So how about you don't screw that up?" Keurig declined to make Chief Executive Officer Brian Kelley available for an interview.
Some high-profile money managers are sticking to their bearish wagers. Einhorn told investors on Oct. 15 that his hedge fund had added to its short position; through a spokesman, he declined to comment on the current status of the investment. Another outspoken short, Whitney Tilson, the founder of hedge fund Kase Capital Management, wrote in an e-mail: "I am shorting it because I think the company's top- and bottom-line growth will continue to decline (and may even begin to shrink) as generic K-Cup competitors continue to take market share and cut prices."
Before it's here, it's on the Bloomberg Terminal.
LEARN MORE