Japan Atomic Power's Role Supported in Basic Energy Plan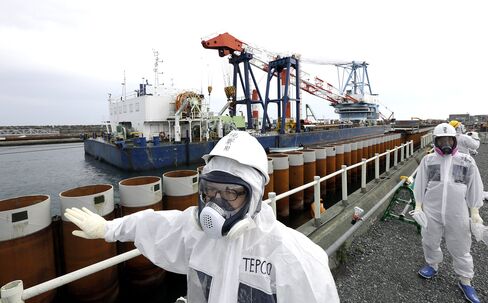 Japan's cabinet approved the first national energy strategy since the Fukushima nuclear accident more than three years ago, designating nuclear as an important source of electricity for the resource-poor nation.
The 78-page plan maps out policies on the production and supply of atomic power, clean energy and other sources. The document is based on the recommendations of a 15-member task force comprised mostly of academics.
"Each energy source has its own characteristics and no energy source is perfect in terms of stable supply, cost, environmental impacts and safety," Toshimitsu Motegi, the minister of economy, trade and industry, said at a news conference today after the approval. "We aim for an energy demand-supply structure that is realistic and well-balanced."
Fukushima threw Japan's approach to energy policy into question, raising concerns about reactor safety and the nation's reliance on atomic power. Nuclear accounted for almost a third of Japan's electricity before the accident and the nation had planned to build more reactors to meet demand.
The new plan underscores atomic power's role in Japan's future, calling it an important source of base-load electricity supply and committing to restart idled reactors after their safety is confirmed.
Power Supply
"It is essential to quickly recover a low-cost and stable power supply system by restarting reactors whose safety is confirmed," Akio Mimura, chairman of the Japan Chamber of Commerce and Industry, said in a statement.
Though the new policy said Japan will cut its nuclear dependency as much as possible, it fails to set specific targets for each source.
Japan will aim to introduce clean energy at levels that further exceed previously announced targets, according to the report. A plan published in 2010 envisioned Japan getting about 20 percent of its electricity from clean energy by 2030.
"Japan's new Basic Energy Policy, which the cabinet agreed on today, is a product of compromise between the government and politicians," Hisayo Takada, a Greenpeace Japan climate and energy campaigner, said in a statement that criticized the policy as a basic support plan for the utilities and the nuclear industry.
Fossil fuels currently account for about 90 percent of Japan's electricity generation, according to government figures.
Before it's here, it's on the Bloomberg Terminal.
LEARN MORE