How Green Was My Office Building? Los Angeles Tops EPA Rankings
Is your office particularly green? If you work in Los Angeles, Atlanta, or Washington, D.C., the answer is more likely to be: yes. The Environmental Protection Agency ranks cities each year by the number of local buildings deemed "Energy Star certified," the agency's designation for an efficient structure.
Los Angeles, with 443 such buildings, has topped the city rankings since the EPA began issuing them in 2008. The Energy Star certification, which can apply to buildings or products, means that 20 percent to 30 percent less energy is used than required under federal standards. The certified buildings cost 50¢ less per square foot to operate and use far less energy per square foot than average office buildings, according to the EPA.
Washington was second for the fourth consecutive year, followed by Atlanta, New York City, and San Francisco. Among midsize cities, San Jose, Calif., had the most energy-certified buildings: 83. Elizabethtown, Ky., had that distinction among small cities, with 53.
The EPA said 23,000 buildings have earned the Energy Star label last year, saving $3.1 billion in utility costs. Energy use in commercial buildings accounts for 17 percent of U.S. greenhouse gas emissions, costing more than $100 billion per year.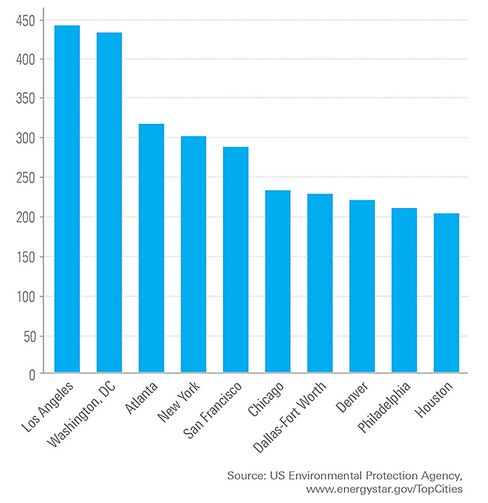 Of course, it stands to reason that these cities may have the most Energy Star-certified buildings because they are all behemoths and have the most buildings, period.
The EPA issued the first Energy Star labels in 1992 for computers and monitors, denoting that the products were more energy efficient. That labeling has since expanded and now includes refrigerators, light bulbs, televisions, supermarkets, and hotels.
Before it's here, it's on the Bloomberg Terminal.
LEARN MORE