Faulty Hedges in Junk Loans Foil Rate Protection: Credit Markets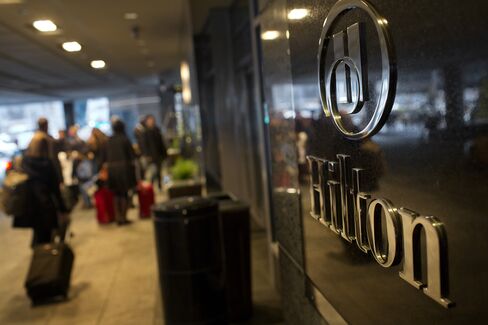 Ashish Shah, who manages company-debt investments for a living, has a message for individuals who've poured $70.7 billion into junk-rated loans since 2012: You'll probably be disappointed.
Below-investment grade loans have attracted new cash for a record 94 weeks by promising interest payments that will float higher along with benchmark rates. The catch: More than 85 percent of the debt won't actually do that until the three-month London interbank offered rate, or Libor, more than quadruples to exceed 1 percent, Morgan Stanley data show.
Futures show that traders don't expect Libor to breach that level for almost two years. In the meantime, prices on the $1 trillion of outstanding U.S. loans are poised to fall when the Federal Reserve raises borrowing costs. Deutsche Bank AG analysts predict returns of 3.5 percent over the next 12 months, more than a percentage point less than yields offer.
"You're a lot less well-protected than a lot of investors think they are, and that will be a rude awakening," Shah, head of global corporate-debt investments at AllianceBernstein Holding LP in New York, said in a telephone interview yesterday.
"People will be shocked when it underperforms when the Fed hikes," said Shah, whose firm manages $254 billion in fixed-income assets.
Record Cash
Investors have funneled $7.7 billion into speculative-grade loan funds this year as they hunt for assets that insulate them from losses when rates rise, according to Bank of America Corp. data. That's following a record $63 billion in 2013.
Even though loans will eventually pay higher coupons as borrowing costs increase, they haven't been immune to concern that the Fed will tighten monetary policy. The market lost 0.9 percent last June after former Fed Chairman Ben S. Bernanke fueled speculation that the central bank would pare bond purchases sooner than expected, according to Standard & Poor's and Loan Syndications and Trading Association index data.
"We do expect rates to go higher, and there will be an impact on loans because they're an imperfect floating-rate instrument right now," Oleg Melentyev, head of U.S. credit strategy at Deutsche Bank in New York, said in an interview yesterday.
Melentyev predicts that loans will underperform junk bonds during the next 12 months, returning 3.5 percent compared with 4.8 percent on bonds. Speculative-grade loans, which rank higher than bonds for repayment in a bankruptcy, have returned 1.2 percent this year, about one-third the 3.3 percent return on high-yield securities.
Hilton Borrows
High-yield, or junk, debt is rated below Baa3 by Moody's Investors Service or lower than BBB- by S&P. Speculative-grade companies in the U.S. obtained a record $1.1 trillion in loans last year, eclipsing the previous high of $899.3 billion in 2007, according to data compiled by Bloomberg.
Hilton Worldwide Holdings Inc. got $8.6 billion of loans in October to refinance debt ahead of a planned initial public offering, and Dell Inc. obtained $9.1 billion in loans to back its buyout by Chief Executive Officer Michael Dell and Silver Lake Management LLC.
A growing proportion of loans have been sold with coupons that float above a minimum level because investors want to be compensated more than what Libor's actual, record-low rate of 0.23 percent would provide. About 85.5 percent now offer Libor floors that average 1 percent, compared with 4.1 percent in January 2008, according to Morgan Stanley.
Libor Falls
Futures traders don't expect Libor, a benchmark for $3 trillion of global contracts and loans, to exceed that threshold until the end of 2015.
Libor has fallen from 0.25 percent at the end of last year, reaching new lows as investors have sought a place to park record amounts of cash as they wait for interest rates to climb. The benchmark has fallen from as high as 9.9 percent in 1985.
While futures traders expect Libor to rise only seven basis points to 0.3 percent by year end, economists surveyed by Bloomberg expect two-year Treasury yields to more than double to 0.83 percent. The move in bonds may prompt prices on loans to fall, too.
Loans will "act like a fixed-rate instrument in the short run," David Breazzano, the president and chief investment officer of DDJ Capital Management LLC, said in an interview this week. "People are fooling themselves if they do not believe loans can trade below par."
Waltham, Massachusetts-based DDJ Capital Management invests in high-yield loans and bonds.
Higher Prices
Record demand has been sending prices higher. Prices on leveraged loans have surged to 98.6 cents on the dollar, from as low as 60.3 cents in 2008, S&P/LSTA data show. Prices are now at about the highest levels since before the financial crisis.
While higher coupons may not kick in for years, the debt will still benefit from the perception that it offers protection from higher rates, as investors will bid it up, said Eric Gross, a credit strategist at Barclays Plc in New York. That may make it less volatile than high-yield bonds, he said.
"You get fund inflows when rates go up," Gross said in an interview yesterday. "If we have a sustained period of rising rates, the drop in price you may see in bonds shouldn't be experienced in loans."
High prices on loans means there's little room for them to gain. The debt usually doesn't trade much above 100 cents on the dollar because companies typically can redeem it at any time -- and such strong demand prompts borrowers to refinance at lower rates.
Little Upside
Companies reduced borrowing costs on $281 billion of speculative-grade loans last year, or almost 4 times more than 2012, according to S&P's Capital IQ Leveraged Commentary and Data.
By the time coupon payments do adjust higher, borrowers facing tighter credit markets may be having a tougher time meeting their obligations. Moody's predicts speculative-grade defaults in the U.S. will start rising this year, to 2.4 percent from 1.7 percent in March.
"You don't capture the upside and you get all the downside," Shah said.
Before it's here, it's on the Bloomberg Terminal.
LEARN MORE