America's Offline Seniors: 41% Don't Use the Internet
Four in 10 American seniors never use the Internet, and nearly a quarter don't own a cell phone. Those numbers might seem low to people whose lives are permeated with digital technology, yet the latest findings from the Pew Research Center indicate a steady rise in technological savvy among older Americans.
In 2000, for instance, only 14 percent of seniors—adults 65 and older—used the Internet, compared with 50 percent of all adults. By 2012 a majority of seniors, 53 percent, told Pew they were going online. Cell phone ownership among older adults increased from 69 percent to 77 percent last year.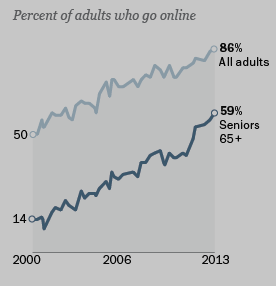 As one might expect, affluence, education, and relative youth within the over-65 group tend to correspond to more tech savvy. Roughly 68 percent of those in their early 70s go online, compared with 47 percent of those between 75 and 79 and just 37 percent of those older than 80. Household income was an even bigger differentiator: Among seniors earning $70,000 or more, 90 percent went online, compared with 39 percent of those with incomes of $30,000 or less.
Of the 59 percent of seniors who go online, 71 percent do so every day or almost every day, while an additional 11 percent go online three to five times per week.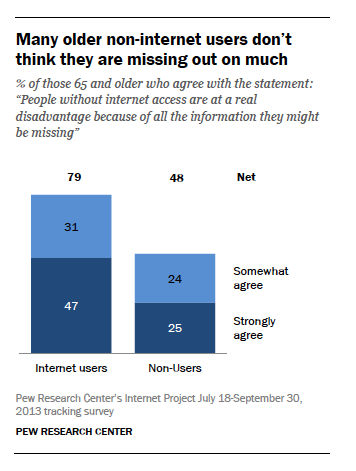 Physical challenges, health issues, and difficulties in mastering new technologies prevent many seniors from exploring the Web, according to Pew. On top of that, many nonusers simply don't feel the need. Although half of nonusers agree when pollsters asked if they might be missing out on important information, 35 percent disagree and 18 percent strongly disagree. Seniors who use the Internet have a drastically different take: 79 percent agree that those offline are at a serious disadvantage.
Seniors also have a growing presence on such sites as Facebook. Among the Internet-using elderly today, 46 percent use social networking sites, compared with roughly 25 percent in 2010 and zero percent in 2006. Moreover, it turns out seniors who use social networking sites are more social in general—at least when you factor in their online interactions.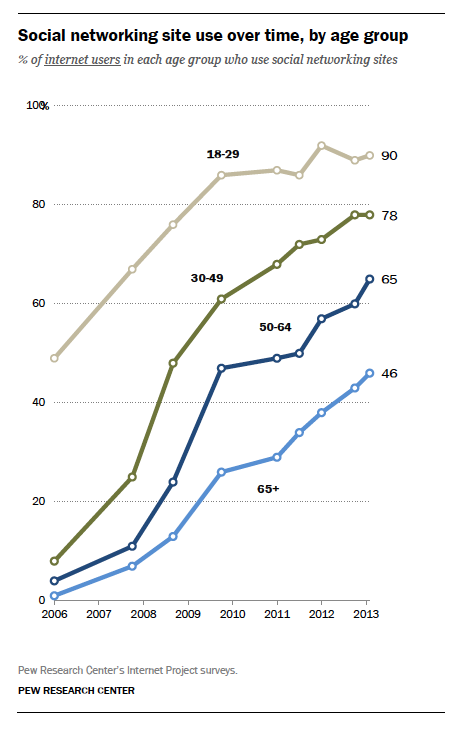 More than 80 percent of those who report using sites such as Facebook say they socialize with others online, in person, or on the phone on a daily or near-daily basis, according to Pew. But for those who go online and don't join social networking sites, the number drops to 71 percent. Among seniors who don't go online, 63 percent reported daily or near-daily socializing.
A mere 6 percent of online seniors reported using Twitter.
Before it's here, it's on the Bloomberg Terminal.
LEARN MORE