Won Rises to Highest Since 2008 as Intervention Concerns Recede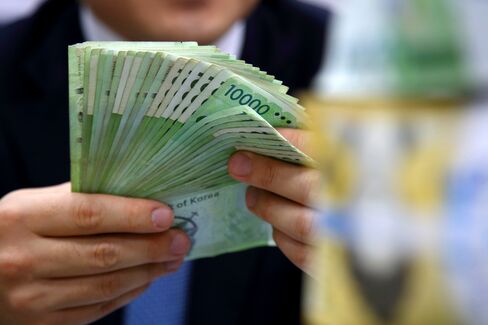 The won climbed to the highest level since August 2008 on speculation South Korean authorities will allow it to appreciate.
The currency rose 1 percent to 1,041.55 per dollar at the close in Seoul, according to data compiled by Bloomberg. It touched 1,040.46, the strongest since Aug. 18, 2008. One-month implied volatility, a gauge of expected moves in the exchange rate used to price options, rose eight basis points, or 0.08 percentage point, to 6.51 percent.
Overseas investors bought more South Korean equities than they sold for an 11th day, the longest run of net purchases since October, exchange data show. The Bloomberg Dollar Spot Index, which tracks the greenback against 10 major counterparts, declined 0.6 percent in New York yesterday, reaching the lowest level since October.
"There were expectations the 1,050 and 1,045 levels will be protected, but they were breached easily," said Kim Do Hee, a Seoul-based currency trader at Australia & New Zealand Banking Group Ltd. "A lot of investors were exiting long positions on the dollar. Smoothing operations by the authorities didn't match market expectations." A long position is a bet an asset will rise in value.
The won is rising "a bit sharply" on weakness in the dollar globally, Bank of Korea Director General Ryoo Sang Dai said by telephone today. The government is more concerned with currency market volatility than the level of the won, Finance Minister Hyun Oh Seok told reporters today.
'Smoothing Operations'
Local exporters were selling dollars and there is speculation the authorities performed "smoothing operations" today, according to Han Sung Min, a Seoul-based currency dealer for Busan Bank.
South Korea's unemployment rate fell to 3.5 percent in March from 3.9 percent in February, official data showed today. The median estimate in a Bloomberg survey was 3.6 percent. The nation's current-account surplus widened to $4.5 billion in February, a 24th month of excess, BOK data showed last week.
"The current-account surplus is continuing to prove stronger than expected," Ray Farris, the Singapore-based global head of currency strategy at Credit Suisse Group AG, wrote in an e-mailed reply to questions yesterday. "This will keep pressure on the won to appreciate. Rising political opposition from the U.S., and in some senses the International Monetary Fund, to intervention will lead Korea to allow the dollar-won rate to trend lower, even if it is gradual."
The IMF said in its annual assessment of South Korea in January that the won should continue to be market determined, with intervention limited to smoothing disorderly market conditions. The U.S. Treasury Department said in its semi-annual currency report to Congress in October that it will urge South Korea to limit its foreign-exchange interventions to exceptional circumstances.
Won Outlook
Morgan Stanley sees a won exchange rate of 1,000 per dollar becoming a "reality," Geoffrey Kendrick, the Hong Kong-based head of Asian currency and rates strategy, said in e-mailed message today.
Earlier this year, the won's advance coincided with a drop in the yen, eroding the competitiveness of South Korean exports versus Japanese goods. President Park Geun Hye said Jan. 6 that a weak yen places a burden on South Korea's economy, while Finance Minister Hyun Oh Seok said Jan. 3 the government is closely monitoring the yen's volatility.
Stronger Yen
Since then, the yen has strengthened and its 3.1 percent advance against the dollar this year has outpaced the won's 0.8 percent gain. The Japanese currency fell 0.2 percent to 102.04 per dollar today after surging 1.3 percent yesterday, the most since Aug. 27. The yen traded at 10.21 won.
"When the won approached 1,050 per dollar in early January, the yen was set to fall below 10 won and monetary authorities showed a willingness to intervene," said Jeon Seung Ji, a Seoul-based currency analyst for Samsung Futures Inc. "Now the situation is different as it's not only the won that's appreciating."
The Bank of Korea will hold its benchmark interest rate at 2.5 percent tomorrow, according to all 18 economists surveyed by Bloomberg News.
Government bonds advanced, with the yield on the 3.125 percent notes due March 2019 declining two basis point to 3.14 percent, Korea Exchange data show.
Before it's here, it's on the Bloomberg Terminal.
LEARN MORE