Who Eats Breakfast at White Castle?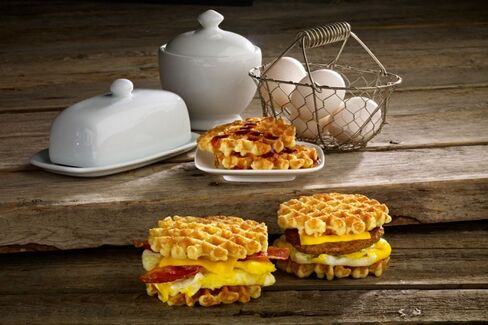 After Taco Bell launched its Waffle Tacos nationwide in late March, late-night competitor White Castle this week introduces its own waffle creation: Belgian Waffle breakfast sandwiches. It's basically egg, cheese, and either bacon or sausage sandwiched between two small waffles. (I had one—the waffle's very sweet.)
Who are these waffle creations for? They're not for people hungry for eggs in the afternoon or evening—the sandwiches are available only from midnight to 10:30 a.m. But like McDonald's, which launched a "McDonald's After Midnight" menu with McMuffins and hash browns after failed all-day breakfast attempts, well-known late-night hangout White Castle looks like it's aiming at night owls.
White Castle Vice President Jamie Richardson says the company is hoping to capture both late-night revelers and the morning commuter crowd. Perhaps more surprising is that foot-traffic stats generated by analytics company Placed reveals that visits during both periods are about equal.
Placed tracks the locations of roughly 125,000 opt-in participants. Of the roughly 2,500 who went to a White Castle in February, about 5 percent of their visits were made between midnight and 6 a.m. Another 5 percent came during the morning rush between 6 a.m. and 9 a.m. (additional breakfast sales are still made in the 90 minutes after that). About half of visits are made during lunch and the afternoon. White Castle declined to comment on Placed's figures.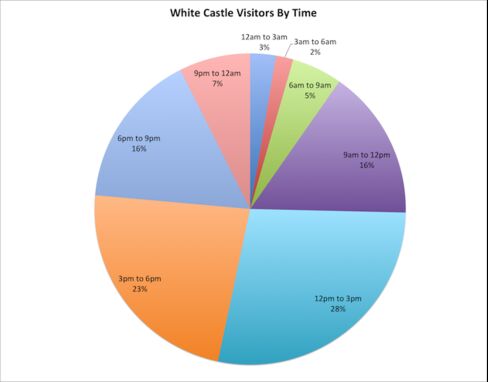 Richardson says White Castle breakfast has three key advantages: It's available for 10-and-a-half-hours, the restaurants use fresh cracked eggs, and the items are designed to have an intense flavor (the bacon egg and cheese toast sandwich with jalapeno cheese is a top seller).
White Castle's new waffles—a limited-time offering—won't have a huge impact on Taco Bell's waffle plans. There are only about 400 White Castle restaurants in 12 states, compared with Taco Bell's nearly 6,000 nationwide. "We are a smaller regional chain that celebrates being family-owned" and are not focused on competing with global players, Richardson says.
There is something about waffles in fast food these days. White Castle will also offer a chicken and waffle sandwich not only for breakfast but at every meal during this period. Burger King recently tested a chicken and waffle sandwich, and Popeye's called its Chicken Waffle Tenders its most successful limited-time offer in recent years.
Before it's here, it's on the Bloomberg Terminal.
LEARN MORE