Putin Expected to Sign China Gas Deal as Crisis Forces Hand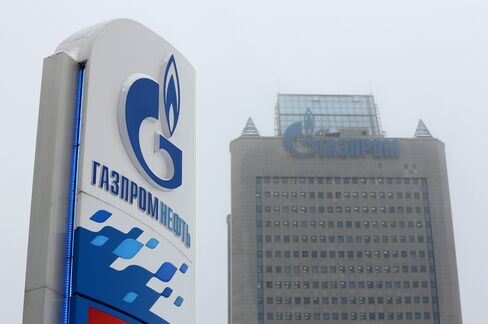 Vladimir Putin is more likely to sign a 30-year deal to supply pipeline gas to China next month after more than a decade of false starts because the crisis in Ukraine is forcing Russia to look for markets outside Europe.
While Putin and President Xi Jinping will make the final decision in Beijing next month, Russia's need for new customers means it's pushing to complete a deal first mooted in 1997, a manager at gas-export monopoly OAO Gazprom and a government official said, asking not to be named because talks are ongoing. In China yesterday, Russia's deputy prime minister said he "hoped" a deal would be signed in May.
The crisis in Ukraine has increased the importance of Russia's relationship with China, its largest trade partner outside the European Union and the only country in the United Nations Security Council not to censure its actions in Crimea. Until a China pipeline is built, Russia has few export markets for gas outside Europe, leaving it vulnerable to sanctions and competition from U.S. exports of shale gas.
"This time, Russia really may close the China gas supply deal considering that it'll be more flexible on the price," Ildar Davletshin, an oil and gas analyst at Renaissance Capital, said by phone from Moscow. "China, too, needs this contract because the further use of coal is becoming unbearable in most developed parts of the country."
Price Talks
Gazprom Chief Executive Officer Alexey Miller met China National Petroleum Corp. Chairman Zhou Jiping in Beijing yesterday to discuss the terms of a deal. CNPC expects to sign a contract with Gazprom "as soon as possible" and talks on prices for supply from Siberia to China are in "active progress," the Chinese company said in a newsletter posted on its website today.
They'll meet again in Moscow later this month before Putin travels to China on May 20, according to a statement from the Russian company.
"We hope to conclude the contract in May," Deputy Prime Minister Arkady Dvorkovich said in Beijing yesterday after meeting Chinese Vice Premier Zhang Gaoli, according to Itar-Tass news wire. "The base price is the only problem to be solved."
Gazprom shares rose 1.9 percent to close at 134.8 rubles in Moscow, the highest since April 4.
The gas-supply deal allowing the construction of the Power of Siberia pipeline across eastern Russia into China has foundered on price. To finance the $22 billion pipeline, Russia sought to match the rates it got for its gas in Europe, a level China hasn't been willing to pay.
Miller said yesterday he hopes a contract will be in force by the end of the year, according to the statement. "We advanced in our talks on the gas price," he said.
Siberian Fields
Starting not earlier than end of 2018, Gazprom plans to supply as much as 38 billion cubic meters of gas to China, about 24 percent of the company's deliveries to Europe last year, which produced about $63 billion in export revenue, according to the company.
Gazprom needs the equivalent of about $13.50 per million British thermal units to profitably finance the pipeline and the development of Siberian gas fields to feed it, a total outlay of $90 billion, Maxim Moshkov, an energy analyst at UBS AG in Moscow, said by e-mail. CNPC won't want to pay more than $11 at the border, a price Gazprom may be forced to meet, cutting into future earnings, Moshkov said.
China will increase natural-gas consumption 11 percent to 186 billion cubic meters this year as imports advance 19 percent, according to CNPC Economics and Technology Research Institute report, cited by China Daily. Gas consumption is likely to be boosted further by a drive to close coal-fired power stations to curb pollution. China's premier Li Keqiang said last month the country will "declare war" on smog.
Before it's here, it's on the Bloomberg Terminal.
LEARN MORE