Cameron Speaks of Christian Faith as Day Ends With Hymn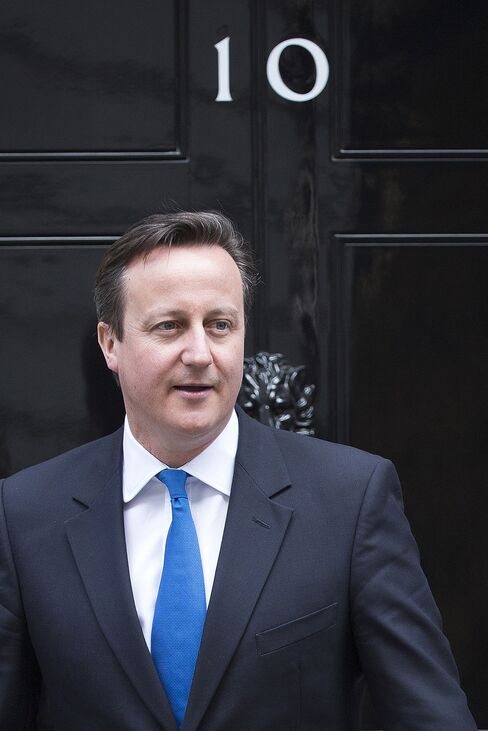 Prime Minister David Cameron, whose day began with the resignation of Culture Secretary Maria Miller, finished it with his eyes shut, leaning against a pillar in his London residence as a soprano sang for his Easter reception.
He had no comment on her choice of hymn: "Ave Maria."
"The Bible tells us to bear one another's burdens," Cameron told his audience of Christian leaders and politicians at 10 Downing Street when she'd finished. "After the day I've had, I'm definitely looking for volunteers."
Miller's resignation over an expenses claim, after nearly a week of pressure from the media, the opposition and members of Cameron's own Conservative Party, dominated the political day and the premier's weekly question-and-answer session in Parliament. The affair has been an unwelcome distraction as the Tories campaign for local and European Parliament elections next month.
In his remarks at the reception, the prime minister made no reference to the issue that's hurt his relationship with the Church of England over the past two years, the introduction of gay marriage -- a policy overseen by Miller.
Instead, he thanked churches for their work in society, including the growth of food banks to help the poor, and urged them to speak up for persecuted Christians around the world.
Referring at one point to Jesus Christ as "our savior," he also went further than any recent prime minister in talking about his Christian faith publicly.
Thursday Morning
Cameron said his "moments of greatest peace" come "perhaps every other Thursday morning" when he slips into the sung Eucharist at St. Mary Abbots, the church in Kensington, west London, linked to the school his children attend. "I find a little bit of peace and hopefully a bit of guidance."
U.K. prime ministers are usually reluctant to speak publicly about faith, which is treated as a private matter in British politics. Tony Blair, who after leaving office was received into the Roman Catholic church and set up a Faith Foundation, was told not to talk about his beliefs by advisers. When Vanity Fair magazine asked him about it in a 2003 interview, Blair's press chief Alastair Campbell interrupted. "We don't do God," he was reported to have said.
Easter Reception
Cameron has held an annual Easter reception in Downing Street since taking office. He has also been comfortable with Biblical allusions. In a 2009 set-piece speech in opposition he borrowed the structure of Jesus' Sermon on the Mount.
While his predecessor Gordon Brown often referred to lessons he'd learned from his father, a Church of Scotland minister, he steered clear of speaking about personal faith. When he did make a Biblical reference, in a speech to a church in 2010, he cited the wrong book of the Bible.
Cameron yesterday paid tribute to the pastoral work of churches, referring to the 2009 death of his oldest child, Ivan, who would have been 12 two days ago.
He named as "the person who looked after me" Mark Abrey, the vicar of the local church in his electoral district. "I can't think of anyone who was more loving or thoughtful or kind," Cameron said.
The prime minister praised the social work of churches, referring to his "Big Society" policy of encouraging volunteering.
"Jesus invented the Big Society 2,000 years ago; I just want to see more of it," he said. "If there are things that are stopping you from doing more, think of me as a giant Dyno-Rod" to clear the drains.
Persecuted Religion
He committed his government to fighting persecution of Christians abroad.
"It is the case that Christians are now the most persecuted religion around the world," Cameron said. "We should stand up against persecution of Christians and other faith groups wherever and whenever we can."
Following his clashes in the House of Commons today with opposition Labour Party leader Ed Miliband over Miller, the premier said his younger son, Elwen, had learned about the weekly prime minister's questions from a recent BBC Television "Newsround" special. "He said 'That's when you shout at each other and call each other idiots and muppets. I watched and I was very proud.'"
Before it's here, it's on the Bloomberg Terminal.
LEARN MORE