Abercrombie & Fitch Hires Kohl's Executive as New Finance Chief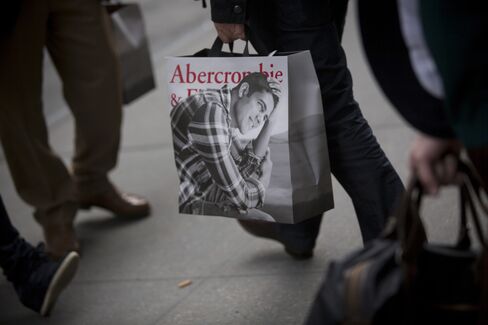 Abercrombie & Fitch Co., the teen retailer that's been under pressure from activist investors to shake up management, hired Kohl's Corp. executive Joanne C. Crevoiserat to be chief financial officer.
Crevoiserat, who previously worked at Wal-Mart Stores Inc. and May Department Stores, will take up the new post next month, Abercrombie said today in a statement. Crevoiserat also will temporarily oversee merchandise planning and inventory management -- duties currently handled by Leslee Herro, who will retire in September. The CFO job is being vacated by Jonathan Ramsden, who was promoted to chief operating officer in January.
Abercrombie Chief Executive Officer Mike Jeffries is revamping his management team after four straight quarters of declining sales. In addition to promoting Ramsden to the operating chief job, it has announced plans to hire two presidents to run the Hollister and Abercrombie brands. The retailer also has separated the CEO and chairman roles and increased the size of the board.
"Joanne's appointment marks another important step in A&F putting in place the right organization to execute against our long-term strategy," Jeffries said in today's statement.
Abercrombie has come under fire from investor Engaged Capital LLC, which wants to see more dramatic changes at the company. Engaged nominated five directors to the board in February, saying the retailer needs a new strategy. It has called for a new top executive and pushed the clothing maker to consider putting itself up for sale.
Revamping Brands
As part of its turnaround effort, Abercrombie is repositioning its brands. The main Abercrombie nameplate will be aimed at shoppers with more money to spend, rather than teens. The Hollister brand, a Southern California-influenced clothing line, will use low prices and rapidly changing styles to recapture customers who've turned to chains like Forever 21.
At Kohl's, which Crevoiserat joined in 2007, she has worked as executive vice president of finance. Before that, Crevoiserat handled merchandise planning and allocation at the department-store chain.
Shares of New Albany, Ohio-based Abercrombie rose 0.5 percent to $37.31 today in New York. The stock has declined 22 percent in the past year.
Before it's here, it's on the Bloomberg Terminal.
LEARN MORE