Phelan Segur Sees '13 Wine Matching Previous Two Vintages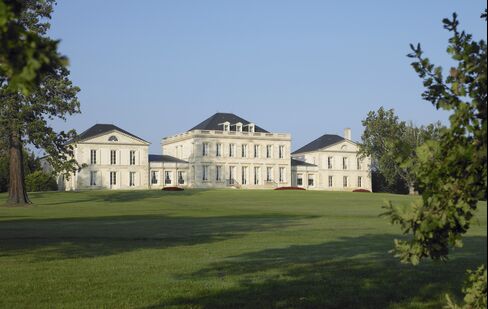 Chateau Phelan Segur, an estate in Bordeaux's Saint-Estephe region, will seek to hold prices for its 2013 vintage stable after saying it has produced wine of similar quality to the previous two years with lower yields.
The volume of grapes harvested in 2013 fell by 40 percent from the previous year following cold, wet weather during flowering, according to owner Thierry Gardinier. While differing in style from the wines of the previous two years, he said better weather during the summer and work in the winery enabled the estate to produce a "good average" vintage.
Collectors are focusing on marketing of the Bordeaux 2013 vintage after prices for the region's top-rated wines declined since peaking in 2011, according to Liv-ex indexes tracking leading estates. The Liv-ex Fine Wine 50 of first-growth left-bank wines has fallen about 3 percent since December after a similar decline last year and a drop of 10 percent in 2012.
"It was a difficult vintage to produce because the vines suffered during the spring," Gardinier said in an interview during tastings in Bordeaux last week. "We have produced a pretty fair vintage, better than what people were expecting when they saw us in October."
The estate has 70 hectares (173 acres) under vines, planted with 55 percent Cabernet Sauvignon and 45 percent Merlot grapes, and is sited on gravel and clay overlooking the Gironde estuary.
Neighboring Vineyards
While it is not included in 1855 classification of the Medoc drawn up for Napoleon III's Paris Exhibition, it traces its history back to the early 19th century, when it was created from two plots purchased in 1805 and 1810, according to its website. Neighbors include second-growth Chateau Montrose and third-growth Chateau Calon-Segur.
Gardinier said that Saint-Estephe had benefited from having less rain than some other parts of the Medoc, and lower yields would affect growers' attitudes to pricing, even amid pressure from merchants to bring 2013 prices lower.
"We will try not to decrease our prices, because we have as good a quality as 2012 and we have a low quantity," he said. "If you look at the market in the next four or five years, even if today we can say we have too much wine, I know from experience that we will have a lack of wine. So be positive, believe in your market and don't panic."
2013 Pricing
Phelan Segur's market price for its 2012 wine is currently listed at 211 pounds ($353) a case on the London-based Liv-ex market, with its 2011 vintage at 225 pounds a case and 2010 at 282 pounds.
The estate's 2012 wine is currently listed at merchants Fine+Rare in London at 237 pounds a case while the 2011 is at 238 pounds a case, according to Fine+Rare's website. That compares with 310 pounds a case for its 2010 vintage.
Among Bordeaux producers pricing their wines early in the marketing campaign this year, Chateau Pontet-Canet, a Pauillac estate neighboring Chateau Mouton Rothschild, released its 2013 wine at 60 euros ($83) a bottle ex-Bordeaux in March, unchanged from its 2012 vintage, according to Liv-ex.
Chateau Gazin in Pomerol last week cut the release price of its 2013 wine to 38 euros a bottle, down 3 percent from the 2012 vintage, while this week Chateau Pichon-Longueville, a Pauillac second growth, priced its 2013 wine at 54 euros a bottle, down 17 percent from its 2012 price of 65 euros. Chateau Gloria, a Saint-Julien producer, reduced its price by 6 percent to 19.80 euros from 21 euros, according to Liv-ex data.
Gardinier said Phelan Segur's strategy is to aim its marketing both at more traditional customers in Europe and newer buyers in markets such as Asia. "We need to prepare the future but we must not lose our old clients," he said.
Before it's here, it's on the Bloomberg Terminal.
LEARN MORE