New Dominance in Renewable Energy Rises in the East
For proponents of new energy, there's some bad news and some good news.

Global renewable energy investment dropped 14 percent last year from 2012, to $214 billion, according to Bloomberg New Energy Finance (BNEF). That's 23 percent off the peak, reached in 2011, according to a new report, Global Trends in Renewable Energy Investment 2014 . The good news is the drop in investment comes largely as a result of lower prices, according to Michael Liebreich, BNEF's founder.
China tops the list of nations investing in renewables (see chart below) and its outsize influence is no surprise. What's noteworthy is just how dominant China has become in the space, and how far it's left the Old World behind. The globe's biggest energy user (and polluter) financed almost 17 percent more clean tech in 2013 than all of Europe -- long the world's moral leader in clean energy.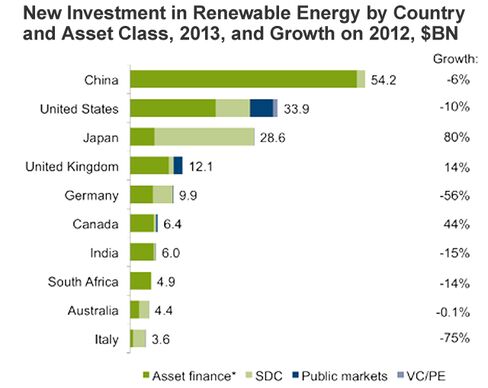 Germany tends to lead Europe's fortunes, such as they are. And Germany has spent itself into a renewable hangover, putting in $9.9 billion last year -- "a far cry from its peak figure of $33.7 billion in 2010," according to the report, which was produced by BNEF and the UN Environment Program. Excessive clean-energy subsidies have pushed up the price of electricity and "have become the biggest problem by straining our economy and industry," Economy Minister Sigmar Gabriel said this week . "We urgently need this fresh start to the energy switch."
The freshest start is coming in Japan . Renewable financing leaped 80 percent there last year, to $28.6 billion -- a function of its changing energy picture in the wake of the 2011 Fukushima nuclear disaster.
Solar companies in the U.S. and the U.K. have increasingly been able to turn to public markets for support. SunPower, SolarCity and SunEdison stocks all rose by more than 300 percent in 2013, according to the report. The U.S.-based Guggenheim solar fund enjoyed a price rise of 138 percent last year and a 590 percent jump in assets under management.
If you're looking for a bastion of stability, keep an eye on Australia, which in a year of good news and bad news managed to play the middle, finishing within a tenth of a percent of its 2012 numbers.
News From the 2014BNEF Summit :

Visit
www.bloomberg.com/sustainability
for the latest from Bloomberg News about energy, natural resources and global business.
Before it's here, it's on the Bloomberg Terminal.
LEARN MORE