Greek Yields in Bond Return Seen Reminder of Snags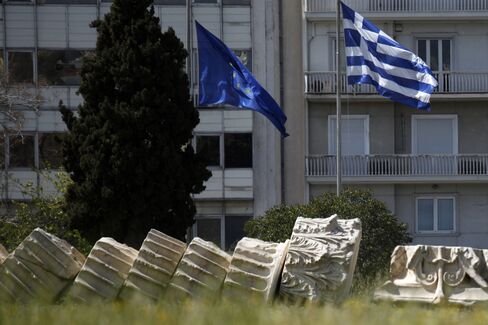 Greece's bond-market return, heralded by lawmakers as evidence of renewed confidence in the nation, will also highlight the progress that's needed before its rehabilitation is complete.
While Ireland, Italy and Spain auctioned debt at record-low yields this year, Greece will offer a premium to lure investors when it sells five-year notes via banks tomorrow. The initial price talk for the deal shows the nation may pay between 5 percent and 5.25 percent to borrow, according to a person familiar with the matter, who asked not to be identified. That's almost double Greece's record-low auction rate of 2.71 percent. Greek 10-year bonds advanced today.
"Greece's motivation would be that they want to show they can do it," said Allan von Mehren, chief analyst at Danske Bank A/S in Copenhagen. "They're taking advantage of the improved confidence in Europe. Of course not everything's been solved."
Greece's target for the sale is 2.5 billion euros ($3.45 billion), a Greek Finance Ministry official, who asked not to be identified because the process isn't completed, said today.
Troika 'Drama'
The Greek government has been shut out of bond markets since 2010 and kept afloat with international bailout loans. Those necessitated the regular presence in Athens of officials from the so-called Troika of the International Monetary Fund, the European Central Bank and the European Commission, which became associated with austerity measures that triggered a political and social backlash.
"The country will return to markets, with a slightly high interest rate, which will fall after and Greece won't remain in this drama of quarterly troika reviews," Infrastructure Minister Michalis Chrisochoides said on March 18.
Greece pays about 2 percent in interest on its bailout loans, Deputy Finance Minister Christos Staikouras said last month, less than half the possible rate on the new notes.
"It's very much symbolic," said Rainer Guntermann, a fixed-income strategist at Commerzbank AG in Frankfurt. "Even though it's more expensive than the bailout loan it could mark the start of a return to normality."
Best Returns
The yield on benchmark Greek 10-year bonds was at 5.88 percent at 3:58 p.m. London time, falling below 6 percent for the first time since March 2010 and down from as much as 44.21 percent in 2012. Greek securities returned 30 percent in the year through yesterday, the most among sovereign-debt markets tracked by the Bloomberg World Bond Indexes.
It would be irrational for a country that has been ousted from the international bond markets for so long not to take advantage of the apparent appetite of investors for buying Greek bonds, a senior Greek government official said this week on condition of anonymity in line with policy.
Greece, the country that sparked Europe's sovereign-debt crisis in 2009 after saying its deficit was bigger than previously thought, last sold bonds in March 2010. It has received two financial rescues and swapped existing securities for new 2 percent bonds maturing between 2023 and 2042 as part of the world's biggest sovereign-debt restructuring in 2012.
Henderson Global Investors, which oversees the equivalent of about $126 billion, isn't planning on buying any of the new five-year bonds tomorrow, money manager Andrew Mulliner said in phone interview today. There is a "very murky picture on the long-term debt sustainability" of Greece, as well as political risks in the country that are hard to quantify, he said.
Relative Value
Bank of America Corp., Deutsche Bank AG, Goldman Sachs Group Inc., HSBC Holdings Plc, JPMorgan Chase & Co. and Morgan Stanley will be the lead managers of the sale, according to a person with knowledge of the arrangements, who asked not to be identified because they aren't authorized to speak publicly.
Greece sold five-year notes via banks in January 2010, raising 8 billion euros at a rate equivalent to 381 basis points over Germany's benchmark debt. With Germany's 1 percent 2019 securities yielding 0.65 percent, a yield of 5 percent would be a premium of 435 basis points. Between 2001 and 2008, yields on the securities at auctions ranged between 2.71 percent and 5.13 percent.
Spain sold five-year securities at a record-low yield of 1.869 percent on April 3, while Italy sold similar-maturity debt at an all-time low rate of 1.88 percent a week earlier. Ireland, another recipient of international aid, sold 10-year bonds to yield 2.967 percent in March, the lowest on record.
Significant Step
Left without a five-year benchmark after its debt swap, Greece should issue a new security to provide a reference point for companies to sell their own bonds, Christian Kopf, a money manager at London-based Spinnaker Capital Ltd. and Miranda Xafa, President of EF Consulting, an Athens-based advisory firm, wrote in a December policy paper for the European Capital Markets Institute and the Centre for European Policy Studies.
The German Finance Ministry welcomes the planned sale, spokeswoman Nadine Kalwey said at a government news briefing in Berlin this week. Greece's return to bond markets would be a "hugely significant step," Irish junior finance minister Brian Hayes said last week. "The outlook for Greece is better and it's positive that Greece is testing its access to bond markets," European Union Economic and Monetary Affairs Commissioner Olli Rehn said in Helsinki today.
"They want to take advantage of the low level of yields and investors' hunt for yield," Alessandro Giansanti, a senior rates strategist at ING Groep NV in Amsterdam said before the sale was confirmed. "They also need to cover the financing gap up to 2015 and pre-fund the years beyond."
Before it's here, it's on the Bloomberg Terminal.
LEARN MORE