Copper Producers Keep China Faith as Rout Belies Demand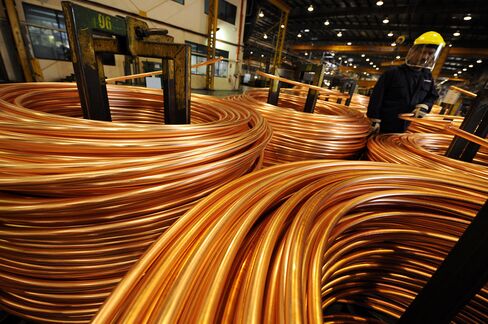 Copper, the worst performing major metal this year, is underpinned by prospects of a recovery in Chinese demand that will help counter increased supply, according to some of the world's biggest producers.
The biggest metal-consuming nation will meet its 7.5 percent economic growth target, Antofagasta Plc Chief Executive Officer Diego Hernandez said yesterday in an interview. Aurubis AG, the second-biggest refined copper producer, attributes a slowdown in purchases since November as "a little bit of a pause" as Chinese buyers reduce stockpiles.
"People may think they're slowing down, but that's not necessarily the case," Stefan Boel, a member of Aurubis' board, said yesterday in an interview from Santiago. "I am not nervous. China is going to grow again."
Copper prices fell 9.3 percent this year, reaching the lowest level since 2010 last month, on concern that a slowdown in China and a release of metal held as finance collateral is coinciding with a flood of new supply. Santiago-based Antofagasta's clients are continuing to buy at the same pace, while investors are exiting bets that copper used in financing deals will enter the market, Hernandez said.
"I don't expect prices to drop below current levels," the former Codelco CEO said. Antofagasta is controlled by Chile's billionaire Luksic family.
Copper for delivery in three months was little changed today at $6,672.50 a ton ($3.03 a pound) in London yesterday.
The price "has more to gain than to lose but nothing spectacular," Boel said.
'Sentiment Driven'
Copper's slump turned out to be "sentiment driven" as financial deals didn't unravel and bonded stock wasn't financing material, Vanessa Davidson, CRU's main copper analyst, said yesterday in Santiago.
"We don't think anything changed dramatically," she said, forecasting a fairly balanced market for the rest of this year and an average price of $6,900.
To be sure, Aurubis agreed to cancel some shipments to China as buyers reduced stockpiles after the price slump. The metal was sold in Europe instead where supplies are limited.
Product makers in China are taking a "hand-to-mouth" approach and importers are adjusting positions on speculation prices may fall further, Boel said. The slowdown also may be being driven by reduced demand for the use of copper to raise finance, currency depreciation and seasonality, according to the Hamburg-based company.
"If I need cathodes here and they have too much down there, shipments are canceled or deferred on mutual agreement and that works for both parties," Boel said. "We are happy to do it when Europe is short cathodes."
'Well Supplied'
Suppliers were shipping copper to China as premiums for imported metal climbed to a record in August. The surcharge, added to the copper price on the London Metal Exchange, slumped 54 percent this year to the lowest in a year, according to Metal Bulletin data. The fee in Europe is up 6 percent, the data show.
Europe and the U.S. are "going well," Boel said. China is "very well supplied" with copper concentrate and there is "a massive amount" of concentrate in Indonesia waiting to be shipped. The cathodes market probably will be balanced, he said.
Hernandez, Boel, Codelco CEO Thomas Keller and Anglo American Plc's head of copper Hennie Faul are attending the Cesco 2014 conference in Santiago this week as Chile, the biggest copper-producing nation, expands output toward a record 6 million metric tons, breaking a decade of stagnant output.
Data Boost
The International Copper Study Group predicts a metal surplus of about 405,000 tons this year, excluding changes in unreported stocks, the biggest since 2001. Hernandez said this year's surplus probably will be about 300,000 tons, depending on execution of new mines in Chile.
While China's demand expansion may slow, the Asian country is still achieving "significant" growth rates, according to Anglo's Faul. The global balance will be tight for the foreseeable future as some companies cut production and new projects from South America to Mongolia struggle with environmental and construction shortages, he said in an interview yesterday.
Investor confidence in copper may pick up in the third quarter as Chinese economic data for 2014 starts to filter into the market, CRU's Davidson said.