Chinese Developers Seen Facing More Challenges on Oversupply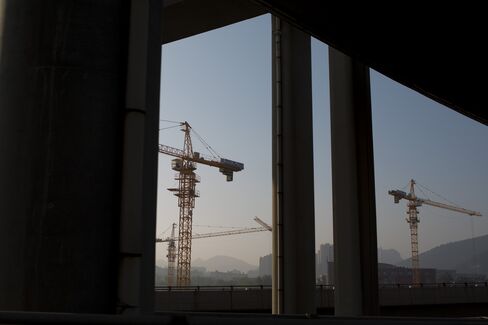 Chinese developers will probably face more challenges this year because of an oversupply of housing in smaller cities, according to a Bloomberg News survey.
Sourcing of financing, including from non-banks, will narrow, according to 26 economists and analysts surveyed from March 24 to 31. Developers in regions where the housing market slowed and access to financing shrunk face rising default risks, Standard & Poor's Ratings Services said in a Jan. 17 report.
"Oversupply remains the top concern of the real estate sector," Qinwei Wang, London-based economist at Capital Economics Ltd., wrote in the survey. "Inventories have continued to rise, with the situation vulnerable in some third cities. Looking ahead, the increase of demand for new properties will probably be far weaker than over the last decade."
The pressure on Chinese developers as economic growth slows and the government allows local cities to implement their own housing curbs was underscored by the collapse of a developer in a city south of Shanghai last month. About 67 percent of housing under construction in China last year was in less affluent cities, according to Nomura Holdings Inc.
While most respondents didn't expect China's property market to collapse this year, four out of five respondents, who see a crash, expect it to happen in smaller third-tier cities, according to the survey.
Home-Price Growth
Premier Li Keqiang last month said the government will regulate the housing market "differently in different cities" to take into account local conditions.
About 38 percent of respondents said China's home prices will rise 5 percent to 10 percent this year, while 35 percent said they expected prices to be little changed.
China's home-price growth slowed for a third month in March. Prices last month rose 10.04 percent from a year earlier, according to SouFun Holdings Ltd., China's biggest real estate website.
Zhejiang Xingrun Real Estate Co., a closely held developer based in Fenghua, is insolvent, with 3.5 billion yuan ($562 million) of debt. Its residential projects have been halted and authorities have detained its largest shareholder and his son, according to the city's government.
— With assistance by Bonnie Cao
Before it's here, it's on the Bloomberg Terminal.
LEARN MORE