U.S. Looks Toward Karzai Successor in Afghan Voting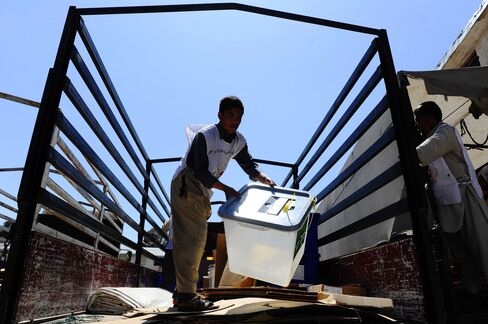 U.S. lawmakers and former officials said they're eager to look beyond Afghan President Hamid Karzai after more than 7 million Afghans flocked to the polls over the weekend to elect his successor.
"Overall, the Afghan people won," said David Sedney, a former U.S. Defense Department official and a member of the Alliance in Support of the Afghan People, a group of former American and Afghan officials and analysts. "The success of the elections and the massive turnout in the face of the Taliban are a major step forward for Afghans and their international supporters. The Taliban and their backers in Pakistan and the region lost."
Karzai's refusal to sign a security agreement with the U.S. has roiled relations between the two countries as most American combat troops prepare to leave Afghanistan by the end of this year.
All three leading candidates to replace him have pledged to sign the Bilateral Security Agreement with the U.S. that the Obama administration has said is needed for any American troops to stay on to advise and support Afghan forces and carry out counter-terrorism operations after this year.
"The election offers the chance for a fresh start with a new president," Representative Ed Royce of California, the Republican chairman of the House Foreign Affairs Committee, said in a statement. "The Karzai government was a case study in how not to win international support."
Security Agreement
Eight candidates competed to succeed Karzai in the first round of voting in an election that may mark the nation's first democratic transfer of power since the U.S. invasion in 2001 ousted the Taliban.
Front-runners for the presidency include former World Bank economist Ashraf Ghani Ahmadzai, ex-Foreign Minister Zalmai Rassoul and Abdullah Abdullah, the runner-up in 2009, who also served as the country's top diplomat.
Ghani ran what a former U.S. official who served in Afghanistan said was a vigorous campaign focused on unity, centrist positions and outreach to youth. He benefited from the higher visibility he gained from leading a transition from NATO to local security forces, selling his house in the U.S., returning to Afghanistan and abandoning his western suits for Afghan dress, the former official said.
Afghanistan's economy has expanded eightfold since 2001 to $20.5 billion, while its infant mortality has declined 33 percent and school enrollment has risen to 7.8 million from 1 million in 2002, official data and figures from the World Bank show.
Risking Lives
Representative Charles "Dutch" Ruppersberger of Maryland, the top Democrat on the House intelligence committee, praised the relatively high turnout, as millions of voters defied Taliban threats to cast their ballots.
"They stood up and risked their lives to vote," Ruppersberger said on CNN's "State of the Union" program yesterday. More than 300 women stood for political office, he added, a development "that never would have happened with the Taliban there."
The Independent Election Commission of Afghanistan said ballot counting had begun after voting was extended by an hour.
"Out of 7 million, around 35 percent of them were Afghan women, a great signal to practice democracy," IEC Chairman Ahmad Yusuf Nuristani said yesterday in Kabul, adding that the turnout was more than twice that of the 2009 elections.
Preliminary results will be announced on April 24 with the final tally scheduled May 14, according to the IEC. As many as 12 million Afghans at home and 8 million living in other nations were eligible to vote.
Possible Run-off
If no candidate wins more than 50 percent of votes -- a scenario the head of U.S. forces in the country views as probable -- a runoff between the top two candidates would take place around the end of May.
Michael O'Hanlon, a defense analyst at the Brookings Institution in Washington who recently visited Kabul, warned that the second round of voting next month will likely become "very, very important, emotionally charged and probably close."
Whoever wins, he said, "will have to build a sense of inclusiveness at home and passable relations at least with Pakistan."
The Taliban had vowed to use "all force" to disrupt the process monitored by more than 260,000 people and costing Asia's poorest economy and its allies $136 million. Over the past month, the Taliban has killed at least 25 people in Kabul, including policemen, election officials and foreigners.
The voting hasn't ended the violence. A roadside bomb killed 13 civilians and wounded five today near the southern city of Kandahar, the birthplace of the Taliban.
"Huge questions" remain, said Ronald Neumann, a former U.S. ambassador to Afghanistan, including whether fraud will cloud the election results and whether a close contest will "lead to deep splits not easily healed."
Before it's here, it's on the Bloomberg Terminal.
LEARN MORE