Takeda Loses First Federal Trial Over Actos Diabetes Drug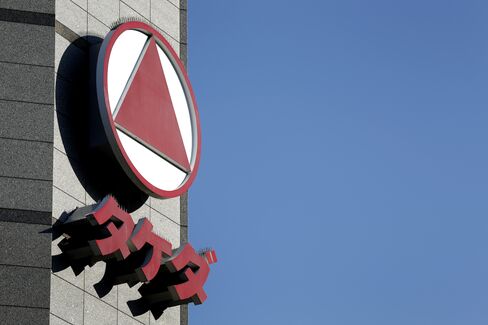 Takeda Pharmaceutical Co. lost the first federal court trial in the U.S. over claims it hid the cancer risks of its Actos diabetes medicine to protect billions of dollars in sales.
The jury in Lafayette, Louisiana, today awarded $1.5 million in compensatory damages and will consider a request for punitive damages.
Takeda, Asia's largest drugmaker, faces the Actos claims after it scrapped development of another diabetes drug this year when research linked it to liver damage. More than 2,700 Actos suits have been consolidated before U.S. District Judge Rebecca Doherty in Louisiana for pretrial information exchanges, according to court dockets.
Takeda executives' failure for at least seven years to provide specific warnings that research showed the drug was linked to bladder cancer wasn't an accident or oversight, Mark Lanier, a lawyer for former Actos user Terrence Allen, told jurors in closing arguments earlier today. Allen, a former shopkeeper from New York, blamed Actos for his cancer.
Managers "made conscious decisions that amounted to reckless disregard" for the millions of consumers who took Actos, Lanier said. The company "was more concerned about making money" than about alerting regulators and patients that side-effect reports showed some users developed cancerous tumors in their bladders, he said.
Fourth Jury
The Louisiana jury is the fourth panel to have weighed allegations that Osaka-based Takeda marketed Actos knowing it could cause cancer and failed to properly warn doctors and consumers about the risks. Last year, state juries in California and Maryland ordered Takeda to pay a total of $8.2 million in damages to former Actos users. Judges in both states threw out the verdicts. Jurors this year in state court in Las Vegas rejected claims the company failed to properly warn consumers about the risks of Actos.
Takeda countered that the evidence showed Allen's bladder cancer wasn't caused by Actos and that the drugmaker provided proper warnings about the drug's risks as they became better known over the years.
Bruce Parker, one of Takeda's lawyers, urged jurors to use "a healthy dose of common sense" when reviewing testimony about the potential causes of Allen's bladder cancer and to find the drug wasn't at fault.
Sales Peak
Actos sales peaked in the year ended March 2011 at $4.5 billion and accounted for 27 percent of Takeda's revenue at the time, according to data compiled by Bloomberg. Actos has generated more than $16 billion in sales since its 1999 release, according to court filings. Takeda now faces generic competition from Ranbaxy Laboratories Ltd.
The consolidated Actos cases in Louisiana are In Re Actos (Pioglitazone) Products Liability Litigation, 11-md-02299. Allen's case is Allen v. Takeda Pharmaceuticals North America Inc., 12-cv-00064, both in U.S. District Court, Western District of Louisiana (Lafayette).