Quebec Voters Poised to Oust Separatist Government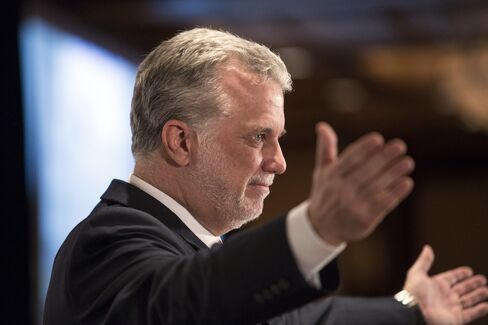 Quebec voters go to the polls today, with surveys showing the Liberal Party led by Philippe Couillard poised to return to power, ousting Premier Pauline Marois and the separatist Parti Quebecois.
Polls published in the last four days of the campaign gave Couillard's Liberals, who advocate remaining in Canada, a lead of 9 to 13 percentage points over the separatists. The Coalition Avenir Quebec, led by Francois Legault, is in third place, surveys show. Voting ends at 8:00 p.m. New York time.
Couillard, 56, seized on Quebec voters' fears of another referendum on taking the mostly French-speaking province out of Canada, stressing that separation is at the heart of the PQ's platform.
"Mr. Couillard has been able to mobilize a vote against the Parti Quebecois," Christian Bourque of Leger, a Montreal-based polling firm said in a telephone interview. "This is a campaign where people seemed to vote against things, not for them. The three main issues -- the economy, health care and education -- have been virtually absent."
Quebec has held two referendums on seceding from Canada under the Parti Quebecois, most recently in 1995. While Marois has worked hard to downplay the chances of another vote, saying she wouldn't call a referendum as long as Quebeckers didn't want one, Couillard told voters not to buy it.
Referendum Vote
"Stop telling Quebeckers that you are not going to hold a referendum," Couillard told Marois during a televised debate March 27. "There's going to be a referendum with the PQ. Quebeckers don't want another one. They want a job, they want better health care and education."
Marois, 65, began the campaign March 5 with a promise to implement a "Charter of Values", which would ban the wearing of religious dress and headgear by state employees such as doctors and teachers, and a lead in opinion polls. That advantage disappeared after she recruited as a candidate Pierre Karl Peladeau, the former head of Quebecor Inc., the province's largest media company. Peladeau's vow to fulfill a dream to make Quebec independent focused the campaign on sovereignty, and sparked Marois' decline.
A Leger poll published April 4 by the Journal de Montreal newspaper showed the Liberals with 38 percent support, compared with 29 percent for the PQ and 23 percent for the CAQ. Both the economy and public finances ranked ahead of identity issues and a possible referendum in terms of importance, the poll showed. The online survey of 1,220 respondents was taken April 2 and April 3. No margin of error was reported.
Party Standings
When the vote was called, the Parti Quebecois held 54 of the 125 seats in the Quebec Legislature, nine short of a majority. The Liberals had 49 seats, the CAQ held 18, Quebec Solidaire had two seats and another two were held by independents.
The Liberal Party's website features its "economic team" of candidates, which includes Carlos Leitao, former chief economist of Montreal-based Laurentian Bank of Canada, who was ranked the second-most accurate forecaster of the U.S. economy by Bloomberg in 2008. It also includes Jacques Daoust, a former executive at Laurentian Bank and Montreal-based National Bank of Canada, as well as Martin Coiteux, an economist who worked at the Bank of Canada's Montreal office.
The economic team promises to help create 250,000 jobs in Quebec over five years, according to the Liberal website. The province added 204,900 jobs over the past five years through March, Statistics Canada data shows. Quebec's economy added 15,100 jobs last month, second behind British Columbia, the statistics agency said April 4. That pushed Quebec's unemployment rate down to 7.6 percent from 7.8 percent in February, compared with 6.9 percent for all of Canada.
Balanced Budget
Quebec is budgeting a C$1.75 billion ($1.59 billion) deficit for the fiscal year that began April 1. Couillard has vowed to balance the budget in fiscal 2015-16, a goal he shares with the Parti Quebecois. To get there, he plans to reduce spending by C$1.3 billion over two years, including 500 job cuts in the education ministry and a 10 percent reduction in "bureaucracy" of the health ministry.
Couillard has also pledged to revive the so-called Plan Nord, a strategy to tap mining and energy resources in the province's north that Marois scaled back soon after her election. Former Liberal Premier Jean Charest unveiled the plan in 2011, promising C$80 billion of government and company investment by 2036 in an area twice the size of France.
The Liberal website also promises support for small- and medium-sized businesses and the province's forestry sector, and says a Liberal government would protect company head offices in Montreal by allowing a provincial fund to buy as much as 10 percent of companies facing hostile takeover bids.
Spreads Narrow
The extra yield investors demand to hold Quebec bonds instead of those from Ontario, Canada's most-populous province, has declined during the campaign as the prospect of another Parti Quebecois victory dimmed. The Canadian dollar rose to its strongest level in six weeks against the U.S. dollar last week.
While a Liberal win would remove the referendum issue from the political agenda, it wouldn't mean total harmony with the federal government in Ottawa. Couillard said April 1 he's opposed to a federal plan for tolls on a new bridge connecting Montreal with the south shore of the St. Lawrence River.
Gabrielle Collu, communications director for the Liberals, didn't immediately respond to a voice-mail message left yesterday seeking the party's position on issues such as the federal government's plan to create a single securities regulator, or TransCanada Corp.'s Energy East pipeline that would bring crude from Alberta's oil sands to refineries in Quebec and New Brunswick.
Former Minister
Couillard is a neurosurgeon who worked in Saudi Arabia for four years in the 1990s and founded the Dhahran Department of Neurosurgery. First elected to the provincial legislature in 2003, he was appointed health minister, holding the post for five years before quitting politics to work as a consultant and serve on boards of companies such as Amorfix Life Sciences Ltd. and Thallion Pharmaceuticals Inc. Couillard re-entered politics last year to run for the Liberal leadership after Charest quit, winning the race with 59 percent support.
The Leger poll also showed a sharp increase in support for Legault, 56, and the CAQ, rising 9 percentage points to 23 percent over the past 3 weeks. Legault, who co-founded Air Transat and who was also a health minister in a Parti Quebecois government before becoming CAQ leader in 2011, has promised tax cuts and no referendum on secession if he's elected.
Clean Up
Legault's party has also benefited from media reports of allegations of illegal financing involving both the Liberals and the PQ. Both parties have denied the allegations.
"We need the courage to clean things up," Legault said yesterday at a televised press conference in Montreal. "We have two parties that want to keep starring in the same old black and white movie on the referendum debate. It's high time we got ourselves a color TV."
Couillard was attacked for having an offshore bank account while he worked in Saudi Arabia. He said he opened the account at a Royal Bank of Canada branch on the island of Jersey on the advice of the Canadian expatriates he met in Saudi Arabia, that he paid taxes on the interest earned after returning to Canada, and that everything was legal.
"What credibility will Mr. Couillard have to fight tax evasion?," Simon Prevost, an economist who is running for the Parti Quebecois in a suburban Montreal district, asked at a March 27 press conference in Montreal. "What credibility will he have to manage public finances? None."
Couillard has been successful in deflecting attacks that he represents the Liberal brand that was rejected in the 2012 vote.
"He is the Teflon man," said Antonia Maioni, a political science professor at McGill University in Montreal. "Anything about the Liberal Party kind of bounces off him."
Before it's here, it's on the Bloomberg Terminal.
LEARN MORE