Modi's BJP Pledges to Reduce India Inflation, Protect Cows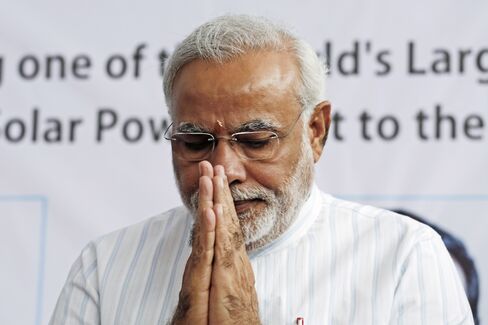 April 7 (Bloomberg) -- India's main opposition party, which leads in opinion polls ahead of federal elections, promised to bring down one of Asia's fastest inflation rates and expedite foreign investment in most sectors except for multibrand retail.
Narendra Modi's Bharatiya Janata Party said in its campaign manifesto today it would create a price stabilization fund and seek to "rationalize" interest rates for manufacturing. The Hindu nationalist organization also said it would try to build a temple on a disputed site, instill legal protections for cows and draft a uniform civil code -- a step resisted in the past by the country's religious minorities.
"The BJP will be voted to power," Modi told reporters today in New Delhi. "Over the next 60 months, we will deliver a government that will reverse the growth slowdown and fulfill the desires and aspirations of Indians."
Opinion polls show Modi's BJP will emerge as the largest party while falling short of a parliamentary majority as voters punish the ruling Congress party for rising vegetable prices, graft scandals and the slowest economic growth in a decade. Voting started today in the election and will continue through May 12, with all ballots counted on May 16.
"The BJP's manifesto is an indication it is going to be as pro-reform, pro-growth and pro-business community as initially expected," said Radhika Rao, a Singapore-based economist at DBS Bank Ltd. "They have expressed that they don't like high interest rates as it means pain for the manufacturing sector."
National Market
The BJP's focus on public investment to improve rural infrastructure to boost farm incomes contrasts with the Congress party's promises of higher support prices for certain crops, according to Nomura Holdings Inc.
"We believe the policies laid out in the BJP's manifesto appear both sound and prudent, and, if implemented, bode well for the economy," Nomura analysts Sonal Varma and Aman Mohunta wrote in a note after its release.
Modi's party said it would look to set up a national agricultural market and take action against hoarders to bring down inflation. It plans to give more power to states, create consensus to implement a goods and services tax and develop labor-intensive manufacturing.
"We will bring back credibility and trust in government, re-sowing confidence in the India story domestically as well as internationally," the manifesto said. "Through consistent, long-term policies, we will not just spur the process of economic growth, but also ensure that it is stable as well as balanced."
Interest Rates
Reserve Bank of India Governor Raghuram Rajan, who has boosted the benchmark rate by 75 basis points since taking over in September, kept the repurchase rate at 8 percent on April 1. Further tightening isn't anticipated if Indian consumer-price inflation remains on a path to hit 8 percent in January 2015 and 6 percent a year later, the central bank said.
India's CPI is the second-fastest among 18 Asia-Pacific countries tracked by Bloomberg even after easing in February to 8.1 percent, the slowest pace since January 2012.
The Congress party, which is campaigning on the party's record of spending on programs ranging from cheap food to guaranteed work in rural areas, promised in its manifesto to give poorer voters a legal right to health care and housing. Congress President Sonia Gandhi predicted her party would return to power because opinion polls are unreliable.
Hindu Supremacy
If voted to power, the BJP will draft new laws governing marriage and inheritance for all Indians, replacing the current system where Muslims follow Shariah-based laws while other minorities are governed by rules framed according to their religions. Hindus make up about 80 percent of the population, while 13 percent are Muslim, according to the 2001 census.
A uniform civil code has been a long standing demand of the party's ideological parent, the Rashtriya Swayamsewak Sangh, which is spearheading Modi's campaign for the top job through its network of 6 million members. The RSS, which believes in Hindu supremacy and protecting its values, has been in the past accused of inciting communal tensions.
The party will create a legal framework for protection of cows, which are considered sacred by Hindus. During his campaign, Modi has criticized the Congress-led coalition for promoting slaughterhouses and meat exports through subsidies and tax breaks.
Anti-Muslim Riots
Modi, a former RSS worker, has promoted his image as a magnet for investment and a record of stronger-than-average growth in the western state of Gujarat, which he's ruled since 2001. The state has attracted investment from companies such as Ford Motor Co. and Reliance Industries Ltd.
Modi has been attacked by opponents for failing to control 2002 riots in Gujarat. After Muslims set fire to a train, killing Hindu activists, ensuing riots killed about 1,100 people, mostly Muslims, according to a government report by Justice G.T. Nanavati and Justice Akshay Mehta.
Human rights groups including the Concerned Citizens Tribunal say Modi failed to control the mob. Modi denies wrongdoing and a panel appointed by India's Supreme Court in 2012 found no evidence that his decisions prevented victims from receiving help.
To contact the reporters on this story: Unni Krishnan in New Delhi at ukrishnan2@bloomberg.net; Bibhudatta Pradhan in New Delhi at bpradhan@bloomberg.net
To contact the editors responsible for this story: Daniel Ten Kate at dtenkate@bloomberg.net Sam Nagarajan