Jobs Rich Irish Mystery Confounds Shrinking Economy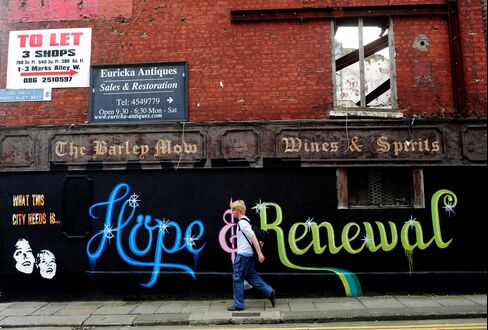 In a corner of western Ireland, ZeniMax Media Inc. is seeking another 200 workers as it prepares to roll out its latest fantasy game.
The company, based in Rockville, Maryland, laid out its Irish plans last month, the day before the government's statistics agency showed the country's economy shrank 2.3 percent in the fourth quarter. It was the biggest decline since 2008, tarnishing Ireland's reputation as the poster child for successful austerity across the euro region.
The timing of the two announcements points to the puzzle at the heart of the Irish economy. Employment is rising, with about a quarter of the 345,000 jobs lost since the demise of the Celtic Tiger now replaced. As are government bonds, nowadays more a reflection of recovery than turmoil, with yields on 10-year securities falling to their lowest ever.
"It's best to look at Irish national accounts with protective radioactive goggles on," said Conall Mac Coille, chief economist at Davy, the nation's largest securities firm. He called it "Ireland's jobs rich recession."
The quarterly decline in gross domestic product was the first in three years and came as Ireland become the first euro nation to exit an international rescue program in December.
Irish Mystery
It compares with growth of 0.6 percent for Portugal, which is aiming next month to follow Ireland out of a bailout. Portugal's 10-year bonds yield about a percentage point more than Ireland's 2.94 percent rate.
The mystery of Ireland's economy arises in part from a structure not necessarily reflected accurately by GDP, according to John Fitzgerald, an economist at the Economic and Social Research Institute in Dublin.
More than 1,000 multinational companies have their European base in Ireland, according to IDA Ireland, the government agency responsible for attracting investment. They account for about 70 percent of Irish exports, meaning small swings in their activities result in larger shifts in Irish GDP without having much real impact on the economy.
"Idle viewers who look at headline numbers would think Ireland is in a mess," Fitzgerald said. "Ireland is in an unfortunate position. It simultaneously has a problem in statistical data in a number of sectors just by chance."
Fewer Drugs
Right now, numbers are being distorted by patents expiring on some of the top-selling drugs in the world.
Pfizer Inc. has lost the exclusive sales rights to Lipitor, the anti-cholesterol pill that had $12.9 billion of sales in 2006. The active ingredient for Lipitor is made in Cork in the south of Ireland and sales will fall to about $2 billion this year, according to a Bloomberg survey of analysts.
As exports faltered, imports surged 5.4 percent in the fourth quarter, reducing the contribution from trade on GDP.
The drop in GDP wasn't "a wake-up call," said Colin Bermingham, an economist at BNP Paribas SA in London. "While a quarterly contraction of that magnitude could be viewed as cataclysmic in some countries, we are not unduly concerned."
Economists point to a second measure: gross national product, which excludes profit repatriated by overseas companies operating in Ireland. In 2013, GNP rose 3.4 percent, compared with a 0.3 percent decline in GDP.
'No Solution'
Yet even that can run into problems, as Fitzgerald showed last year when he parsed the effect of re-domiciled companies on Irish GNP. These are companies that have relocated their headquarters to Ireland to take advantage of the country's 12.5 percent corporate tax rate, while generating little real benefit for the wider economy or many jobs.
Fitzgerald said that often the companies don't send profit home, and so may have inflated GNP by an average of about 1.5 percent a year between 2010 and 2012.
Other indicators are also plagued with problems. The government said this year's tax take has been distorted by the introduction of a new payments system.
"I have been discussing this for 25 years, and it'll be discussed in 25 years," said Eoin Fahy, an economist at Kleinwort Benson Investors in Dublin. "I've looked at it every conceivable way. Domestic demand is too narrow, GDP and GNP are too distorted. There is no single solution."
Job Market
Against the backdrop, economists are emulating central bankers from the U.S. to U.K. and focusing more on the job market. The number of employed people dropped to 1.83 million in the first quarter of 2012 from a peak of 2.17 million in the third quarter of 2007. Since then, the figure has risen to 1.91 million, the central statistics office said.
Given what he calls the "hazy" nature of the Irish numbers, Mac Coille at broker Davy said employment is probably the best single indicator of the economy's progress.
ZeniMax has taken on about 420 people in Galway since the company opened in Ireland in 2011, and has hired Kelly Services Inc. to find more customer service staff as it prepares to introduce an online version of its Elder Scrolls game.
"We saw a real shift in employment opportunities in 2013, firstly with a resurgence of the temporary labor market, then a move into permanent positions," said Jason Palmer, a director at Kelly, in London. "And there has been continuation of this trend in 2014."
Before it's here, it's on the Bloomberg Terminal.
LEARN MORE