Irish President Stays With Queen on Historic State Visit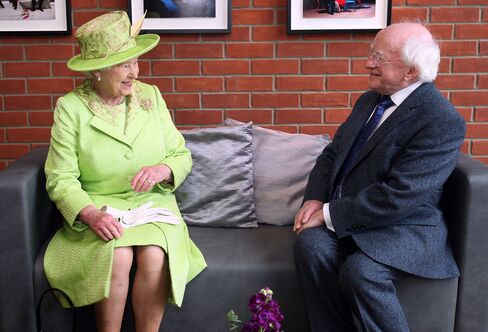 Michael Higgins made a gesture of acknowledgment toward one of the Irish Republican Army's most famous victims, at the start of an historic first state visit by an Irish president to the U.K.
Higgins began his day by joining Queen Elizabeth II in a horse-drawn procession to Windsor Castle. His most significant moment of reconciliation was to come later as he toured Westminster Abbey, opposite the Houses of Parliament. As he left, he passed a memorial to Louis Mountbatten, the queen's cousin who was killed by an IRA bomb in 1979. Higgins paused briefly and bowed his head.
It was a moment that matched the queen's own nod after laying a wreath in Dublin's Garden of Remembrance to those who fought for Irish independence from Britain. That was during the first visit to the Irish Republic by a British monarch since it gained independence almost a century ago.
"This visit would have been impossible 20 years ago," Maria Luddy, professor of history at Warwick University in central England, said in an interview. "The unionists in the north would have seen it as a betrayal for the royal family to meet him, and it would have been very emotionally difficult for the Irish in the south."
Mountbatten, a retired naval officer and statesman, was killed at age 79 along with three others, including his teenage grandson and a local boy, when a bomb exploded on his boat while he holidayed in Ireland. Hours later, 18 British soldiers were killed in two explosions in Northern Ireland.
Peace Accord
Following decades of terrorism, there has been relative peace in Northern Ireland since the Good Friday Agreement of 1998, which saw both those who argue the province should remain part of the U.K. and those who say it should be part of a united Ireland agree to resolve the matter politically. That's allowed ties to deepen between the governments in London and Dublin.
"Our two countries can take immense pride in the progress of the cause of peace in Northern Ireland," Higgins told lawmakers afterward in an address to both houses. "There is of course still a road to be traveled -- the road of a lasting and creative reconciliation -- and our two governments have a shared responsibility to encourage and support those who need to complete the journey of making peace permanent and constructive."
Higgins was due to return to Windsor for a state banquet in the evening.
Dinner Guest
Among the guests at that event will be at least one former member of the IRA, Martin McGuinness, now deputy first minister of Northern Ireland. While it isn't the first time he's met the queen, his presence inside her home is another sign of how far Irish politics has moved in the last two decades.
Tomorrow, Higgins will have lunch with Cameron and then visit Buckingham Palace. In the evening, he'll have a dinner in London's financial center, the City. The third full day of the trip will see a visit to a racing stables, and the following day Higgins will visit the Royal Shakespeare Company in Stratford-upon-Avon.
During the queen's visit to Ireland, she made efforts to make amends for British atrocities committed during Ireland's struggle for independence. As well as her visit to the Garden of Remembrance, she visited Croke Park, a Gaelic-football ground where in 1920 police killed 14 civilians.
"That visit was a major change in the relationship," said Luddy. "This one is probably most important to Irish people. Most British people won't notice. It's a cliche, but the Irish know too much history, and the British don't know enough."