In a First, U.S. Defense Secretary Hagel Visits Chinese Aircraft Carrier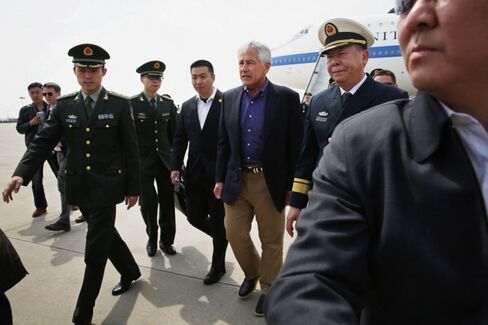 It was an unprecedented feel-good afternoon of symbolism for the often friction-filled Sino-American military relationship. Shortly after arriving in Qingdao, China, U.S. Defense Secretary Chuck Hagel boarded the country's only aircraft carrier for about a two-hour visit.
According to a U.S. defense official, Hagel is the first foreign dignitary ever to be allowed on the Liaoning, a 60,000-ton aircraft carrier bought from Ukraine in 1998 and refitted by China. The event came at the start of the defense secretary's three-day visit. Reporters traveling with Hagel were barred from joining, and more details on the ship visit have not yet been released.
Despite the nice optics of getting a top U.S. official onto a Chinese carrier, don't expect an immediate warming in the relationship. The flash points in the relationship are just too big and immediate. Just listen to what Hagel himself said a day earlier, while meeting his Japanese counterpart Itsunori Onodera in Tokyo.
"You cannot go around the world and redefine boundaries and violate territorial integrity and sovereignty of nations by force, coercion, and intimidation, whether it's in small islands in the Pacific or large nations in Europe," Hagel said.
There's no mystery about what he was referring to—the "small islands in the Pacific" was an obvious reference to what Japan calls the Senkaku and China calls the Diaoyu, disputed, barren islands in the East China Sea. "Large nations in Europe" was a nod to Ukraine and what it has experienced with the recent Russian seizure of the Crimea.
China, for its part, delivered a not-so-nice message through a signed commentary published the same day Hagel arrived in China. At issue: Hagel's criticism over the weekend of China's recently created Air Defense Identification Zone, which covers airspace in the East China Sea that includes the disputed islands and which overlaps with similar Japanese and South Korean zones.
"As the new defense secretary, Hagel has to be informed of some basic facts. The establishment of ADIZ is a normal move," said the official Xinhua News Agency commentary on April 7. "The growing assertiveness of Japan could be partly attributed to the United States. Irresponsible remarks by some U.S. politicians have emboldened the rightist forces in Tokyo."
Before it's here, it's on the Bloomberg Terminal.
LEARN MORE