Bruno Mars, John Oliver to Headline Robin Hood Benefit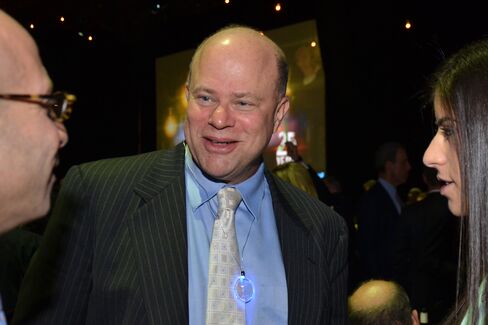 Serving as a chairman of the Robin Hood Foundation's annual benefit in New York may be the closest some Wall Streeters get to being treated like a rock star.
In past years, chairmen have walked on stage under spotlights to the applause of some 4,000 guests in a hall of the Jacob K. Javits Convention Center. Screens around the room broadcast the image so everyone in the audience can see.
The financier chairmen for this year's benefit on May 12 are David Tepper, co-founder of Appaloosa Management, and Alan Howard, co-founder of Brevan Howard Asset Management LLP. They are joined by Jeff Bezos, founder and chief executive officer of Amazon, and Michael Strahan, the former professional football player who hosts a talk show with Kelly Ripa.
The actual rock stars will include Bruno Mars, the singer-songwriter who performed in the 2014 Super Bowl halftime show, whose hits include "Billionaire," "Just the Way You Are," and "Locked Out of Heaven." Brian Williams, the NBC newsman with a comic streak, and John Oliver, the fake newsman with a serious streak, will be featured in the program.
On the invitation sent to Bloomberg News last week, the names appear in fluorescent green ink above an image of the Manhattan Bridge from the Brooklyn side, with a moon rising. Howard's wife, Sabine, and Bezos's wife, MacKenzie, are listed with their husbands, and Tepper shares his billing with Appaloosa Partners.
The annual event last year raised $80.7 million for the foundation, which fights poverty in New York City by supporting more than 200 nonprofits with financial and technical assistance.
Tickets start at $3,000, an amount enabling the foundation to "offer one week of visiting nurse services to 30 low-income first-time moms and their newborns" according to the invitation. The most expensive tables are $250,000 each, "enough to provide high-quality preschool for over 2,500 children."
Before it's here, it's on the Bloomberg Terminal.
LEARN MORE