Audi Joins Mercedes in Posting Best Monthly Sales Ever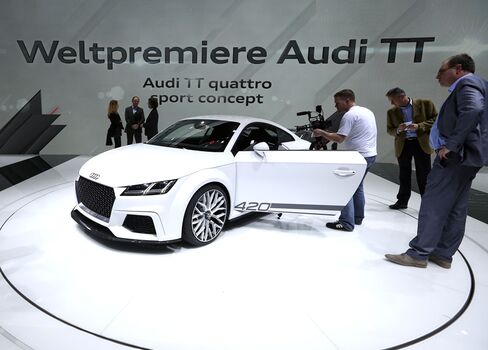 Audi AG, the world's second-largest maker of luxury cars, said March sales surged 15 percent, joining Mercedes-Benz in posting the best single month ever for deliveries because of rising demand in China.
Audi's registrations rose to 170,450 vehicles, the Ingolstadt, Germany-based division of Volkswagen AG said in a statement today. Mercedes-Benz, the third-largest maker of premium cars, said April 4 that demand in March climbed 13 percent as new compact models and the top-of-the-line S-Class sedan attracted buyers.
The increases marked Audi's 51st straight monthly sales gain and Mercedes's ninth consecutive month of growth exceeding 10 percent. The carmakers and luxury-segment leader Bayerische Motoren Werke AG are all targeting record deliveries in 2014 as markets expand in China. Audi sold 37 percent more vehicles in the country last month, while Mercedes posted a 34 percent jump.
Audi and Mercedes "are unlikely to continue at this growth pace in China, and I expect their sales there to rise about 20 percent this year -- though that's still an impressive number," Frank Schwope, a Hanover, Germany-based analyst with NordLB, said by phone.
Model Line
Audi has a strategy to introduce 17 new or revamped models this year, part of a push to overtake BMW in the luxury-car market by the end of the decade as Wolfsburg, Germany-based VW targets the top sales spot among all auto producers by 2018.
The division introduced a fresh version of the A3 compact in 2013 and is rolling out the sedan variant of the model in the U.S. and China this year. First-quarter sales rose 12 percent to 412,850 cars and sport-utility vehicles, a record for the period, Audi said today. BMW has yet to release March data.
China's government outlined spending plans on April 3 targeted at sustaining gross domestic product after a slowdown endangered Premier Li Keqiang's target of 7.5 percent expansion this year following 7.7 percent growth last year and in 2012. The country is Audi's biggest national market, accounting for about 30 percent of the carmaker's first-quarter sales. The manufacturer is also the biggest luxury-vehicle seller in the country, beating Munich-based BMW.
Mercedes, whose three-month deliveries in China amounted to a little more than half of Audi's, combined its two sales organizations in the country last year in an effort to catch up to its two larger competitors. The three German manufacturers offer long-wheelbase variants of their cars for China to meet demand for chauffeur-driven vehicles.
Global sales by Mercedes, which is owned by Stuttgart-based Daimler AG, totaled 158,523 cars and SUVs last month, with first-quarter deliveries rising 15 percent to 374,276.