Putin Chases Off Short Sellers as Russian Stocks Rebound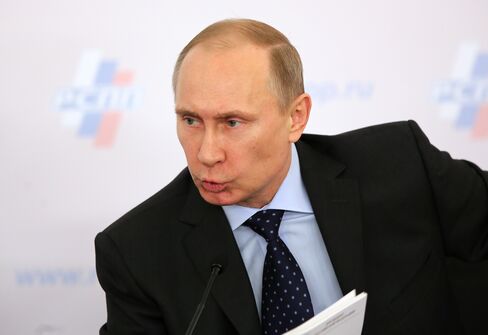 President Vladimir Putin's pledge not to expand beyond the Crimea peninsula in Ukraine is driving short sellers out of the Russian stock market.
Traders have scaled back bets on declines in the Market Vectors Russia exchange-traded fund to 5 percent of outstanding shares from a record-high 21 percent on March 3. That's the largest drop for a comparable period since June, according to data compiled by Bloomberg and Markit.
As short sellers retreat, the market is rebounding, with the Bloomberg Index of Russia's most-traded stocks in New York posting the longest stretch of weekly gains since October. Foreign Minister Sergei Lavrov said at the end of last month that there's no intention to go beyond Crimea, fueling speculation that tensions with the U.S. and the EU are abating. Putin told lawmakers in Moscow on March 18 that Russia isn't about to occupy Eastern Ukraine.
"Short-sellers are throwing in the towel," Andrew Wilkinson, the chief market analyst at Interactive Brokers LLC, said in an e-mail on April 3. "The rebound in Russian stocks is not only luring buyers back to Moscow, but also leading short sellers to retire their borrowed stock."
The Micex slumped 2.9 percent to 1,342.81 at 4:06 p.m. in Moscow today, erasing last week's gains after pro-Russian protests in east Ukraine stoked concern the standoff will escalate.
Record Inflows
The Bloomberg Russia-US Equity Index and the Market Vectors Russia ETF both rose for a third straight week, after a 2 1/2-month selloff that sent the Micex stock benchmark in Moscow into a bear market.
Investors are returning to the Russian market on prospects sanctions imposed by U.S. President Barack Obama along with his European counterparts following the annexation of Crimea won't be strong enough to curb economic growth in the world's biggest energy-exporting nation. A record $574 million was deposited in March in the Market Vectors fund, the largest U.S.-based ETF investing in Russian shares, according to data compiled by Bloomberg.
The retreat in short sales against the Russia ETF pushed the measure of investor bearishness to a nine-month low on April 1, according to data from Markit, a London-based provider of financial information services. The flow of money into the fund in March ended two months of investor withdrawals, data compiled by Bloomberg show.
'Naked Shorts'
Russia-dedicated equity funds posted a second week of inflows through April 2, attracting $119 million of inflows, according to EPFR Global data.
"The market has recovered somewhat," Slava Smolyaninov, chief strategist at UralSib Capital in Moscow, wrote in an e-mail on April 4. "We've got quite significant inflows into Russia funds in March risking that naked shorts on Russia may turn against bears."
Russia's Lavrov said in a March 29 interview transcript that was posted on the ministry's website that his country has "no intentions or interest in crossing the borders of Ukraine", while President Putin told German Chancellor Angela Merkel by phone he'd ordered a partial withdrawal of troops from Ukraine's eastern border, Merkel's office said in a statement on March 31.
While investors have returned to Russia over the past month, equities have still suffered $3.62 billion of outflows this year, according to EPFR.
'Down Trend'
"There is no further escalation of the crisis so far, but the tensions are still there and investors are concerned," Walter "Bucky" Hellwig, who helps manage $17 billion at BB&T Wealth Management, said by phone from his office in Birmingham, Alabama. "The market was in a pretty strong down trend during the Crimea crisis and it hasn't recovered to the pre-crisis level still. That means the market is saying that there is still the perceived risk in Russian stocks."
Stock trading volumes have soared as tensions escalated. The average volume in 334 shares and one depositary receipt listed on OAO Moscow Exchange jumped to 64.9 billion rubles ($1.8 billion) in March from 34 billion rubles in February.
The RTS Volatility Index, which measures expected swings in futures, rose 5.8 percent to 28.70 in U.S. hours April 4, while RTS stock-index futures dropped 1.2 percent to 119,240.
OAO Surgutneftegas, Russia's third-biggest oil producer, jumped 7.4 percent to $7.30 last week in New York on speculation it will boost dividends after reporting soaring profit and cash. OAO Rostelecom advanced 11 percent to $15, the biggest gainer on the Bloomberg Russia Index.
"Current market optimism is tied to the fact that Russia hasn't gone beyond Crimea and sanctions turned out to be rather mild and don't yet have an effect on the economy" Dmitry Smirnov, the head of asset management at Agana Asset Management Co. where he oversees about 42 billion rubles in Moscow, said by phone on April 4.
Before it's here, it's on the Bloomberg Terminal.
LEARN MORE