Pro-Market Campos Offers Third Way in Bid to Oust Rousseff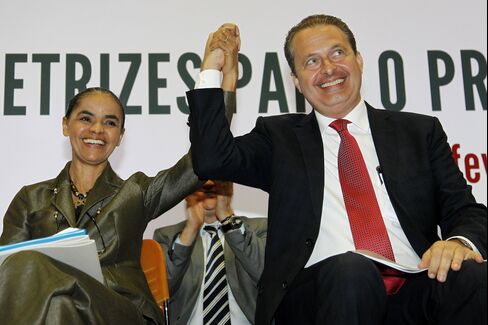 Eduardo Campos stepped down as governor of Brazil's Pernambuco state today to campaign for the country's top job, pledging to shrink the size of government while expanding social welfare.
Campos, 48, has also said he would consider granting the central bank more autonomy, cut political meddling in state-controlled energy companies, and expand the Bolsa Familia welfare program introduced by former President Luiz Inacio Lula da Silva. Campos's Brazilian Socialist Party, or PSB, quit President Dilma Rousseff's governing coalition in September. He handed over the governorship to his deputy in Recife today, PSB Vice President Roberto Amaral said in an e-mail.
While Campos trails Rousseff by 35 percentage points in opinion polls, he has narrowed the gap with runner-up Senator Aecio Neves of the Brazilian Social Democracy Party, or PSDB. Campos's youth, track record in Pernambuco state and appeal to voters tired of traditional politics make him the dark horse in the race, said Andre Cesar, director at public policy and business strategy consulting firm Prospectiva.
"Campos is the biggest threat to Dilma's re-election, the most likely to force her into a run-off round," Cesar said in an interview in Brasilia. "He has more voter appeal than his rivals, but he still needs to drum up support and polish his proposals."
Red Tape
Campos has pledged to reduce red tape for businesses and citizens, cut by almost half the 39 federal ministries and improve the quality of spending. "We need to simplify Brazil, bring the state closer to society," Campos said in a speech in Brasilia when presenting a draft government platform in February. In a TV ad that began airing last week, he criticized Rousseff's economic and energy policies, saying state-owned oil company Petrobras's worth fell by half during her term.
A science and technology minister under Lula, Campos had 12 percent support for the Oct. 5 presidential election, compared with 47 percent for Rousseff and 17 percent for Neves, according to a Feb. 19-20 survey conducted by the Sao Paulo-based polling firm Datafolha. The five-point gap with Neves was down from eight in November. The survey had a margin of error of plus or minus two percentage points.
Campos faces the challenge of taking on a governing coalition of more than 10 parties and marketing himself as an outsider after he backed Rousseff's campaign in 2010 and served under Lula, said Rafael Cortez, political analyst at Tendencias consulting firm in Sao Paulo. He has allied himself with former Environment Minister Marina Silva, who ran third in the 2010 presidential race and will be named his running mate this month, Amaral said by phone.
Credit Downgrade
"The Brazilian public last year expressed the desire for a better quality of life," Campos said in his resignation speech today, according to his Twitter feed. "Now is the time for Brazil to unite and move forward."
With his talk of a leaner state, fiscal discipline following last month's downgrade of Brazil's credit rating, and autonomy for a central bank whose leader can be fired by the president, Campos has struck a chord with investors concerned about inflation, fiscal accounts and government intervention in currency and capital markets, said Roberto Padovani, chief economist at brokerage Votorantim Ctvm. in Sao Paulo.
Brazil's presidential race is up for grabs and a defeat of Rousseff may trigger a rally in the nation's financial assets, Jorge Mariscal, the chief investment officer for emerging markets at UBS Wealth Management, said in an interview April 2.
Standard & Poor's on March 24 cut Brazil's credit rating to BBB-, the agency's lowest-grade rating, from BBB. Sluggish economic growth and an expansionary fiscal policy are fueling an increase in the country's debt levels, S&P said. Yields on Brazil's 10-year dollar bond fell 16 basis points, or 0.16 percentage point, to 4.57 percent since.
Market-Friendly
Campos, who holds a bachelor's degree in economics from Pernambuco Federal University, late last year met with investment banks including JP Morgan Chase & Co. and Credit Suisse Group AG, said Beto Albuquerque, the PSB lower-house leader, who sat in on the meetings. He said Campos also listens to former central bank chief Arminio Fraga and "is very aligned" with the thinking of Eduardo Gianetti, an economic adviser whom Padovani considers a testament to Campos' market-friendly stance.
Campos declined to be interviewed before stepping down as governor.
The governor is trying to present himself as a candidate who would continue social programs begun by Lula and adopt policies that would resume growth by boosting the role of the private sector, said Joao Augusto Castro de Neves, senior Latin America analyst with Eurasia Group consulting firm in Washington.
Inflation Control
Campos's draft platform calls for a "vigorous" industrial policy, inflation control, and tax incentives for alternative energies. "We're a party that doesn't have a problem with entrepreneurs making money, we want a state that facilitates instead of stifling business," said Albuquerque.
Average economic growth of 2 percent during Rousseff's first three years in office was the worst of any presidency since 1992. Slower growth has been accompanied by above-target inflation as the administration cut taxes and increased spending to recover growth. The Sao Paulo stock exchange has fallen 26 percent during Rousseff's term, and the real was the worst performing currency after the South African rand among the 16 most-traded currencies. It fell 26 percent.
Still, polls show Rousseff would win in the first round as near-record low unemployment of 5.1 percent and welfare benefits have helped sustain her popularity.
Campos cut ties with Rousseff after the largest street protests in two decades last June against inflation, poor public services, and corruption convinced allies that the little-known leader of a small state stood a chance against the president, said his party's Senate leader, Rodrigo Rollemberg.
Less Known
Campos is still unknown to 45 percent of voters, according to the Datafolha poll. Neves is known by 76 percent of those polled, having served as senator and governor of Minas Gerais, one of Brazil's biggest and vote-rich states. Still, the elitist image of his PSDB party could weigh against him with voters looking for a fresh face, said Cesar.
Campos's "centrist" approach may allow him to attract voters looking for an alternative to the Workers Party and the PSDB, said Castro de Neves. That strategy could also backfire, he said. "When you try a centrist path, you risk muddling the message and looking non-committal," said Castro de Neves.
Campos made his debut in politics at age 21, when he campaigned for Miguel Arraes, his grandfather and former Pernambuco governor. As a legislator in Congress he successfully pushed a bill that cut pension benefits and, as Lula's science minister, a measure that allowed stem cell research.
State Performance
During his first six years as governor, the economy of Pernambuco, a state about 60 percent smaller than Sao Paulo, grew 5.1 percent annually, faster than the national average of 3.7 percent. Since he took office, homicide rates fell 39 percent, according to data from the state government. He increased time children spend in public schools, lifted salaries for teachers and gave them performance bonuses.
Campos, who is married and the father of five, was re-elected with 82 percent of valid votes in 2010, more than any other governor.
He could gain support as Rousseff's approval rating drops, said David Fleischer, political science professor at the University of Brasilia. Her government's approval rating fell for the first time since the June protests to 36 percent from 43 percent, according to a March 14-17 Ibope poll.
"A new round of protests could be a game changer," Fleischer said by telephone. "With Aecio's lackluster campaign, Campos stands to gain most."