Obama Pledges $500 Million in Loan Guarantees for Tunisia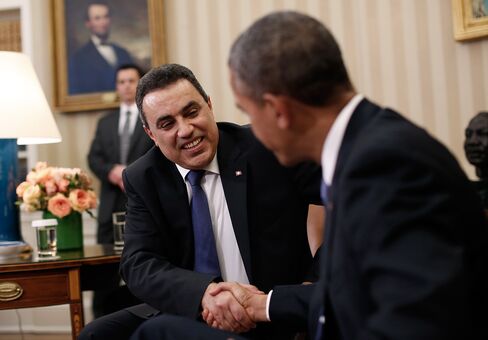 April 4 (Bloomberg) -- President Barack Obama met with Tunisian Prime Minister Mehdi Jomaa as U.S. was set to provide the North African nation with $500 million in loan guarantees to help foster democracy there.
The guarantee will help Tunisia raise capital at favorable rates as it builds its economy, according to the White House.
"The United States has a huge investment in making sure that Tunisia's experiment is successful, and we want nothing more than Tunisians to determine their own destiny," Obama said as he began his Oval Office meeting with Jomaa today.
"We have this new hard-won freedom," Jomaa said, and "now we need to focus on the future."
The agenda for their talks included U.S. financial and security assistance to Tunisia as well as support for its democratic political transition and efforts to combat extremism throughout North Africa.
Tunisia was home to the first and most successful of the Arab Spring uprisings that spread throughout the region in 2011, after Mohamed Bouazizi, 26, an unemployed vendor, committed suicide by setting himself on fire in December 2010.
The nation of 10.8 million people had an unemployment rate of 16.7 percent at the end of last year, according to International Monetary Fund data. Support from the U.S., the World Bank and European Investment Bank has helped bolster confidence and draw more investment.
U.S. Assistance
Since the revolution in Tunisia, the U.S. has committed more than $400 million to provide technical, financial and security support for the government.
Jomaa, 51, an engineer, became prime minister this year after serving as the industry minister to Tunisia's second transitional government.
"Tunisians feel they are in a precarious position, and they're looking for as much help as they can get," said Jon Alterman, director of the Middle East Program at the Center for Strategic and International Studies, who moderated a question-and-answer forum with Jomaa on April 2.
Alterman said that while Tunisia is a small country "its political journey toward political reconciliation could be a great success story for the world." The country is "trying to nudge its way into U.S. strategic consciousness," he said.
In the April 2 forum at CSIS, Jomaa said of the challenges for Tunisia's government, "The threat will not be security. The threat will not be political. It could be economical and social. We are working hard on that."
"I think this experience is turning in the right way today after three years," he said at CSIS. "We started the changes. We started the revolution. But we would like as well now to start the process to converge there to a democracy, to more freedom, but as well to more development for the people."
To contact the reporter on this story: Margaret Talev in Washington at mtalev@bloomberg.net
To contact the editors responsible for this story: Steven Komarow at skomarow1@bloomberg.net Joe Sobczyk, Mark McQuillan