Marois's Campaign Dip Shows Quebec Not Ready to Separate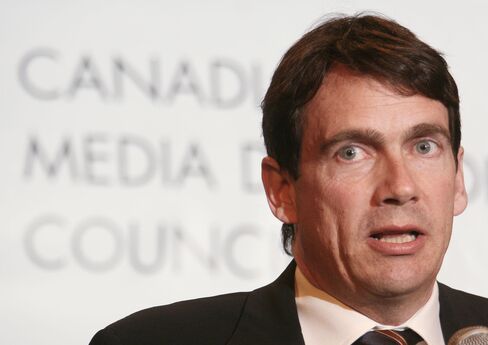 A defiant fist pump from one of Quebec's richest men will probably cost Quebec Premier Pauline Marois the election on April 7.
Media mogul Pierre Karl Peladeau joined Marois's campaign as a candidate for the Parti Quebecois on March 9, vowing to fulfill his dream of creating a separate country for the Canadian province.
Marois's support has been falling ever since, showing that most Quebeckers aren't ready for another referendum on separation, and will punish politicians who advocate for one. The latest polls show the Liberal Party led by Philippe Couillard enjoys as much as a nine-point lead over Marois's separatist party, reversing the PQ's two-point lead at the start of the campaign.
"Mr. Peladeau's arrival is the turning point of the campaign," Andre Blais, a political science professor who holds the Canada Research Chair in Electoral Studies at the University of Montreal, said in a telephone interview. "It sparked a strong and immediate reaction among federalists" to support the Liberals.
Even before the campaign began, Marois tried to play down the imminence of a referendum until Peladeau, the biggest shareholder of Quebecor Inc., the province's largest media company, moved sovereignty to the forefront.
Marois, 65, called the election March 5, seeking a majority of seats in the provincial legislature and a mandate to push through her so-called Charter of Values that limits displays of religious symbols such as turbans and hijabs in the public service. The separatists held a minority of seats in the Quebec City legislature before the election was called, meaning they needed opposition support to pass legislation.
Early Support
The separatists began the campaign with polls suggesting they had enough support to form a majority government, raising the specter of another referendum. Quebec has held two plebiscites on splitting from Canada -- in 1980 and 1995 -- under previous Parti Quebecois majority governments. The separatists lost both votes.
The last weeks of the campaign have been marked by a reversal of fortune in Marois's bid to win her party's first majority since 1998, and revealed an unwillingness among voters to live through another fight with Canada over independence.
"The campaign is not playing out the way Madame Marois had envisioned," said Antonia Maioni, a political science professor at Montreal's McGill University. "Her agenda got hijacked by the referendum question."
Financial market nervousness has eased, with Quebec borrowing costs falling compared with other provinces as the Parti Quebecois prospects have waned.
Bonds Rally
The extra yield demanded by investors to hold 10-year bonds from Quebec rather than Ontario, Canada's most-populous province, has narrowed to about 14 basis points, from as much as 20.5 basis points on March 12.
"From a market standpoint, a Liberal victory is significantly priced into the Quebec government's borrowing costs," Derek Holt, an economist at Bank of Nova Scotia, said in a note to investors yesterday.
Marois led her party's return to power in 2012, ending nine years of rule by the Liberals. Support for Marois had risen in the weeks leading up to the election call amid growing popularity for her charter of values. Recruiting Peladeau four days into the campaign was seen as a bid to burnish the party's economic credentials and broaden its appeal beyond its traditional union base.
While the televised confirmation of Peladeau's political leanings galvanized separatists, it also triggered an even stronger reaction among supporters of a united Canada, said analysts including Blais of the University of Montreal.
Liberal Lead
Thirty-seven percent of respondents in an Ipsos Reid survey conducted earlier this week said they backed the Liberals, compared with 28 percent for the Parti Quebecois and 19 percent for the Coalition Avenir Quebec. Ipsos Reid's previous poll, conducted two weeks ago, gave the Liberals 37 percent support, compared with 32 percent for the separatists.
Ipsos Reid polled 1,012 Quebeckers online from March 28 to April 1. Results are considered accurate within 3.5 percentage points.
Polarization along pro- or anti-sovereignty lines "is something that is favoring the Liberals," Youri Rivest, a vice president at the Montreal-based CROP polling company, said in a telephone interview.
Economic Team
Marois has spent the last three weeks tempering talk of a referendum in a bid to salvage her campaign. At a speech yesterday to the Montreal Board of Trade, she focused on her efforts to boost exports and lure investments and made no mention of sovereignty. She referred to Peladeau as a key member of "the strongest economic team in Quebec history." For the first time since the start of the campaign, Marois raised the possibility of lowering taxes after Quebec balances its budget in the fiscal year beginning April 2015.
"I have at least two years in front of me to return to balance," Marois told reporters today at a campaign stop in Laval, north of Montreal. "After that, we will evaluate things and if the numbers are there, we will lower taxes. We are confident that we can expand the Quebec economy, create jobs and, with all the policies we have put forward, generate surpluses."
A Parti Quebecois government would devote about half of any surpluses to tax cuts and the other half to government programs, Marois said, without being more specific.
'Little Tight'
In a mid-afternoon speech yesterday, Marois acknowledged her party has its work cut out for it.
"It's true that things are a little tight," Marois told about 100 people -- most of them white-haired -- at a campaign office in Lachute, about 85 kilometers (53 miles) northwest of Montreal. "We have three and a half days left. If we make up one percentage point per day, we will win" she said, flanked on a makeshift stage by Peladeau and a local candidate.
Marois has blamed Couillard, 56, and the Liberals for inciting fear among Quebeckers.
"Look around. Are there people who want another referendum on sovereignty?" Marois said in an ICI Radio-Canada interview April 1. "I'm certain that people will say no, even sovereigntists."
Still, an enduring image of the campaign remains the 52-year-old Peladeau, one of Quebec's most powerful entrepreneurs, raising his clenched fist to pronounce his support for independence.
"I don't think Pierre Karl's arrival was a mistake," Marois said in the ICI Radio-Canada interview. "Mr. Peladeau is a passionate man, and he expressed his point of view."
A campaign stop yesterday evening, in a district held by the opposition Coalition Avenir Quebec, showed that Peladeau does have drawing power. At a mall in the Montreal suburb of Rosemere, Peladeau and Marois spent close to an hour shaking hands, signing autographs and posing for pictures.