Employers Probably Boosted Pace of U.S. Hiring for Third Month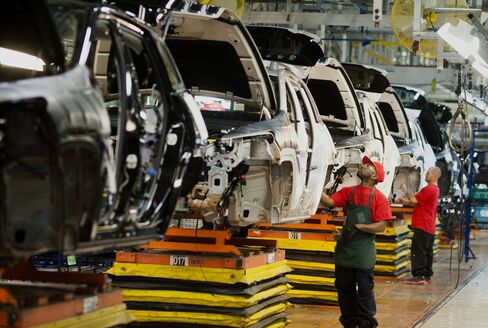 April 4 (Bloomberg) -- Employers in the U.S. picked up the pace of hiring in March for a third month as the economy began to emerge from a weather-related setback, economists project a report will show today.
Payrolls rose by 200,000 last month, the most since November, after a 175,000 gain in February, according to the median forecast of 90 economists surveyed by Bloomberg. The jobless rate may have fallen to 6.6 percent, matching the lowest level since October 2008.
The projected gain would be in line with average payroll growth over the past two years and shows companies are optimistic sales will rebound after winter storms slowed household spending and disrupted supply chains. Such progress would give the Federal Reserve further evidence that bad weather was at the root of a first-quarter slowdown.
"We put on some good job growth there for a while in the fall then things seemed to slow," said Raymond Stone, managing director of Stone & McCarthy Research Associates in Princeton, New Jersey. Employment is "poised to pick up again."
Payroll estimates in the Bloomberg survey before the Labor Department's report at 8:30 a.m. in Washington ranged from increases of 150,000 to 275,000. Last year, the U.S. added 194,000 jobs each month on average after 186,000 in 2012.
Recent data have pointed to a thaw in the economy and the labor market as temperatures begin to warm. A report yesterday showed service industries, which account for almost 90 percent of the economy, improved in March and more companies said they were adding to headcount.
Services, Manufacturing
The Institute for Supply Management's non-manufacturing index rose to 53.1 in March from a four-year low of 51.6 a month earlier. Readings greater than 50 signal expansion. The Tempe, Arizona-based ISM said its measure of employment increased by the most on record. The group's factory index on April 1 accelerated, driven by gains in production and orders.
Ford Motor Co., Chrysler LLC and General Motors Co. reported March sales that beat analysts' estimates as consumers, whose confidence is at a six-year high, returned to auto showrooms.
Cars and light trucks sold at a 16.33 million annualized rate, the strongest since May 2007, according to Ward's Automotive Group.
BMW Hiring
Such demand helps explain why automakers are planning on increasing staff. Bayerische Motoren Werke AG, last month said it would expand its factory in Spartanburg, South Carolina, creating 800 new jobs by 2016 and boosting production by 50 percent, to 450,000 cars a year. The $1 billion investment by the Munich-based automaker would make the plant one of the largest in the U.S.
"This corresponds to more than 30,000 jobs and $1.8 billion in labor income for South Carolina that would not exist otherwise," Chief Executive Officer Norbert Reithofer said in a March 28 speech.
While the labor market is on the mend, part of the drop in the unemployment rate reflects people giving up the search for work. Federal aid to the long-term unemployed expired in December, pushing 1.3 million people off the benefit rolls and prompting some to leave the labor force.
Fed Chair Janet Yellen highlighted inconsistencies in labor-market data in a speech this week, saying that the recovery "still feels like a recession to many Americans."
"The numbers of people who have been trying to find work for more than six months or more than a year are much higher today than they ever were since records began decades ago," Yellen said at a conference in Chicago. "While there has been steady progress, there is also no doubt that the economy and the job market are not back to normal health."
Since Recession
The U.S. has recovered all but 666,000 of the 8.7 million jobs lost as a result of the last recession. Still, 63 percent of working-age Americans were either employed or actively seeking work as of February, close to the lowest level since 1978 and a share that's been declining since the recession.
"If we were at full employment this would be great, but we want to be making up ground lost in the recession," said Scott Brown, chief economist at Raymond James & Associates in St. Petersburg, Florida. "We're improving, but you're just back to where you were five or six years ago."
Faster employment growth would help stoke wage gains and embolden households, whose spending accounts for almost 70 percent of the economy.
"Wage growth has been really soft," said Ryan Sweet, senior economist at Moody's Analytics Inc. in West Chester, Pennsylvania. "The relationship between wage growth and consumer spending has been very strong. Consumers are spending only what they have in their pockets."
                          Survey Results

=====================================================
4/3/2014          Nonfarm  Private Unemploy   Hourly
                 Payrolls Payrolls     Rate Earnings
                   ,000's   ,000's        %     MOM%
=====================================================

Date of Release     04/04    04/04    04/04    04/04
Observation         March    March    March    March
-----------------------------------------------------
Median                200      200     6.6%     0.2%
Average               206      202     6.6%     0.1%
High Forecast         275      275     6.7%     0.4%
Low Forecast          150      140     6.5%     0.0%
# of replies           90       46       83       50
Previous              175      162     6.7%     0.4%
-----------------------------------------------------
4CAST Ltd.            225      220     6.7%     0.0%
ABN Amro Inc.         225      225     6.6%     ---
Action Economics      200      205     6.6%     0.1%
Ameriprise Finan      180      180     6.6%     0.2%
Banca Aletti & C      195      198     6.6%     ---
Bank of the West      195     ---      6.6%     0.2%
Bank of Tokyo- M      200     ---      6.6%     ---
Banorte-IXE           185     ---      6.6%     ---
Bantleon Bank AG      200     ---      6.6%     ---
Barclays              225      225     6.6%     0.2%
Bayerische Lande      220     ---      6.6%     ---
BBVA                  220     ---      6.7%     ---
BMO Capital Mark      190     ---      6.6%     0.2%
BNP Paribas           210      210     6.6%     0.0%
BofA Merrill Lyn      230      220     6.7%     0.2%
Capital Economic      200     ---      6.6%     0.2%
CIBC World Marke      202     ---      6.6%     0.2%
Citi                  240      240     6.6%     0.1%
CohnReznick           210     ---      ---      ---
Comerica Inc          185     ---      6.6%     ---
Commerzbank AG        200     ---      6.6%     ---
Corporate Knight     ---      ---      6.6%     ---
Credit Agricole       225     ---      6.6%     0.2%
Credit Suisse         180      175     6.6%     0.1%
CTI Capital Inc       210     ---      ---      ---
Daiwa Securities      180     ---      6.6%     ---
Danske Bank A/S       195      185     6.6%     ---
DekaBank              230     ---      6.6%     0.1%
Desjardins Group      220     ---      6.7%     0.2%
Deutsche Bank Se      275      275     6.5%     0.1%
Dubuque Bank & T      206     ---      6.6%     ---
DZ Bank               210     ---      6.6%     ---
Fathom Financial      230     ---      ---      ---
First Trust Advi      209      210     6.6%     0.1%
FTN Financial         195      185     6.6%     0.2%
Goldman, Sachs &      200      195     6.6%     0.1%
Haitong Internat      205      193     6.6%     0.1%
Helaba                225     ---      6.6%     0.1%
High Frequency E      230     ---      6.6%     0.1%
HSBC Markets          181      181     6.7%     ---
Hugh Johnson Adv      160      160     6.6%     0.2%
IDEAglobal            200      205     6.6%     0.2%
IHS Global Insig      185     ---      6.6%     0.3%
Informa Global M      240     ---      6.6%     0.1%
ING Financial Ma      195      205     6.6%     0.2%
Intesa Sanpaolo       215     ---      6.6%     0.2%
J.P. Morgan Chas      200      200     6.6%     0.1%
Janney Montgomer      228      220     6.6%     ---
Jefferies LLC         250      245     6.6%     0.0%
JP Morgan Asset       245      239     6.6%     0.1%
Landesbank BW         220     ---      6.6%     ---
LinkUp                275     ---      ---      ---
Lloyds Tsb Bank       210      205     6.6%     0.2%
Maria Fiorini Ra      190      190     ---      ---
Market Securitie      215     ---      6.6%     ---
MET Capital Advi      160      155     6.6%     ---
Mizuho Securitie      175     ---      6.7%     ---
Moody's Analytic      185      205     6.6%     0.2%
Morgan Stanley        200      195     6.6%     0.2%
National Bank Fi      190     ---      6.6%     ---
Nationwide Insur      239     ---      6.7%     ---
Natixis               180      180     6.7%     0.0%
Nomura Securitie      195      190     6.6%     ---
Nord/LB               180      180     6.6%     0.2%
OSK-DMG               195     ---      6.6%     ---
Oxford Economics      210     ---      6.6%     ---
Pantheon Macroec      250     ---      6.6%     0.0%
Paragon Research      200     ---      6.5%     ---
Pierpont Securit      190      185     6.7%     ---
PineBridge Inves      200     ---      6.7%     0.2%
PNC Bank              225      220     6.6%     0.2%
Prestige Economi      180     ---      6.6%     ---
Raymond James         195      195     6.6%     0.2%
RBC Capital Mark      170      175     6.6%     ---
RBS Securities I      220      220     6.7%     0.1%
Regions Financia      266      257     6.6%     0.2%
Scotiabank            210     ---      6.6%     ---
Societe Generale      275      270     6.6%     0.4%
Southbay Researc      194      194     ---      ---
Southern Polytec      150      140     6.6%     ---
Standard Charter      175      175     6.6%     0.0%
Sterne Agee & Le      150     ---      6.7%     0.2%
Stone McCarthy R      165      170     6.6%     0.2%
TD Securities         213      208     6.6%     0.2%
TrimTabs Investm      210     ---      ---      ---
UBS                   250     ---      6.6%     0.2%
UniCredit Resear      235     ---      6.6%     ---
University of Ma      197      202     6.6%     0.1%
Wells Fargo & Co      198     ---      6.6%     ---
Westpac Banking       175     ---      ---      ---
Wrightson ICAP        200      200     6.6%     0.0%
=====================================================

To contact the reporter on this story: Lorraine Woellert in Washington at lwoellert@bloomberg.net
To contact the editor responsible for this story: Carlos Torres at ctorres2@bloomberg.net Vince Golle